Properties for sale in Solihull
1 - 20 of 307 results
Results per page:
Contact relevant estate agents & new homes developers Send a message to agents and developers matching your search for properties for sale in Solihull
Solihul Area Guide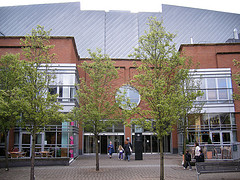 Touchwood, Solihull Image courtesy of Flickr user Elliot Brown
Half an hour from Birmingham, Solihul is one of the most prosperous towns in the English Midlands. Surrounded by leafy suburbs and eye-wateringly lovely mansions, Solihul has grown rapidly over the last 75 years or so. This surge in population was mainly caused by a clearance programme in Birmingham and the freeing up of large swathes of land for residential development.
Solihul is widely perceived as commuter town for Birmingham but this isn't entirely accurate: many residents are employed either locally or as much in other nearby towns and cities as in Birmingham.
The town itself is an attractive place having fortuitously managed to escape much of the Second World War bombing that scars nearby Coventry and Birmingham to this day. However, continuing population growth means there's a lot of inner city development going on, converting what were once charming and relatively affordable family houses into blocks of flats in order to meet demand.
There are some well-loved local features that unite Sihillians. The Land Rover, whose HQ is located just a couple of miles out of town, has been adopted as a sort of Solihul insignia. The National Exhibition Centre and Touchwood Shopping Centre, with its impressive range of boutiques and big high street names, really draw in the crowds. As for nightlife Birmingham is only 20 minutes away with trains running late into the night.
Demographics
Just under 100,000 people live in Solihul, although this number is expected to rise quite significantly over the next few years - some predict by as much as a further 20,000 by 2028. Most people living in are quite affluent, with high levels of education and employment. It is also quite an ethnically diverse area.
Transport
Solihul's location at the geographical centre of the country makes it extremely well connected. The M42 and the M40 connect Solihull to Oxford and London, as well as the rest of the motorway network. The A41 and the A34 also pass through the town and Birmingham International Airport is located nearby. Solihull is on the former Great Western Railway line and regular trains run along the Chiltern Main Line terminating at London Marylebone.
Education
There's a high standard of schooling in Solihul, with an above average GCSE score across the board. The area recently received a lot of funding for education, so there are several entirely new schools. There are a couple of great independents, as well as a popular sixth form college on the outskirts of town. Many students at the excellent Birmingham University live in Solihul. There are four other universities within easy commuting distance: two more in Birmingham and two in Coventry.
Amenities and Shopping
Not only is Touchwood a great shopping centre, it's also home to a nine-screen cinema complex and the Solihull Arts Centre. The High Street and surrounding Mell Square shopping area complement this. But if the huge range of stores on offer isn't enough, the even larger and more impressive Bullring is a short drive, bus or train away in Birmingham.
The town has plenty of leisure facilities - there are two sports centres, a lovely swimming pool and a popular indoor and outdoor skating site. Going into the evening you'll never struggle to find a nice pub or restaurant to while away a few more hours.
Whilst every effort has been taken to ensure the above information is up to date, some inaccuracies may occur. If you notice any inaccuracies please contact editor@primelocation.com
All information was correct at time of publication and is provided in good faith.