Properties for sale in Whitstable
Sign up for email alerts
Be the first to know about new properties matching your search criteria
Create alert
List
Grid
Map
Whitstable Area Guide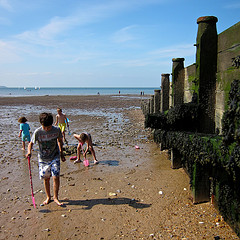 Whitstable Image courtesy of Flickr user Su--May
Whitstable in Kent is one of the few seaside towns in Britain which manages to achieve a truly charming English seaside atmosphere. The wide, shingle beaches, seafood stalls, painted wooden huts and strange street names (like Squeeze Gut Alley) ensure the town has a bohemian charm that is difficult to beat.
Despite Whitstable's considerable charm it's lack of dynamism may mean 'go-getting' city types won't really get along here, although lovers of British history and eccentricity will. The town is becoming increasingly popular among people who've had enough of the crush of life in cities or large towns and want somewhere peaceful and with plenty of character.
Whitstable's famous for its oysters, of course, which have been a delicacy here since Roman times, although the harvest has declined in recent years. The Whitstable Oyster Festival in July and August is a popular foodie attraction as well as attracting visitors who only come for the chips and the beer.
Demographics
As you might expect from a quiet, seaside town, Whitstable attracts a lot of retirees, with 23% of the population over 65% (compared to 16% for the UK as a whole). There is very little ethnic diversity, with 98% describing themselves as white British. The town isn't particularly wealthy, but unemployment is below the national average. The local economy is dominated by retail and the public sector, but there is still a significant fishing industry at the harbour.
Education
There is only really one secondary school - The Community School, Whitstable. The school has improved somewhat in recent years, increasing the number of pupils who achieved at least 5 GCSEs grade A-C from 25% to 37%.
Transport
Trains run two an hour to London, stopping at London St Pancras and Victoria. There are also regular trains along the coast the Broadstairs, Margate and Dover Priory in addition to regular coach services to London and Canterbury. Whitstable is small enough to be walkable, but has several bus operators in the town.
Amenities and Shopping
Whitstable is a relatively small town and as such doesn't have a huge town centre with the usual chain chops. It does, however, have plenty of small independent shops huddling in the narrow streets leading down to the sea, including butchers, bakers, craft shops and plenty of pubs and seafood restaurants. During the summer, a number of stalls pop up ready to serve tourists and locals with seafood.
The town also has a playhouse, which puts on plays and comedy nights, sometimes attracting big names from London, and a museum and a gallery. There is a strong feeling of community here, with locals continuing old traditions such as May Day dancing and the procession of the oysters during the Whitstable Oyster Festival.
One of Whitstable's most remarkable features is its beaches. Locals say that the shingle beaches are as beautiful during the winter as they are during the summer, which makes Whitstable feel a little less 'out-of-season' during Autumn/Winter than some other coastal towns. The Street is a particular feature. It's a strip of shingle that is only revealed a low tide, allowing locals to walk out from the beach to sea.
Whilst every effort has been taken to ensure the above information is up to date, some inaccuracies may occur. If you notice any inaccuracies please contact editor@primelocation.com
All information was correct at time of publication and is provided in good faith.
Narrow your search by property type
---