Properties for sale in Kent
Kent is the known as the Garden of England because of its many orchards and hop gardens. Oasts, the buildings used to dry hops when brewing beer, are scattered throughout the county, and many have been converted into lovely little cottages.
Read More
Keywords and filters like garden and parking live here
Property type
Features
More options
Pre-owned / New homes

No preference

Ownership type

No preference

Retirement

No preference

Buyer incentives

No preference
* Sizes listed are approximate. Please contact the agent to confirm actual size.
Kent Area Guide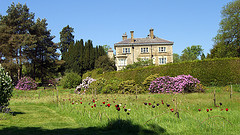 Emmetts Garden Poppy Meadow, Kent Image courtesy of Flickr user Eksley
Kent is the known as the Garden of England because of its many orchards and hop gardens. Oasts, the buildings used to dry hops when brewing beer, are scattered throughout the county, and many have been converted into lovely little cottages.
Much of Kent is within the London commuter belt, making it an attractive area for those who want to live in the vibrant capital but spend their free time in a beautiful landscape. Southern and eastern Kent rely largely on tourism and agriculture.
Northern Kent has a strong manufacturing industry. They make cement in Northfleet and Cuxton, and shipbuilding is done on the River Medway and the Swale canal. Rochester is the seat of engineering and aircraft design in the county, and Dartford is known for chemical manufacturing. Swanley is where paper is made, whilst oil is refined at Grain.
Canterbury draws many tourists, despite being a relatively small city. It is a Christian pilgrimage site, and it also where the leader of the Church of England sits.
Demographics
The 2001 census found that Kent had 1.3 million residents, 96.5% of whom identified themselves as white British.
Education
The Kent County Council has the largest education department in Britain. It is in charge of providing school places for over 289,000 pupils. Luckily, there is a large number of schools rated 'good' or better by Ofcom. Outstanding primary schools include Sheldwich Primary School in Faversham and The Willows in Canterbury. Outstanding secondary schools include Bradstow School in Broadstairs and Sir Joseph Williamson's Mathematical School in Rochester.
Kent also has several universities: Canterbury Christ Church University, the University of Kent, the University of Greenwich and the University for the Creative Arts are all in the county.
Transport
Kent has always been a key area in the route between mainland Europe and London. Watling Street, the historic Roman street, ran from Dover to London. Today, the M2, M20, M25, M26 motorways keep the county well connected to London.
Perhaps because of its historically important links to London, there are many rail links from Kent to the capital. Ebbsfleet International provides high speed services between London and the coast. Ashford International has services which are provided by the Southeastern, Southern and Eurostar rail companies, with stops across Britain and into Europe. There are also many smaller rail networks throughout the county, built from heritage, industrial and newer light railways.
Charter flights are available from Kent International Airport and London Ashford Airport , but most people choose to fly from London's several international airports, as it is easy to get into the capital.
Amenities and Shopping
When it comes to amenities, Kent has a little bit of everything, from the city to the shore.
Arts
Kent has inspired many major works of art. The Canterbury Tales, about religious pilgrims travelling to the Kent city, revolutionised the modern English language. Dickens included imagery of Chatham, Rochester, and the Cliffe marshes in several of his works, and J. M. W. Turner found inspiration for his famous seascapes along the coast. With this heritage, Kent is well served to have many museums, and it does. There are more than 70 museums and heritage organisations throughout the county, including Dover Castle, the British Cartoon Archive and the Tunbridge Wells Museum.
The county's largest theatre is The Marlowe Theatre, but there are many theatres, halls and venues throughout Kent, including the Theatre Royal Margate and the Hazlitt Arts Centre.
Sport
Kent has several sports teams. There is the Kent County Cricket Club and the Saltwood Cricket Club, rugby union's Canterbury RFC, Gillingham FC for football fans.
Kent is ideal for outdoor pursuits. Its long coastline and mild weather make it ideal for all sorts of water sports, including sailing, kite and regular surfing, jet skiing and swimming. Its countryside is a paradise for those who enjoy cycling, walking and horse riding, and it even has a golf course.
Shopping
Tucked away in Greenhithe, Bluewater shopping centre is the fourth largest in the UK. It has over 330 stores covering the range of high-end brands and high street shops, as well as a boating lake, a bike and kart hire and a mini golf course.
Elsewhere in the county, Whitstable is renowned for its many small, independent shops and Canterbury has the Whitefriars shopping quarter.
For those who love a great bargain, De Bradelei Wharf, Dover sells fashion and homewares at huge discounts, and Ashford Designer Outlet offers wares from 80 designer brands. In Maidstone, Fremlin Walk has around 50 outlet shops.
Whilst every effort has been taken to ensure the above information is up to date, some inaccuracies may occur. If you notice any inaccuracies please contact editor@primelocation.com
All information was correct at time of publication and is provided in good faith.
Narrow your search by property type
---