Properties for sale in Margate
1 - 20 of 500 results
Results per page:
Contact relevant estate agents & new homes developers Send a message to agents and developers matching your search for properties for sale in Margate
Margate Area Guide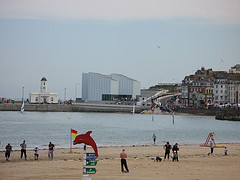 Margate Image courtesy of Flickr user Charlotte Gilhooly
Situated in the district of Thanet in East Kent, Margate is a seaside town incorporating Cliftonville, Garlinge, Westbrook and Palm Bay. With a largely maritime history, the town has experienced peaks of growth and prosperity since its beginnings as a small fishing hamlet. From the 1730s people would flock to the town to partake in sea bathing, and there was even a Royal Sea Bathing Hospital dedicated to the benefits of inhaling sea air. Sailing vessels, and in later years, steam ships and trains bought mass tourism to the area.
Margate features a number of historical landmarks including the Pier and Droit House. Victorian and Georgian architecture is evident throughout the area which includes large town houses and fisherman's terraces.
The town has a strong arts heritage, having been the inspiration for poet T.S. Eliot and the birthplace of contemporary artist Tracy Emin. In 2011, the Turner Contemporary gallery opened its doors in the hope of attracting culture fans to the area, and these days Margate Old Town is enjoying renaissance as a creative quarter. Recently named as a Portas Pilot Town, the area was successful in its bid for Government funding for high street regeneration. Margate was also named winner of the 2012 Great Neighbourhood award from the Academy of Urbanism, and further investment is expected to bring 300 new homes to the area.
Demographics
Margate has a population of around 50,000 with 31% aged between 20 years and 44 years, and 23% aged 45 years to 64 years.
Across the wider Thanet district, there are 41,000 people working in around 2,800 VAT-registered businesses, and a further 10,000 are self-employed.
Healthcare, education and retail are the key areas of employment.
Education
There are eight religious and non-denominational primary schools in the town including Palm Bay Primary School, Holy Trinity and St John's C of E Primary School, St Gregory's Catholic School and Cliftonville Primary School.
Secondary provision is available from Hartsdown Technology College, King Ethelbert's School in Birchington, Ursuline College in Westgate-on-Sea, and Marlowe Academy in nearby Broadstairs.
There are three grammar schools located in Ramsgate and Broadstairs, and Margate is also within catchment of five schools catering for children with special educational needs, including the Royal School for Deaf Children.
East Kent Colleges offers academic and vocational courses at its campus in Broadstairs and works in partnership with Canterbury Christchurch University to offer higher education facilities.
Transport
Margate benefits from links with the M20 and M2 motorways which offer access to London. Express coaches also offer routes from the town to London Victoria.
The Eurotunnel offers access to the continent from Folkestone via the A20 and A256.
Frequent rail services link Margate to London Victoria and Charing Cross within two hours and a high speed train service between Margate and London St Pancras reduces the travel time to 80 minutes.
Cross Channel services are available to and from Ostend, Belgium and the nearest airport is Manston Kent International Airport. London airports are also within reasonable distance.
Amenities and Shopping
Margate Old Town has a wealth of boutique stores, cafés, and restaurants and is at the heart of the town's creative quarter. Galleries and museums are plentiful and include the Turner Contemporary as well as smaller local points of interest. The Parade is the focus for much of the town centre shopping and is situated opposite the harbour. Westwood Cross shopping centre is just outside of the town and offers a wide range of over 50 outlets including independent stores, national retail chains, as well as cafés, restaurants and a cinema.
The Theatre Royal hosts comedy, music, dance, opera and more from professional and amateur companies, as well as youth theatre programmes. The family run Tom Thumb is one of the smallest theatres in the world offering arts, storytelling, film and music. Bicycle hire is also available and there are good local walks in and around the area.
Whilst every effort has been taken to ensure the above information is up to date, some inaccuracies may occur. If you notice any inaccuracies please contact editor@primelocation.com
All information was correct at time of publication and is provided in good faith.