Properties for sale in Cardiff
1 - 20 of 2,021 results
Results per page:
Contact relevant estate agents & new homes developers Send a message to agents and developers matching your search for properties for sale in Cardiff
Cardiff Area Guide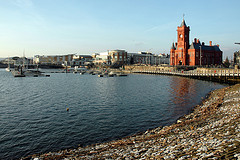 Cardiff Image courtesy of Flickr user Roger Davies
Cardiff became the official capital of Wales in 1955, fifty years after it officially became a city. As a capital city, it is the largest, most diverse city in the country, and as the capital city of Wales, 11% of its residents speak Welsh.
Cardiff is the setting or filming location for many British television programmes, including Doctor Who, the Sarah Jane Adventures and Merlin. There is a large studio in Porth Teigr Way that can be converted into any setting, and shows are often filmed on location in the streets of Cardiff.
Demographics
According to the 2011 census, there are 346,100 people in Cardiff, and the Larger Urban Zone, which includes the Vale of Glamorgan and some areas of the Valleys, has 841,600 people.
Cardiff is ethnically diverse, due largely to its past as a trading port, immigration after World War II and the large number of students drawn to the universities. The ethnic makeup of the population of Cardiff is about 90% white British, 2% mixed race, 4% South Asian, 1% black and 1% other ethnic groups.
Education
Cardiff has nearly 100 state primary schools and 20 state secondary schools, many of which are either bilingual (teaching in both English and Welsh) or are Welsh medium. There are also a great many independent schools in the city.
Tongwynlais Primary School was awarded a "double-excellent", the first in the city to be awarded highest marks in all inspection areas. Mount Stuart Primary School and Millbank Primary School have both been given high marks as well, though they are in less affluent neighbourhoods.
In Wales secondary schools are put into one of five bands. Band one includes those which have performed best in criteria such as GCSE results and attendance. The only band one secondary school in Cardiff is Mary Immaculate High School, though many other secondary schools have excellent reputations.
Cardiff's higher education institutions are Cardiff University, Cardiff Metropolitan University, University of Glamorgan and the Royal Welsh College of Music & Drama.
Transport
Cardiff is the major transport hub in Wales, so it is well supplied with transport links. Cardiff Central railway station is the largest in Wales, and it has trains to major cities like London, Edinburgh, Glasgow, Manchester and Birmingham. For trains around Wales, most people head to Cardiff Queen Street station. The Valley Lines are a network of commuter trains that link the suburbs and outlying areas of Cardiff with the city centre.
Cardiff Airport is Wales's only international airport, with service to destinations such as Paris, Amsterdam and Tenerife, as well as cities within the UK.
The M4 motorway runs through Cardiff, giving the city fairly direct routes to Swansea to the west and London to the east. Other major roads include the A470, heading into north Wales, and the A4232, which forms a kind of ring around Cardiff.
The city has several bus routes, with Cardiff Bus providing most of the services in Cardiff and surrounding areas.
Amenities and Shopping
Cardiff has all the amenities and shopping of any capital city, but with the additional bonus of Welsh culture on top.
Museums and galleries
Cardiff has a large number of cultural attractions which draw in thousands of tourists every year. Cardiff Castle is great for history buffs, whilst the National Museum and Gallery, Cathays Park displays many important works of art. The Third Floor Gallery is ideal for fans of photography.
Music, theatre and nightlife
Cardiff has a lot of music on offer. The Wales Millennium Centre has programmes of opera, ballet, comedy and musicals, and it is the home of both the BBC National Orchestra of Wales and the Welsh National Opera. St David's Hall also regularly has ballet and classical music performances.
The New Theatre is Cardiff's largest, and other performance spaces include Chapter Arts Centre, the Sherman Theatre, and the Gate Arts Centre.
Most of Cardiff's nightlife happens in the city centre. St Mary Street, and especially its Brewery Quarter, has many restaurants and clubs, whilst Charles Street also attracts its share of night owls. Further out, Cardiff Bay has a number of restaurants, bars and pubs.
Sport
Cardiff is especially famous for rugby union, as the Cardiff Arms Park, and its successor the Millennium Stadium, are legendary venues. The Cardiff Blues competes in the Celtic League and the European Heineken Cup, and there are two teams in the Welsh Premier Division: Cardiff RFC and Glamorgan Wanderers RFC.
The Cardiff Demons play in the Rugby League Conference Welsh Premier league.
Cardiff City F.C. play in the Football League Championship. Cardiff also has a number of teams which play in the Welsh football league. For cricket fans, there's the Glamorgan County Cricket Club, and the city also has a professional ice hockey team, the Cardiff Devils. The city hosts many high profile boxing matches, and the Millennium Stadium is where many motorsport events such as the World Rally Championship are held.
The Cardiff International Sports Stadium is a multi-use event venue that can host track and field athletics and is now the home of Welsh Athletics.
Cardiff is also great for cycling and walking. The Taff Trail allows hikers and cyclists to travel from Cardiff to the Beacons without having to get on roads much.
Festivals
The largest festival in the city is the Cardiff Big Weekend, which features musical performances, rides and cultural events, all on the grounds of Cardiff Castle. Sparks in the Park is the Guy Fawkes Night fireworks celebration, and Made in Roath is an arts festival originally hosted to highlight the work of residents of the Cardiff neighbourhood and subsequently growing large enough to include artists from all over Wales. Cardiff Mardi Gras is a celebration of the LGBT community, and The Great British Cheese Festival is exactly what it sounds like.
Cardiff also regularly hosts the National Eisteddfod, as it is the only place in Wales to have two permanent stone circles which are used by the Gorsedd of Bards during the event.
Shopping
There are a large number of Victorian markets in operation in Cardiff. In the southern part of the city sits Cardiff Market, where locals can find everything from homeware to foodstuffs. The Morgan Quarter has three. The Royal Arcade is Cardiff's oldest arcade, and Wyndham Arcade has a wealth of atmosphere. Morgan Arcade still has some of its original Venetian windows and is home to the world's oldest record shop - Spillers Records. The Castle Quarter has the High Street Arcade, Duke Street Arcade and Castle Arcade. In each of these arcades are independent clothing, jewellery, vintage, craft and gift shops which call to mind a different era.
For the more modern shopper, there are several malls. St David's - Dewi Sant is the newest shopping centre in Cardiff. It has the largest John Lewis outside of London and has a large selection of other high street and department stores. Parallel to Queen Street, Queen's Arcade links St David's - Dewi Sant to Queen Street and also has a range of high street shops. At the end of Queen's Street is the Capitol Shopping Centre, which has brands like Jaeger, Dune and H&M.
Whilst every effort has been taken to ensure the above information is up to date, some inaccuracies may occur. If you notice any inaccuracies please contact editor@primelocation.com
All information was correct at time of publication and is provided in good faith.