Properties for sale in Windermere
1 - 20 of 216 results
Results per page:
Contact relevant estate agents & new homes developers Send a message to agents and developers matching your search for properties for sale in Windermere
Windermere Area Guide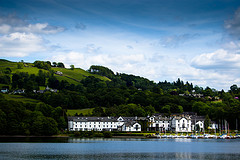 Windermere Image courtesy of Flickr user Eric The Fish
Part of the Lake District National Park, Windermere is a small town in the county of Cumbria. Though it is named after the largest natural lake in England the town boundaries do not actually meet the water's edge, which is approximately one mile away. Originally three hamlets, Birthwaite, Applethwaite and Heathwaite, when the railway came in 1847 the railway company named the station after the lake and the town followed suit.
Many of the Grade II listed buildings once housing railway executives are now used as holiday accommodation. Tourism attracts more than 8 million visitors to the Lake District each year and is a major source of employment for people in the town, along with kitchenware company Lakeland Limited. The company was founded in Windermere and is still based in the area today, employing more than 1460 people.
Recent funding of £1.25m has been awarded to the Lakeland Arts Trust to help restore the Windermere Steamboat Museum and will have wide-ranging positive impact on the village. The money is expected to unlock further funding and investment that will enable the trust to realise its ambitious vision for the museum and create a world-class tourist attraction. The plans also form part of the Windermere Waterfront Programme, a regeneration project aimed at bringing in visitors by raising the profile of the area.
Demographics
The population of Windermere stands at around 8,245, with approximately 43,000 people living within the greater boundaries of the National Park.
Of the properties in the area, 67.7% are owner occupied and 15% are used as holiday homes or second homes. The average selling price of a detached house is around £357,000.
Education
Windermere C of E Junior School is the only primary education provider in the town. Secondary schooling is offered at The Lakes School, a mixed comprehensive for pupils aged 11 years to 18 years old.
Windermere School is an independent boarding and day school for boys and girls from age two years to 18 years and offers academic provision as well as outdoor education that maximises its location in the heart of the extraordinary natural environment of the National Park.
In addition to outdoor education, adult education provision is available in Windermere and in nearby villages such as Bowness-on-Windermere, Ambleside and Staveley.
The University of Cumbria is little over 30 miles away and is one of Britain's newest Universities specialising in education, healthcare, sports, visual and performing arts, humanities, social science, law and criminology, science, outdoors, forestry and land studies. The University also offers the University Award in Police Knowledge and features in the Sport Science Good University Guide 2013.
Transport
The A591 is the main route in and out of the Lake District National Park. Windermere train station is the end of the branch line and has direct trains which run as far south as Manchester Airport. Transfers to the main West Coast line are available at Oxenholme.
Cycling is an ever popular way to get around the area and there are plenty of cycle friendly routes and trails. A car ferry provides a connection between Ferry Nab on the eastern shore of Windermere and Ferry House, Far Sawrey on the west, and is used as a short cut for nearby Hawkshead, Grizedale forest and Kendal. However, with only 18 spaces there are often queues during the summer season and other busy periods.
Motorists are encouraged to leave cars out of town and petrol stations are scarce so public transport is the most preferable way to get around.
In addition to Manchester Airport, the town is also within reasonable travel time of Blackpool Airport, and Liverpool Airport by train.
Amenities and Shopping
Windermere and its neighbouring village Bowness -on-Windermere provide ample shopping and leisure opportunities. Local food and drink are plentiful in the many cafés and dining spots which include national award-winning restaurants and gastro pubs. The highly regarded local beer and meat make the area a popular destination for foodies.
In addition to an array of independent stores, there is also a major supermarket and a selection of familiar high street retail names.
Whilst every effort has been taken to ensure the above information is up to date, some inaccuracies may occur. If you notice any inaccuracies please contact editor@primelocation.com
All information was correct at time of publication and is provided in good faith.