Properties for sale in Walthamstow
1 - 20 of 359 results
Results per page:
Contact relevant estate agents & new homes developers Send a message to agents and developers matching your search for properties for sale in Walthamstow
Walthamstow Area Guide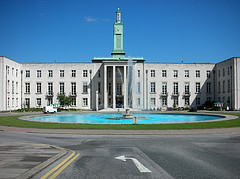 Walthamstow Town Hall Image courtesy of Flickr user Tony Hall
Walthamstow is a district in the London Borough of Waltham Forest, located to the north-east of Central London. The area was integrated into Greater in London in 1965 after previously having been located on the south-western tip of the County of Essex. As well as its thriving artistic scene, which culminates in the annual E17 Arts Trail, Walthamstow has a thriving market on the High Street which has been going for well over a century. It is also, coincidentally, the birthplace of Eastenders' most successful market trader Ian Beale (actor Adam Woodyatt). It also has strong links to 2 former Prime Ministers: Clement Atlee was MP for Walthamstow during his premiership and Benjamin Disraeli was schooled here. Also, footballer David Beckham was also born and brought up in nearby Leytonstone.
Demographics
The Westminster Parliamentary Constituency of Walthamstow had a population of 111,263 at the 2011 Census. The ethnic make-up of the constituency has changed greatly since 2001 with the number of White British residents falling by around 13,000. The biggest ethnic increase has come in non-British white people, mainly from the enlarged EU area, with a net increase of around 11,000.
The average house price for the Borough of Waltham Forest is £252,842, which is well below the London average (£445,651) and only slightly over the UK national average (£238,293).
As a more affordable area, Walthamstow attracts a mix of both lower and higher earners.
Education
There are 39 primary schools and 14 secondary schools in Walthamstow. Almost two-thirds of the Primary schools achieved an Ofsted rating of 80% or more for English and Maths with many of them getting "good" or "good with some outstanding features" mentions from Ofsted. Half of the secondary schools in Walthamstow had 50% of their pupils achieving at least 5 good GCSEs with Forest School the outstanding achiever at 99%. 4 of the 14 secondary schools were given "good" ratings from Ofsed and Walthamstow School for Girls was rated "outstanding".
As far as University education is concerned, you will find some of Britain's top institutions such as University College London, London School of Economics, Imperial College and many more in Central London.
Transport
Walthamstow Central is located within Zone 3 of the London tube network and is the terminus of the Victoria line. Oxford Circus is a 25 minute Underground ride away and Liverpool Street station is accessible via the Overground rail services in about 20 minutes.
Walthamstow is about a 10 minute drive from the M11 motorway and is right next to the North Circular route on the A406.
Walthamstow is roughly an hour and ten minutes away from Heathrow, Stansted and City airports via public transport with Gatwick and Luton roughly an extra 20 minutes away. All are accessible easily via London's extensive transport network.
Walthamstow is well connected via London buses to Ilford, Chingford, Barnet, Leyton, Leytonstone and Hackney.
Amenities and Shopping
Walthamstow's high-street features a mix of chains and independent shops, but its jewel is most certainly its mile-long market, which claims to be Europe's longest street market. The market is located between Blackhorse Road and Hoe Street. Regular Farmers' Markets and Continental Markets visit the area as well as the seasonal Christmas Market.
The beautiful Waltham Forest Town Hall and the William Morris gallery are must-sees, and for the gastronomically-driven of us, Tratorria La Ruga and Orford Saloon Tapas Bar are the picks of the bunch.
Whilst every effort has been taken to ensure the above information is up to date, some inaccuracies may occur. If you notice any inaccuracies please contact editor@primelocation.com
All information was correct at time of publication and is provided in good faith.