Properties for sale in Wales
1 - 20 of 29,547 results
Results per page:
£3,500,000 Lon Pont Morgan, Abersoch, Gwynedd LL53 New property for sale

A stunning contemporary beachside home with spectacular panoramic views. (contd...) see full details and 18 photos

Marketed by Beresford Adams, LL53.

Guide price

£3,500,000 Abersoch, Pwllheli LL53 Property for sale

An exceptional Grade II marine residence comprising the principal house and 2 apartments occupying an elevated position in spectacular grounds with panoramic sea views. For sale as a whole or ... see full details and 10 photos

Marketed by Jackson-Stops & Staff, CH1.

Offers over

£3,000,000 Llandegla Road, Llanarmon-Yn-Ial, Mold CH7 Property for sale

An exquisitely restored hall set in its own parkland to approximately 82 acres with sporting rights over a further 694 acres. see full details and 10 photos

Marketed by Jackson-Stops & Staff, CH1.

Guide price

£3,000,000 Dan Y Lan Farm, Newton, Porthcawl CF36 Property for sale

A rare opportunity to purchase a spacious, 6 bedroom detached farm house situated in an idyllic setting, amongst its own grounds which comprise approximately 92 acres. see full details and 17 photos

Marketed by Watts & Morgan, CF71.

Offers over

£3,000,000 Llandegla Road, Llanarmon-Yn-Ial, Mold, Clwyd CH7 Detached house for sale

An exquisitely restored hall set in its own parkland with sporting rights over 776 acres (about 82 acres freehold) see full details and 21 photos

Marketed by Savills - Telford, TF3.

Guide price

£2,800,000 Llandderfel, Bala, Gwynedd LL23 Detached house for sale

An striking country mansion set in about 14 acres of formal gardens and grounds; both a private home and bespoke hotel. see full details and 16 photos

Marketed by Savills - Telford, TF3.

Guide price

£2,500,000 Cyfronydd, Welshpool, Powys SY21 Detached house for sale

A gracious country house with far reaching views, set in about 12.7 acres of gardens, with a courtyard of coach house cottages. see full details and 27 photos

Marketed by Savills - Telford, TF3.

Guide price

£2,400,000 Bettws Cedewain, Newtown, Powys SY16 Property for sale

A beautifully appointed property offering a rare lifestyle opportunity see full details and 27 photos

Marketed by Strutt & Parker, SY1.

£2,400,000 Burton, Milford Haven SA73 Commercial property for sale

Summary • Fantastic Home and Commercial Business • Beautiful river location • 4 bedroom house with superb estuary views • Established Boatyard business • Lots of potential for new owners • 10 ... see full details and 39 photos

Marketed by Fine & Country - Narberth, SA67.

Guide price

£2,300,000 Mathern, Chepstow NP16 Detached house for sale

An enchanting Grade I Listed medieval house close to the Severn estuary - A substantial edge of village house of historical importance surrounded by its own land. Mathern is a historic village in ... see full details and 15 photos

Marketed by Knight Frank - Country Houses, W1U.

Guide price

£2,250,000 St Brides, Haverfordwest SA62 Land for sale

Lot 1 farmhouse and 9.57 acres (edged red on the attached plan). Guide Price £500, 000 lot 2 the coach house (barn conversion) and all farm buildings and 30.92 acres (edged Pink on the attached ... see full details

Marketed by RG & RB Williams, HR9.

£2,195,000 Peterston Road, Groesfaen, Pontyclun CF72 Detached house for sale

Exquisite home Exquisite Nant Coslech with its magnificent gardens of two acres (stms) was designed by the current owners to feature beautiful Cotswold stone and to blend into its surroundings. A ... see full details and 21 photos

Marketed by Chewton Rose - South Wales, CF10.

£2,000,000 Llanvaches, Caldicot NP26 Detached house for sale

. large recently built dynamic & stunning family house . . South facing sheltered position & commands truly outstanding far reaching vista over Wentwood Reservoir, Severn Estuary & Somerset ... see full details and 16 photos

Marketed by Archer & Co, NP16.

£2,000,000 Llanvaches, Caldicot NP26 Detached house for sale

Capture the castle Appearing to rise out of the fringes of Wentwood Forest, and perched above a picturesque reservoir, this contemporary home has a magical quality that captured the hearts of the ... see full details and 22 photos

Marketed by Chewton Rose - South Wales, CF10.

£2,000,000 Tregeiriog, Llangollen, Clwyd LL20 Detached house for sale

Two upland farms in the stunning Ceiriog Valley extending in total to about 418 acres comprising two attractive farmhouses (one Grade II listed), grassland, permanent pasture and a block of ... see full details and 25 photos

Marketed by Carter Jonas, SY4.

Guide price

£2,000,000 Rudry Road, Lisvane, Cardiff CF14 Detached house for sale

Beautifully refurbished, exceptionally spacious country house in 10 acres within one of Cardiff's most sought after locations. see full details and 14 photos

Marketed by Savills - Cardiff, CF10.

Guide price

£2,000,000 St. Mellons, Cardiff CF3 Detached house for sale

An exceptional Italianate Manor House in mature garden seclusion of just under 4 acres see full details and 14 photos

Marketed by Savills - Cardiff, CF10.

£1,999,500 Horton, Gower, Swansea SA3 Detached house for sale

* A prestigious detached residence, with four elegant double bedrooms, three luxurious ensuites and a family bathroom. * plus a charming, two bedroom detached guest annex. * completely and ... see full details and 15 photos

Marketed by Gower Coast Properties Ltd, SA3.

Guide price

£1,990,000 Coed Y Caerau Lane, Kemeys Inferior, Newport, Gwent NP18 Property for sale

Kemeys Folly is a Grade II Listed former hunting lodge with origins dating back to circa 1712. The Folly was rebuilt in the early 20th Century and converted into a residential dwelling for te ... see full details and 20 photos

Marketed by Savills - Bristol, BS8.
Refine your search and save time. To save time, you can contact relevant agent/developers with properties matching your search requirements via a single form. Refine your search at the top of the page to make it more specific and look out for the form here, below the property results.
Wales Area Guide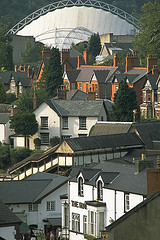 A View of Llangollen, Wales Image courtesy of Flickr user Proadventure.co.uk Activities
Wales is a generally mountainous, rural country. As one of the modern Celtic nations, Wales has its own culture, language, holidays and customs, but it is still British. The official languages are English and Welsh, though only about one-fifth of the population speaks Welsh fluently.
During the Industrial Revolution, the country found itself in the midst of a boom. It was mineral-rich, so mining became central to the economy. In 1920, at the peak of coal production, coal miners and their families made up a third of the Welsh population.
Now, the economy has modernised into a post-industrial economy, and many of the jobs now are in the service sector. Livestock farming, though not as large as in the past, is still a dominant industry. About 78% of the land in Wales is used for cattle and sheep farming. Sheep farming is so tied to the Welsh national identity that it is commonly said that the population of sheep in Wales is four times greater than the population of humans. This is an exaggeration, but not by much. The 2011 census found more than 3 million people were living in Wales, and the June 2011 Survey of Agriculture and Horticulture counted 8.6 million sheep.
The landscape also provides the Welsh economy with another industry - tourism. There are three national parks and 45 Blue Flag beaches, which, along with Wales's distinct culture, brings in large numbers of visitors each year.
Demographics
Most of the 3 million Welsh residents live in South Wales. The cities of Cardiff, Swansea and Newport are the largest in the country, and a significant number of people also live in Wrexham in the north.
Wales is not particularly diverse: 96% of the population is white British, and only 2.1% were not white. Of those 2.1%, most people identified themselves as British Asian. Only about a quarter of the Welsh population was born outside of Wales, and those who were came mostly from England.
Education
The Welsh government oversees an education system that is vastly different to the one in England. In the 19th century, the English government banned the speaking of Welsh in schools, which led to a programme of strict suppression of the language. In the last half of the 20th century, Wales took over its education and quickly introduced Welsh language classes to prevent the language from dying out. This eventually led to non-language classes and even entire schools being taught exclusively Welsh. Even in schools were English is used, Welsh is a required subject until the age of 16.
Despite its rural nature, Wales has a large number of schools. There are more than 1500 primary schools, more than 200 secondary comprehensives and around 50 independent schools. Estyn, the education inspection service in Wales, grades primary schools but does not put them into bands of performance. As such, each primary school must be looked at individaully. The Welsh government found that - generally speaking - the best primary schools are in Cardiff North and in other city suburbs, though this is by no means true in every case. Tongwynlais Primary School in Cardiff and Treorchy Comprehensive School in the Valleys are amongst those to be awarded a "double-excellent" score, meaning they got highest marks in every category during inspections.
Secondary schools are grouped into bands, with Band 1 being the most successful schools based on GCSE exam performance and pupil attendance and Band 5 being most in need of improvement. Neath Port Talbot and Swansea have the most Band 1 schools, with six and five respectively. Amongst the Band 1 schools are Bishopston Comprehensive, Cwmtawe Community School and Mary Immaculate High School.
Wales also has 12 universities. Cardiff University and University of Glamorgan are the largest, and the first university established in the country is the University of Wales.
Transport
The main road is the M4 motorway that links the cities and villages along the southern coast, while the A55 connects the towns and villages in the north. The A470 runs from north to south, going from Llandudno to Cardiff.
Cardiff International Airport is the main airport, and Wales has four commercial ferry ports connecting Holyhead, Pembroke and Fishguard to Ireland.
Wales is also fairly well connected by rail, especially when travelling east and west. Travelling north and south in Wales often requires going through the English towns of Chester and Shrewsbury. Cardiff in particular has a lot of train travel. The busiest stations are Cardiff Central and Cardiff Queen Street, and Cardiff also has its own urban rail network.
Amenities and Shopping
Wales is renowned for its distinctive culture. Many of the activities in Wales centre on maintaining the traditions, passing them down from generation to generation while tourists join in.
Museums
Wales has a long and varied history, and it is preserved in the National Museum Wales. The museum has sites in seven areas of the country, including in Cardiff, Blaenavon and Newport. The National Library of Wales is in Aberystwyth, and in addition to its comprehensive collection of printed works, it also has collections of portraits, photographs, maps and more.
Arts
Traditional music is a large part of Welsh culture. The Welsh Folk Song Society publishes folk songs, and the Cerdd Dant Society promotes a traditional form of vocal improvisation.
Wales also offers classical music, with the BBC National Orchestra of Wales, the Welsh National Opera and the National Youth Orchestra of Wales all performing in Wales and internationally. There are also many male voice choirs. These were first founded in the 19th century, and many of the historic choirs still sing today.
Dancing popular in the country, too. The Welsh Folk Dance Society maintain the many folk and clog dances. Cardiff has been the home of contemporary dance since the 1970s, when Moving Being moved from London to Cardiff and when The Dance Company of Wales was founded.
Since the 19th century, most larger towns have had theatres, and playwrights and actors alike have found inspiration in the Welsh hills. When television began to challenge the stage, Welsh theatres raised their game, staging shows by Welsh playwrights like Emlyn Williams and Alun Owen. This strong tradition continues to this day.
Sport
Wales often plays on the world stage, with teams playing in the FIFA World Cup, Rugby World Cup, Rugby League World Cup and the Commonwealth Games.
Football is incredibly popular in Wales, and it has its own league, the Welsh Premier League. Two teams, Swansea City and Cardiff City, play in the English Football League.
Rugby union is tied closely to the Welsh national identity, and the country has four professional teams: the Scarlets, Cardiff Blues, Newport Gwent Dragons and the Ospreys.
Festivals
Because Wales has a strong national identity, it has many festivals. The National Eisteddfod celebrates Welsh music and poetry, and Welsh residents participate in parties and concerts on Dydd Santes Dwynwen, the holiday that commemorates St Dwynwen, the Welsh saint of love. St David's Day, on 1st March, is the feast day of Wales's patron saint, and it is the day in which Welsh people and those with Welsh heritage celebrate the nation and its contributions to the world.
Shopping
Cardiff is the main shopping destination in the country, as it has all the high street shops and six Victorian arcades that are filled with independent shops selling violins, cheese and everything in between.
Many Welsh villages specialise in particular kinds of markets and shops. Hay on Wye is the home of the Hay Festival of Literature and the Arts, and it maintains its reputation amongst readers by having almost 40 second-hand bookshops. Abergavenny has several markets, including a craft market, a farmers market and an antiques market. Narberth is an arts and crafts town that is known for its talented craftspeople and its artisan sausages. Betws-y-coed is a great place to get kitted out for an outdoor adventure, and it also has the Trefriw Woollen Mill, a mill that has been weaving Welsh tapestry bedspreads for a century.
Whilst every effort has been taken to ensure the above information is up to date, some inaccuracies may occur. If you notice any inaccuracies please contact editor@primelocation.com
All information was correct at time of publication and is provided in good faith.