Properties for sale in Torquay
1 - 20 of 1,138 results
Results per page:
Contact relevant estate agents & new homes developers Send a message to agents and developers matching your search for properties for sale in Torquay
Torquay Area Guide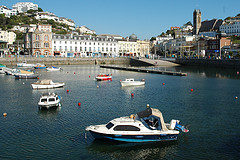 Torquay Image courtesy of Flickr user Stephen Jones
Torquay is a popular seaside town in the local authority of Torbay and sits in the ceremonial county of Devon.
It's perhaps best known as being the birthplace of and lifelong home to crime writer, Agatha Christie. It's also the birthplace of TV comedienne, Miranda Hart and DJ, Lauren Pope.
Unsurprisingly, tourism is a big contributor to the local economy. It's estimated that the population of Torquay around trebles in the summer months owing to the influx of British and overseas tourists to the area.
Demographics
The local authority of Torbay has a population of 130,959 (2011 census). Around half of that population lives in Torquay itself.
It's not the most diverse of areas to live, ethnically speaking. 95% of residents are white British. Any minorities in the area are very small.
There's a real variation in terms of wealth and education with the residents of Torquay. Over a quarter (just higher than the national average) of over 16s have no formal qualifications whatsoever. On the other hand, around 20% have Higher Education qualifications.
The area attracts retirees, undoubtedly down to its finer weather (compared with much of the rest of the UK) and seaside location. Around a fifth of residents over 16 are retired. That said, the town remains reasonably economically active. Its unemployment rate is just 4.5% and, while that might not sound that low, by comparison to the national average of 7.7%, it's not bad at all.
Education
Torquay lies in the LEA of Torbay. In Torquay itself there are more than 15 Primary Schools.
In 2012, 57.2% of the GCSE students at the secondary schools in the area achieved 5 or more A*-C grades in their exams. This was just slightly under the national average of 58.2%. One of the worst performing schools in the town was the Torquay Community College. However, Torquay Boys' Grammar and Torquay Girls' Grammar schools both boast 100% of their students hitting the benchmark 5 good grades and Torquay Girls' Grammar school has been rated 'outstanding' by Ofsted.
In terms of Further Education, both of the Grammar schools in Torquay offer sixth form education and South Devon College is located in nearby Paignton.
The nearest University is in Exeter.
Transport
Torquay certainly isn't known as being easy to get to. However, it isn't too far away from the M5 by road.
In terms of train travel, the station in the town is Torquay Rail Station. From there you can get direct services to Paignton (which takes less than 10 minutes) and to Exmouth (50 minutes). There are some direct (and several more indirect via Newton Abbott) services to London Paddington, a journey of just over 3 hours.
In terms of travelling within Devon and Cornwall, bus travel is often quicker than train travel. A number of local services run within Torquay and to surrounding areas as well.
The nearest airport servicing international flights is around 20 miles away in Exeter.
Amenities and Shopping
The most notable shopping area in the town is the Fleet Walk Shopping Centre. You'll find High Street favourites here, including Topshop, Evans, Shoe Zone, KFC and Laura Ashley.
As a popular tourist town, Torquay is home to a number of attractions. It has its own cinema, the Princess Theatre, a host of bars, nightclubs and restaurants and an aquarium.
Whilst every effort has been taken to ensure the above information is up to date, some inaccuracies may occur. If you notice any inaccuracies please contact editor@primelocation.com
All information was correct at time of publication and is provided in good faith.