Properties for sale in Sheffield
1 - 20 of 3,800 results
Results per page:
Refine your search and save time. To save time, you can contact relevant agent/developers with properties matching your search requirements via a single form. Refine your search at the top of the page to make it more specific and look out for the form here, below the property results.
Sheffield Area Guide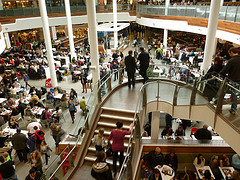 Sheffield Meadowhall Image courtesy of Flickr user urbanlegend
Sheffield still conjures up images of its grimy eighteenth and nineteenth century past when its steel was the finest in the world and the city was a booming centre of innovation. Like its most famous product, Sheffield is tough and resilient, having emerged from the industrial revolution to become a success stories in terms of regeneration. It may surprise many to know that the Hallam area of Sheffield is one of the richest in the UK in terms of high earnings and years of steady growth have led to Sheffield being described as one of the best cities in the country in which to locate a business.
While Sheffield could never be described as picturesque, the city is green, open and liveable, in contrast to sprawling post-industrial cities such as Birmingham and Manchester. Part of the southern tip of the city is encompassed by the Peak District National Park and Sheffield has the honour of being officially the leafiest in the country in terms of trees, parks and open areas. Sheffield is also crisscrossed by several rivers, but its position in a kind of natural bowl means it's prone to flooding.
While the Meadowhall shopping centre still dominates and there's plenty of post-war brutalist architecture, an influx of regeneration money has seen the construction of the Winter Garden glasshouses, the serene Peace Gardens and the Millennium Galleries, all of which help to lift the city centre and give it a spacious, modern feel.
Demographics
Sheffield is one of the largest cities in the UK but the population has remained relatively steady since the 1950s at around 500,000 - 600,000. Sheffield has notable Pakistani, Caribbean, Indian, Bangladeshi, Somali and recently Eastern European communities but unlike many cities further North and West it doesn't have a significant history of racial conflict or tension.
Even though Sheffield is still home to some of the world's most respected steel works, the people of Sheffield are now more likely to be employed in service industries or by the public sector with wages generally high compared to the regional average.
Education
There are a large range of community schools, academies, faith schools, independent schools and special schools across the district. Like most large cities, Sheffield has schools which vary greatly in educational attainment but as a trend, results are improving across the city and many schools are scheduled for significant refurbishment.
Further education is dominated by Sheffield City College, which has several campuses and provides a wide range of options for pupils aged 14 plus.
Transport
In the absence of an inner-city rail network, transport is either by bus or by the recently launched Sheffield Supertram. Sheffield is well connected to other cities by the M1 and M1 motorways and
the city is about two and a half hours away from London by rail, with trains running at around four or five an hour. Trains run into London St Pancras station, which makes it easy to change for the Eurostar to the continent. Sheffield is also only 18 miles away from Robin Hood international airport.
Amenities and Shopping
Meadowhall is Sheffield's most famous shopping centre and one of the UK's most prosperous retail areas, but if malls aren't really your thing it's easy to avoid. The city centre has the big shops common to most city centres such as John Lewis, Debenhams and Marks & Spencers while Devonshire Street is home to smaller, independent shops and boutiques. Fresh meat and produce can be bought from the concrete jungle-esque Castle Market in the city centre.
Whilst every effort has been taken to ensure the above information is up to date, some inaccuracies may occur. If you notice any inaccuracies please contact editor@primelocation.com
All information was correct at time of publication and is provided in good faith.