Properties for sale in Scottish Borders
Wild, green and mostly remote, spotted with castles and ruined abbeys, and with warm pockets of wealth and industry, the Scottish Borders is known as the Gateway to Scotland.
There's a lot of space - 1,800 square miles to be precise.
Area Guide
Keywords and filters like garden and parking live here
Property type
Features
More options
Pre-owned / New homes

No preference

Ownership type

No preference

Retirement

No preference

Buyer incentives

No preference
Scottish Borders Area Guide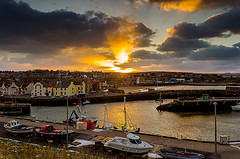 Eyemouth, Scottish Borders Image courtesy of Flickr user Jonathan Combe
Wild, green and mostly remote, spotted with castles and ruined abbeys, and with warm pockets of wealth and industry, the Scottish Borders is known as the Gateway to Scotland.
There's a lot of space - 1,800 square miles to be precise. The region borders Edinburgh to the north and England to the south but despite its rich natural and historical offerings is largely undiscovered by tourists. Perhaps for this reason, its hills, glens and monasteries feel more ancient and unspoilt than almost anywhere else in the country.
There is no central town in the Borders. Rather, it's populated by a smattering of smallish towns and villages, most of which can trace their roots back many, many centuries. To the east, the Tweed Valley has grown rich over the centuries, thriving on agriculture, textiles and trade.
In the hilly west, the picturesque town of Peebles is set among rolling, wooded hills and perched on the banks of the River Tweed. Fiercely independent to the point of being stubborn, the town is apparently 'the least cloned town in Scotland'. And it's just over 40 minutes in the car to Edinburgh.
Half an hour east takes us to Galashiels ("Gala" or "Gaawll-ey" if you're trying to fit in) the second biggest town the Borders with a population of 12,000. Just three miles from there is the tiny and charming town of Melrose - with a classic market square, a red sandstone abbey and picturesque streets that are earnestly maintained by locals.
Turning south brings us to Selkirk - another serene little town laid out prettily on a steep ridge above a tributary of the River Tweed. Another 20 minutes south is Hawick. Towards the coast lie Kelso and Jedburgh - two popular, prosperous market towns with narrow cobbled streets and a welcoming nature. Further east, on the coast, is Eyemouth - on the surface a quaint seaside village with a bustling caravan park; underneath, a tough, functional fishing village with an open and honest community.
Demographics
The Borders has a population of 114,000. On the whole, unemployment is low but it's also a low wage economy. Many people take advantage of the region's cheap housing and high quality of life and either run their own business or commute in to Edinburgh and Glasgow. Main employers include health and social work, retail and construction. About 5% of the population is involved in the manufacture of textiles compared to the 0.3% national average.
Education
Schools in the area perform consistently above national average. 36.8% of publicly-funded school leavers continue to higher education. Peebles High School is ranked in the top 50 schools in Scotland.
Transport
Unfortunately, there isn't much of a railway network in the Scottish Borders, although a new rail link between the main county towns and Edinburgh is due to have its first trains in 2014. Today, the East Coast Main Line runs along the coast, stopping either side of the county borders. The local bus service is good: express links between the main towns and Edinburgh and Carlisle are widely used. Four main A roads criss-cross the region, connecting most of the main towns and villages. The nearest airports are Edinburgh and Newcastle.
Amenities and Shopping
The Scottish Borders is a beautiful place, worthy of comparison to the Lake District, particularly in the wild, empty but incredibly lush west. For this reason, it is loved by walkers, cyclists and any outdoors enthusiasts.
For shopping, most of the smaller towns have their fair share of independent entities selling local specialties. The area is most famous for its textiles so you'll find lots of well-priced cashmere, woollens and the finest tweed. Hawick is particularly famous as a producer of knitwear; but beware of sharp-elbowed bargain hunters. At the other end of the spectrum, Galashiels is your best bet for high street familiars and big name supermarkets.
Whilst every effort has been taken to ensure the above information is up to date, some inaccuracies may occur. If you notice any inaccuracies please contact editor@primelocation.com
All information was correct at time of publication and is provided in good faith.
Narrow your search by property type
---