Properties for sale in Northamptonshire
Northamptonshire, also known as the County of Northampton, is a ceremonial county in the East Midlands. Often called a county of spires and squires, it has been the location of several pivotal moments in history.
Area Guide
Keywords and filters like garden and parking live here
Property type
Features
More options
Pre-owned / New homes

No preference

Ownership type

No preference

Retirement

No preference

Buyer incentives

No preference
* Sizes listed are approximate. Please contact the agent to confirm actual size.
Northamptonshire Area Guide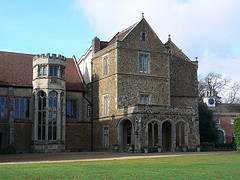 Fawsley Hall in Northamptonshire Image courtesy of Flickr user Heather Cowper
Northamptonshire, also known as the County of Northampton, is a ceremonial county in the East Midlands. Often called a county of spires and squires, it has been the location of several pivotal moments in history. Fotheringhay Castle was where Mary, Queen of Scots was held before her execution, and it was at the Battle of Northampton where Henry VI was captured. King Charles I was imprisoned in Holdenby House. US president George Washington was born into the Washington family which migrated from Northamptonshire to America in 1656.
During the 18th and 19th centuries, Northamptonshire became the shoemaking capital of the world. On the early 20th century, industry focused on steel production, and now its major industries are food production, technology and the service sector.
With Milton Keynes, Aylesbury Vale and Bedfordshire, Northamptonshire is part of the Milton Keynes and South Midlands Growth area. This is because of the building and planned building of tens of thousands of new residences in the area from 2010 to 2020. The major towns are Northhampton, Kettering, Corby, Wellingborough, Rushden and Daventry.
Demographics
There are 692,000 people in the county, and a quarter of them are aged 19 and younger. Comparatively, around 11% is aged 65 and over. About 90% of the population is made up of white people, whilst 5% of the population is made up of South Asian and Black British people. The remaining population consists of people from other ethnic minority backgrounds.
The unemployment rate is 3.5%, lower than England's (3.8%) and the East Midlands (3.7%).
Education
Northamptonshire has a complete comprehensive system, and has quite a large number of primary schools. Ones rated outstanding by Ofsted include Kings Meadow School in Northampton and St Loys Church of England Primary School near Towcester.
Of the 42 state secondary schools, most seem to either be independent or have converted to academy status. Amongst those that have converted to academies, Brooke Weston Academy in Corby and Guilsborough School in Northampton were rated outstanding in the 2011 Ofsted reports, as have many other schools.
There are seven colleges for further education in the county: Tresham College of Further and Higher Education, Fletton House, Knuston Hall, Moulton College, Northampton College, Northampton New College and The East Northamptonshire College. The University of Northampton is the only university in the county.
Transport
The county was historically important for travel, as the Watford Gap along Watling Road made southeast to northwest travel easier.
These days, major roads include the M1 (from London to Leeds), the A14 (linking Rugby and Ipswich) and the A45 (connecting Northamptonshire with Peterborough and Wellington). Buses have routes throughout the county and within the towns.
The Midland Main Line and the West Coast Main Line both cross Northamptonshire. The Midland Main line goes from London St. Pancras to Sheffield, and the West Coast Main line has a crucial route from London up to Edinburgh and to Glasgow. There are also services to destinations including Birmingham, Coventry, Oxford, Reading and several major London stations from various Northamptonshire rail stations.
Amenities and Shopping
Northamptonshire has many things to do, most of which are in the areas with larger populations.
Theatres and venues
Roadmender is a live music venue that puts on club nights and live music in Northampton. The Royal & Derngate Theatre, also in Northampton, is a 583-seat theatre complex that was named Regional Theatre of the Year by in 2010. Castle Theatre in Wellingborough hosts the East Midlands Regional Youth Theatre Festival every year.
Opened in 1921, Wicksteed Park is the oldest amusement park in mainland England. Its attractions include a free playground, a collection of rides for children, water rides and roller coasters and larger rides.
Museums and galleries
78 Derngate is a Georgian building that was renovated by Charles Rennie Mackintosh. It and the neighbouring property have been converted into a museum dedicated to the architect and the history of the house. The Stoke Bruerne Canal Museum and the Rushden Transport Museum celebrate English waterways and railways, respectively.
In Kettering is the Kettering Heritage Quarter, with the Manor House Museum and the Alfred East Art Gallery. A celebration of Northamptonshire's past, the Northampton Museum and Art Gallery has the largest collection of footwear in the world, amongst other exhibits.
Festivals
The Hollowell Steam Rally is an annual charity fundraiser and showcase of steam-powered vehicles and heavy work horses. The Northampton Balloon Festival is a hot air balloon festival, and the Rushden Cavalcade is a transport and country fair. Stuntfest in Wellingborough is a showcase of stunts and fireworks at the Santa Pod Raceway.
Northamptonshire is also home to the World Conker Championships.
Sport
Rugby union is very popular in Northamptonshire. The Northampton Saints are the top team in the area, competing in the Aviva Premiership league. Its football teams are not as prominent: its top team is Northampton Town, which plays in League Two. In the County Championship's Division Two league is the Northamptonshire County Cricket Club.
Northamptonshire is sometimes called Motorsport Valley (along with Oxfordshire and the South Midlands) because many Formula One teams are based there. Mercedes GP is based in Brackley, whilst their engines are built at Mercedes-Benz High Performance Engines in Brixworth. Force India Formula One is in Silverstone, and engineering company Cosworth is based in Northampton. Racing occurs at the Silverstone Circuit and the Rockingham Motor Speedway.
Shopping
The towns of Northampton, Corby, Wellington, Towcester, Brackley, Daventry, Oundle, Thrapston, Rounds and Rothwell all have regular markets in the town centre. These are usually outdoors, but Corby, for example, has both an indoor and an outdoor market.
There are little villages dedicated to certain produce or crafts. In Tiffield, a sheep dairy farm sells its products directly to consumers, and the Wakefield Country Courtyard has a variety of locally produced pies, cakes, chutneys, pickles, wines, ales, meats and cheeses. The Castle Ashby Shopping Yard sells a selection of crafts, gifts and foods, as does the Old Dairy Farm Centre in Upper Stowe. The Old Dairy Farm Centre also has craftspeople on hand to demonstrate how they make their products.
The big shopping centres in the county include Grosvenor Centre, Weston Favell Centre and Peacock Place in Northampton, Newlands Centre in Kettering, and Swansgate Centre in Wellingborough.
Whilst every effort has been taken to ensure the above information is up to date, some inaccuracies may occur. If you notice any inaccuracies please contact editor@primelocation.com
All information was correct at time of publication and is provided in good faith.
Narrow your search by property type
---