Properties for sale in Norfolk
Unlike many areas in Britain, Norfolk didn't rise in prominence during the Industrial Revolution. Instead, it became pivotal during the two world wars, when the flat landscape near France became essential for the building of airfields and, later, for the growing of cereals and rapeseed.
Read More
Keywords and filters like garden and parking live here
Property type
Features
More options
Pre-owned / New homes

No preference

Ownership type

No preference

Retirement

No preference

Buyer incentives

No preference
* Sizes listed are approximate. Please contact the agent to confirm actual size.
Norfolk Area Guide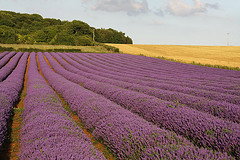 Field of Norfolk Lavender, Heacham Image courtesy of Flickr user David Catchpole
Unlike many areas in Britain, Norfolk didn't rise in prominence during the Industrial Revolution. Instead, it became pivotal during the two world wars, when the flat landscape near France became essential for the building of airfields and, later, for the growing of cereals and rapeseed.
These days, Norfolk continues to play a large, if often overlooked, role in the British economy. Norfolk's biggest economic sectors are energy, manufacturing and engineering, farming and tourism, and these attract many companies to the county. Aviva, Bernard Matthews Farms, Colman's and the Construction Industry Training Board are all based in Norfolk.
There are four main built up areas in Norfolk. Norwich is the county town and largest city in the area. Great Yarmouth is a coastal town, attracting many tourists to its seaside. King's Lynn is a market and port town, and Thetford, now a small market town, is thought to have been the home of Boudica, queen of the Iceni.
A large part of Norfolk's land is protected. The Norfolk Broads, also called simply The Broads, are in the east of the county. There, visitors can enjoy beaches, rivers, lands to wander around and some listed windmills.
Demographics
Norfolk has about 850,800 residents, and it is largely a rural population. Only 38% of people live in the four major cities and towns: Norwich has 195,000 people, Great Yarmouth has about 67,000, King's Lynn has 42,800 and Thetford has nearly 22,000 residents.
Despite its rural nature, Norfolk has a fairly strong economy. GDP per head in Norfolk is £11,825, which is not very far off the £12,845 GDP per head in England. Unemployment is low as well. The county's unemployment rate is 5.6%, compared to 5.8% across England and 6% in the whole of the UK.
Education
Given its rural populations, Norfolk has a large number of schools offering high-quality education. The fourth oldest school in Britain is the independent Thetford Grammar School, and the country's largest state boarding school is Wymondham College. Wymondham College is rated outstanding by Ofsted, as is Aylsham High School and many others.
There are also a large number of primary schools rated good or better by Ofsted. Outstanding primary schools include Trowse Primary School in Norwich and Chapel Road School in Attleborough, a tiny school that educates children from the ages of three to 19. There are also a great many academies and independent schools in the county.
Norfolk's universities are the University of East Anglia and the Norwich University of the Arts, both in Norwich.
Transport
Norfolk does not have a motorway, but the A11 does connect with the M11 at Cambridge. The A47 and the A10 run between the East Midlands and Norfolk, and the A10 runs through Cambridge and into London.
The Great Eastern Main Line train service, also called the East Anglia Main Line, starts at Liverpool Street Station in London and goes to Norwich. First Capital Connect also runs a weekday commuter service into London.
Norfolk has eight airports, but only Norwich International Airport has public services. Most passengers fly to Amsterdam Schiphol, catching flights to a wide range of international destinations. Norfolk International does offer short-haul flights to destinations throughout the UK and Europe as well.
Amenities and Shopping
Because it is so rural, residents often have to travel to other parts of Norfolk for entertainment, but it is usually worth the trip.
Parks and zoos
Norfolk has a large number of zoos and wildlife parks, including BeWILDerwood in the Broads, Banham Zoo, the Pensthorpe Nature Reserve, the Amazona Reserve near Cromer and the Sea Life Centre in Great Yarmouth. Great Yarmouth is also home to the Great Yarmouth Pleasure Beach, which has more than 20 rides and a crazy golf course.
Theatres and venues
The theatres and venues of Norfolk cater to almost all tastes. Most are small, seating between 100 and 400 people, but some are larger. The 510-seat Pavilion Theatre at the end of the Cromer pier continues to host a traditional "end-of-the-pier" vaudeville show, whilst the Britannia Pier Theatre in Great Yarmouth attracts popular comedy acts. The Royal Theatre in Norwich is the city's largest, drawing in crowds of 1300 for various musical, dance, dramatic, family and comedic shows.
Norfolk also hosts some more unusual theatres. The Maddermarket Theatre is a recreation of Elizabethan-era playhouses. The Norwich Puppet Theatre is housed in a converted medieval church and is dedicated solely to puppetry.
Shopping
Just as it is the economic heart of Norfolk, Norwich is also the main shopping destination. It has two shopping centres: The Mall, which has budget friendly high street shops like Argos and New Look, and Chapelfield, which has the only House of Fraser in the county. Norwich also has Jarrolds, a family-run department store that has been in operation since 1823, and a great many independent shops.
The little towns and villages in Norfolk also have many shopping opportunities. The Georgian market town of Holt has a great selection of antiques and arts and crafts shops. Wroxham Barns offers flowers, local produce and confections, a small brewery, crafts studios and a children's fun fair, all in the village of Hoveton. King's Lynn has several pedestrianised shopping areas, making it a great destination for a day-long shopping trip.
Whilst every effort has been taken to ensure the above information is up to date, some inaccuracies may occur. If you notice any inaccuracies please contact editor@primelocation.com
All information was correct at time of publication and is provided in good faith.
Narrow your search by property type
---