Properties for sale in Milton Keynes
1 - 20 of 983 results
Results per page:
Contact relevant estate agents & new homes developers Send a message to agents and developers matching your search for properties for sale in Milton Keynes
Milton Keynes Area Guide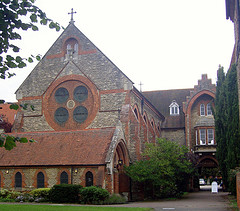 Stony Stratford, Milton Keynes Image courtesy of Flickr user Roland Turner
Milton Keynes has a special place in the nation's consciousness. It will always be thought of as the archetypal new town with its concrete cows, rigidly planned street system and urban sprawl.
The town does live up to much of its reputation, although it might surprise some to learn that with 20 million trees, Milton Keynes is no concrete jungle. It was constructed during the post-war period when the modernist architectural style was popular, which can be a bit overwhelming for people who are not fans of this style or who appreciate a bit more variety.
Another feature which can take some people by surprise is the flatness of the town due to a restriction on the height of the buildings, although this has been relaxed somewhat for the centre.
There are also very pretty areas. Milton Keynes was built to a 'Garden City' ideal, which means is plenty of well-planned and mature green space as well as a huge network of footpaths and cycle paths. It is also surrounded by a large number of pretty towns and villages such as Stony Stratford and Great Linford.
Demographics
Milton Keynes is a successful and prosperous town based primarily on the service industries. The population is around 90% white British with a small South Asian community and average incomes are above the national average.
Education
Schools in Milton Keynes tend to be comprehensive rather than grammar schools. Educational performance is above the national average but below that of surrounding affluent Buckinghamshire.
There are a couple of public schools to choose from: the Milton Keynes Preparatory School and the Webber Independent School.
Transport
The M1 motorway is nearby, which makes travel down to London pretty easy. The A5 also travels West into across the Midlands and into Wales. The train from Milton Keynes Central takes only 35 minutes to London Euston with around five or six trains an hour. Nearby towns Bletchley and Wolverton are on the same line.
There is an efficient bus service in operation throughout the town and also the opportunity to travel to Oxford, Cambridge and Peterborough by coach.
Driving around the town is pretty easy as Milton Keynes was designed to accommodate a large flow of traffic via its grid system. There is also an extensive network of cycle routes, but strangely enough Milton Keynes has a lower than average number of people commuting by bike as the routes tend to meander, making them better for leisure than for work.
Amenities and Shopping
Milton Keynes was designed for the centre to be supplementary to local amenities rather than a hub in its own right. Despite this, the town centre houses a large number of shops, cinemas, pubs and restaurants under its covered high street. Thecentre:mk is a grade II listed shopping centre in the gleaming modernist style, housing chain shops and restaurants.
Milton Keynes also has a theatre, the 65,000 capacity National Bowl and the Central Arts Centre hosting concerts, cinema and art exhibitions.
Whilst every effort has been taken to ensure the above information is up to date, some inaccuracies may occur. If you notice any inaccuracies please contact editor@primelocation.com
All information was correct at time of publication and is provided in good faith.