Properties for sale in Mayfair
Area Guide
1 - 20 of 161 results
Results per page:
Contact relevant estate agents & new homes developers Send a message to agents and developers matching your search for properties for sale in Mayfair
Living in Mayfair: The Local Area Guide
A Guide to Living in Mayfair
Birthplace of Her Majesty Queen Elizabeth II, Mayfair is one of the most exclusive locations in the city of London and lies at the centre of the borough of Westminster. From the world famous tailors of Savile Row to the prestigious auction houses such as Sotheby's, Mayfair has long been synonymous with finery and grandeur. The area takes its name from the 15-day May Fair that ran until the 1700s when the event was halted for lowering the tone of the neighbourhood.
Much of Mayfair's development took place from the middle of the 17th Century until the middle of the 18th Century. Fashion conscious landlords built extensively in the area, leaving behind a legacy of impressive architecture that is continues to be highly desirable. The elegant squares, wide streets and picturesque parks and gardens provide a classic English city backdrop for this hub of activity. Mayfair is the postcode of choice for a number of investment and real estate businesses as well as diplomatic buildings including the US Embassy in Grosvenor Square, which is dominated by a statue of Franklin D Roosevelt.
It's not all work however, there are plenty of places to play too. Some of the capital's most notable hotels, restaurants, bars and clubs also line the streets which have been frequented by dignitaries, high society, world leaders, politicians, and celebrities for over 300 years. A magnet for the wealthy, shopping is a premier attraction in Mayfair with a concentration of designer boutiques, jewellers, antique stores, department stores throughout the district.
Demographics
A prime residential and commercial property area, Mayfair is a highly affluent location. The resident population stands at just over 5,100 and 70% of people living here have substantial wealth. Half of the homes in Mayfair are rented and just over 90% are flats.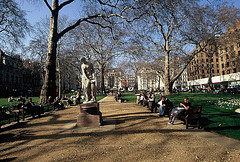 Berkeley Square, Mayfair. Image courtesy of Flickr user Eugene Regis
Education
Mayfair is well served by a high number of nursery schools and within the catchment of more than 40 community primary schools including St George's Hanover Square C of E School and Connaught House School. There are ten secondary schools and numerous sixth form schools within the city of Westminster including Westminster City School as well as several voluntary-aided Church of England, Christian and Roman Catholic and non-denominational schools.
Private education is also well catered for by a number of independent schools including Queen's College for girls, Westminster School for boys and Wetherby Prep School for boys.
Westminster Abbey Choir School and Westminster Cathedral Choir School are highly respected specialist establishments, as are The American School in London, Hillhouse International School and Southbank International School. The infamous Sylvia Young Theatre School is also within the vicinity.
Transport
Transport in and around Mayfair is well served with pedestrian and car routes as well as regular bus and rail networks. There is access to several underground railway stations including Bond Street, Oxford Circus and Piccadilly Circus, as well as main line railway access at Victoria, Marylebone, Euston, Charing Cross and Paddington stations. Air travel is available from London City Airport, Gatwick Airport, Heathrow Airport and London Luton Airport where local, national and international connections are available.
Amenities and Shopping
Situated between Oxford Street, Regent Street, Piccadilly and Park Lane, shopping is a popular past time, with people flocking from all over the world to indulge at Mayfair's many designer clothing, jewellery and antique hot spots. The most luxurious of these is the Burlington Arcade, a glass covered shopping promenade built in the 1800's that is still patrolled by 'Beadles' who oversee the arcade in traditional uniforms featuring frock coats and top hats. Beauty salons, spas and other luxury treats are also easy to find.
The pedestrianised Shepherd's Market is a maze of coffee shops, restaurants and pubs just off Piccadilly. Mayfair is a prestigious and desirable location for some of the world's leading hotels including The Ritz, The Dorchester and The Connaught. The district is buzzing with nightlife, with many of Mayfair's pubs, clubs and restaurants being an attraction for the rich and famous.
Arts and culture are also well catered for in Mayfair with numerous art galleries, exhibitions and theatres within easy reach, showcasing a diverse offering to suit all tastes.
Whilst every effort has been taken to ensure the above information is up to date, some inaccuracies may occur. If you notice any inaccuracies please contact editor@primelocation.com
All information was correct at time of publication and is provided in good faith.