Properties for sale in NW3
Area Guide
1 - 20 of 556 results
Results per page:
Contact relevant estate agents & new homes developers Send a message to agents and developers matching your search for properties for sale in NW3
Living in NW3: The Local Area Guide
London is notorious for changing radically from one district to the next, and the area covered by NW3 – Hampstead, Belsize Park and Swiss Cottage - is a world away from some of the surrounding areas such as Kilburn, Willesden and Harringey.
Hampstead is home to affluent, liberal upper middle class families. The area is generally very well to do with a smattering of the ostentatious ultra-rich along Bishop's Avenue – one of the richest streets in the world. Less wealthy people also live in NW3 though, but many find the house prices across the whole area pretty intimidating.
The whole of NW3 has a kind of nineteenth smartness to it. A lot of its architecture dates from the eighteenth and nineteenth centuries, particularly from 1870-1880, when Hampstead and surrounding areas was popular as a spa town and a country getaway. Stately local landmarks such as Kenwood House help to reinforce this impression.
Belsize Park is less imposing than Hampstead but is a very attractive area of London in its own right. It has tall, terraced housing similar to nearby Islington a long with pretty leafy streets filled with upmarket delis and restaurants. It tends to attract a more 'arty' crowd. Swiss Cottage is perhaps less well to do, especially where it buts up against Kilburn and Willesden, but none-the-less features plenty of attractive residential streets.
Demographics
The population of NW3 is just under 50,000 with an average age of 34. Educational attainment is high – 58% of people here have degrees. Crime levels are low with only 10 burglaries per 1,000 people annually. There's no getting away from the fact that people in NW3 tend to be well off, and there are fewer young house sharers than in other areas of London.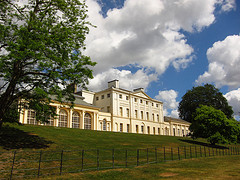 Kenwood House, NW3. Image courtesy of Flickr user Laura Nolte
Education
NW3 has two state schools and a large number of independent schools. Both of the state schools are categorised by Ofsted as 'good'. Competition for school places throughout the whole Borough of Camden is fierce however.
Transport
NW3 has multiple tube and over ground stations, including Swiss Cottage, Belsize Park, Chalk Farm, Finchley Road and Hampstead. The nearest major overland station is King's Cross, which has trains running to the North and East. St Pancras International is also nearby, with direct Eurostar trains to Paris and Brussels.
Amenities and Shopping
Hampstead has a village-y feel with a mass of pubs, bars, restaurants, delis and cafes. Restaurants include both the usual suspects such as Pizza Express and Nando's and the more upmarket.
Other attractions include Keats' House, where the poet wrote Ode to a Nightingale, the stately Kenwood House, which often serves as a backdrop for films and TV programmes, and of course the extensive and leafy Hampstead Heath.
Belsize Park may be smaller and less grand than Hampstead but it has bags of charm. The beautiful narrow streets contain a large number of delis, bars, cafes and restaurants. Swiss Cottage has something the other two areas don't – an Odeon cinema complete with IMAX screen.
Whilst every effort has been taken to ensure the above information is up to date, some inaccuracies may occur. If you notice any inaccuracies please contact editor@primelocation.com
All information was correct at time of publication and is provided in good faith.