Properties for sale in Islington
Area Guide
1 - 20 of 797 results
Results per page:
Refine your search and save time. To save time, you can contact relevant agent/developers with properties matching your search requirements via a single form. Refine your search at the top of the page to make it more specific and look out for the form here, below the property results.
Living in Islington - Local Area Guide
A Guide to Living in Islington
Once considered something of a poor relation to the City and Clerkenwell, in the 1990s Islington went through huge gentrification to become a highly fashionable address and is extremely popular with both professionals and arty-types alike.
Islington's crowning glory it its architecture, which consists largely of tall, narrow 19th century townhouses, ironically built to house the poor displaced from other parts of London, but which now command enormous prices. This is brought into relief by the social housing that congregates to the North and West of the area, which acts as a reminder that Islington was once relatively down-at-heel.
Islington has a bohemian flavour which increases as you walk north along Upper Street from Angel tube station, with gorgeous delis, vibrant bars and smart restaurants. The area around Angel seems to be turning into town centre in its own right with a cinema and cluster of chain stores and wine bars.
Demographics
Like much of London, Islington has rich and poor living cheek by jowl. The rich have taken advantage of the extremely attractive housing stock, creating the kind of immaculately decorated homes that attract film stars and high ranking politicians.
Ordinary people do live here too though, believe it or not, living either in converted flats or in ex social-housing around Caledonian Road and Essex Road. This itinerant population helps to ensure Islington remains fairly young, with much of its population falling within the 16 - 34 age range.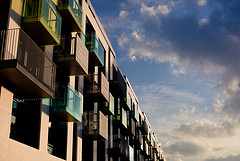 Arundel Square, Islington. Image courtesy of Flickr user Peter Alfred Hess
Education
Finding a school in Islington isn't difficult, but securing a place at one might be. Families who settle here tend to be relatively affluent and so are pretty competitive about getting their children into the best schools. There are hundreds of primaries to choose from and a range of well-regarded secondaries, including Highbury Fields School and City of London Academy.
Transport
Islington is fairly central, which means those who don't like to be crowded onto the tube can travel quite easily into central or north London by bus. For quicker travel, Angel is on the Northern Line, one stop from King's Cross to the north and close to Bank and London Bridge to the south.
The northern suburbs are served by overground stations Highbury and Islington and Caledonian Road, which travel to the East, West and centre of London.
Amenities and Shopping
Upper Street is a very vibrant area with a high concentration of shops, cafes and restaurants. The area around Angel has seen a shopping explosion in recent years centred on the square by the station, which has a cinema and various high street chains.
For more discerning shoppers, there's Camden Passage which is known for its antique shops, clothes, chocolate shops, gastro pubs and restaurants. Upper Street towards the North also has the Screen on the Green, a small artsy cinema usually showing only one carefully selected film. Past this is one of the highest concentrations of restaurants in London covering all kinds of cuisines.
Also worth a look nearby, and just past the well regarded Sadler's Wells theatre, is Exmouth Market, which is great for a Sunday stroll.
Whilst every effort has been taken to ensure the above information is up to date, some inaccuracies may occur. If you notice any inaccuracies please contact editor@primelocation.com
All information was correct at time of publication and is provided in good faith.