Properties for sale near Isle of Islay
Area Guide
Keywords and filters like garden and parking live here
More options
Pre-owned / New homes

No preference

Ownership type

No preference

Retirement

No preference

Buyer incentives

No preference
Sorry, we were unable to locate any results matching your search criteria. Please amend your search options or try searching again.
Are you interested in?
Isle of Islay Area Guide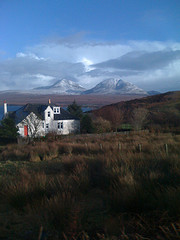 Isle Of Islay, Scotland Image courtesy of Flickr user Matt Thomson
Remote, achingly beautiful and best served with a glass of locally distilled whisky; the Isle of Islay (pronounced 'eye la') is the southernmost island of the Inner Hebrides of Scotland. There are no traffic lights, no roundabouts and about 3,500 people living here - which gives you an idea of what this place is about.
Known as 'The Queen of the Hebrides', Islay is in County Argyll, about 25 miles north of the Irish coast. It's 25 miles long, 15 miles wide and has a total area of nearly 239 square miles. The island is close enough to the mainland to be accessible, and far enough away to be remote. Although everyone speaks English, you'll hear about one in three conversations in Gaelic. The climate is relatively mild, because of the island's proximity to the Gulf Stream. However, Atlantic storms can be pretty serious, particularly during the winter months.
The capital and largest settlement is Bowmore. The main ports are Port Ellen and Port Charlotte, which are the main connections to the northern Isle of Jura, and the rest of Scotland. Other smaller settlements include Bridgend, Ballygrant, Port Charlotte, Portnahaven and Port Askaig.
The main industries on Islay are agriculture, fishing, whisky and tourism. There are eight distilleries in total: Bunnahabhain, Bruichladdich, Bowmore, Caol Ila, Ardbeg, Laphroaig, Lagavulin and Kilchoman. Understandably, much of the local tourist trade is built on distillery tours. About 60,000 tourists visit during the summer months, mostly arriving by ferry. Apart from the world famous whiskies, people are drawn by the island's stunning scenery, rich history and to spot some local ornithological rarities, including the Greenland White-fronted and the Barnacle Goose.
Demographics
The 3,500 strong population is mostly born in Scotland, and are employed in either agriculture, whisky distillation or tourism. Roughly a third of the population lives in Bowmore.
Transport
The island has two main A roads that connect all the main settlements and ports. The A846 runs from Ardbeg to Port Askaig, going via Port Ellen and Bowmore; the A847 winds down the east coast of the Rhinns. There is a local bus service (Islay Coaches), and Glenegedale Airport has flights to Glasgow. The regular ferry service is run by Caledonian MacBrayne, and Port Ellen is the busiest terminal.
Education
There are five primary schools and one secondary school on the island. Islay High School in Bowmore has a good reputation.
Amenities and Shopping
Obviously, the natural attractions of Islay make up a large proportion of the island's activities. The pubs and restaurants are friendly and usually serve local and seasonally sourced food and drinks. There's an ale brewer on the island just in case you're not into your whisky.
As for shopping, Bowmore is your best bet for a traditional retail fix. Markets, independent stores and gift shops make up the rest of the local amenities.
Whilst every effort has been taken to ensure the above information is up to date, some inaccuracies may occur. If you notice any inaccuracies please contact editor@primelocation.com
All information was correct at time of publication and is provided in good faith.
---