Properties for sale in Glasgow
Glasgow grew to be the largest city in Scotland largely by becoming one of the world's capitals of heavy engineering during the Industrial Revolution. Its shipbuilding and marine engineering industries led to it being known as the "Second City of the British Empire".
Area Guide
Keywords and filters like garden and parking live here
Property type
Features
More options
Pre-owned / New homes

No preference

Ownership type

No preference

Retirement

No preference

Buyer incentives

No preference
* Sizes listed are approximate. Please contact the agent to confirm actual size.
Glasgow Area Guide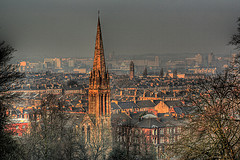 Queens Park, Glasgow Image courtesy of Flickr user Graeme Maclean
Glasgow grew to be the largest city in Scotland largely by becoming one of the world's capitals of heavy engineering during the Industrial Revolution. Its shipbuilding and marine engineering industries led to it being known as the "Second City of the British Empire". It did not rest on these laurels, however: these days Glasgow is one of Europe's top ten financial centres, ensuring it remains one of the best cities in Europe in which to live.
The city centres on George Square, where many of the city's public statues and historic Victorian buildings are located. This is also bordered by the shopping areas of Argyle Street, Sauchiehall Street and Buchanan Street.
Merchant City is the commercial and residential district. It is littered with luxury apartments and warehouse conversions, which are filled by young professional who are attracted to the area's upmarket boutiques, cafes and restaurants. It is the locus of Glasgow's cultural events, and it hosts the annual Merchant City Festival, a celebration of the arts.
The financial institutions based in Glasgow are found in the International Financial Services District. It is colloquially known as the "square kilometre" or Wall Street on Clyde, and ongoing construction of high-rise buildings and modern office spaces has seen more and more businesses move in.
Glasgow's West End is the bohemian part of the city. It has a large collection of tea rooms, bars, hotels, independent shops and restaurants, and it also features Kelvingrove Park, the University of Glasgow, the Glasgow Botanic Gardens and the Scottish Exhibition and Conference Centre. This unsurprisingly makes it popular with tourists. Because it is so popular, the name increasingly refers to any place west of Charing Cross station (not to be confused with the hub in London).
The East End is perhaps best known for the famous Glasgow Barrowland Market, called "The Barras". It is also home to the Barrowland Ballroom, the stunning Glasgow Green, and Celtic FC. It remains a fairly deprived part of town, a condition reflected in its many original sandstone tenements.
The South Side is pretty much anything south of the Clyde. It is mostly residential, but it does have notable attractions like the Charles Rennie Mackintosh's Scotland Street School Museum, Alexander 'Greek' Thomson's Holmwood House and the stadiums that Queens Park FC and Rangers FC call home.
North Glasgow extends north of the city centre, and it really has a split personality. It includes some of Glasgow's most affluent suburbs, like Milngavie and Bishopbriggs, but it also has some of the poorest areas, such as Possilpark and Hamiltonhill. This has led to a lot of regeneration. Ruchill in particular has had a dramatic transformation recently.
Demographics
In 2011, Glasgow had a population of 598,830, an increase of 1% from 2010. Glasgow itself accounts for 11.4 % of the total population of Scotland.
People aged 16 to 29 make up almost 24% of the population, which is larger than the national average of 18.7%, and it has fewer people aged 60 and over. Only 18% of people in Glasgow are over 60, but in the rest of Scotland, just over 23% of the population is that age.
Over 94% of people in the city identify themselves as white. This is not to say that Glasgow is not diverse, as it has been a magnet for immigrants of all kinds. Glasgow has the highest percentage of minority ethnic people in Scotland, with 31% of Scotland's total minority ethnic population living in the city. During the Great Irish Famine, it drew large numbers of Irish immigrants, especially from County Donegal, and it continues to attract many Irish immigrants. It has also attracted many migrants from the Highlands, leading to a large Catholic population. The twentieth century saw people from Lithuania, Italy, Pakistan, India, Bangladesh and China come to the city.
Education
Most state schools are good but not exceptional. Despite this, there are some state schools that are amongst the best in the country. These include Jordanhill School, notable in the HMIe report for its "pupils' high level of attainment", and Hyndland Secondary School, highlighted in its HMIe report for its "good quality of education".
There is a large handful of great independent schools, including St Aloysius' College, which according to its HMIe report has "very good programmes", and Hutchesons' Grammar Primary School, which is praised for its "high standards of attainment throughout the school" in its HMIe report.
Transport
Glasgow's large transport system is mostly managed by the Strathclyde Partnership for Transport (SPT), though there are notable exceptions especially in bus services. Since deregulation of the buses, most routes are served by private operators, though some are partly funded by SPT. The main bus terminal is Buchanan bus station, but service covers the whole of city.
Glasgow is great for trains. It has the second most extensive urban rail network in the UK, with only London topping it. Services travel to a large part of the west of the country, and Central Station and Queen Street Station are the two main terminals.
The city also boasts the UK's only completely underground subway system, the Glasgow Subway. It was the third metro system built in the world, with only the London Underground and Budapest Metro built before it. It is an 6.5 mile-long loop going in both directions around the city, going both north and south of the River Clyde.
Amenities and Shopping
Glasgow has the culture and shopping that one would expect from a financial centre.
Theatres and venues
Glasgow hosts most of Scotland's national arts organisations, including Scottish Opera, Scottish Ballet, The National Theatre of Scotland and the Scottish Youth Theatre. It also has a large number of theatres, such as The King's Theatre and the Citizens Theatre.
It became a UNESCO City of Music in 2008, thanks largely because of its numerous venues. Amongst these are the Glasgow Royal Concert Hall, King Tut's Wah Wah Hut (where Oasis were discovered) and The Garage, the largest nightclub in Scotland. Many gigs are also hosted in ABS and the O2 Academy, as well as the many smaller bars and clubs scattered liberally throughout the city.
Glasgow also has a large number of galleries and museums. It is the home of famous galleries like Kelvingrove Art Gallery and Museum, the Gallery of Modern Art and the Burrell Collection. Glasgow's Mitchell Library has become one of the largest public reference libraries in Europe.
Sport
Glasgow is home to four Scottish football teams: Celtic, Partick Thistle, Queen's Park and Rangers. It also has rugby union's the Glasgow Warriors and rugby league team the Easterhouse Panthers. It also has many cricket clubs, most notably the Clydesdale Cricket Club.
The city has many ice rinks, and it has a professional Elite Ice Hockey League team, Braehead Clan. It is home to the world's oldest swimming club, the Arlington Baths Club. It also hosts the Glasgow Rocks, Scotland's only pro basketball team. Motorcycle speedway racing can be found at Saracen Park in the north, and there are many rowing clubs based in Glasgow Green and the Gorbals.
For fans of shinty (which is sort of the Highlands version of hockey), Glasgow is one of the five places which hosts the Camanachd Cup, shinty's top prize.
There are also many outdoor playing fields, golf clubs and artificial ski slopes for amateurs to enjoy.
Shopping
Shopping in Glasgow is absolutely world class. Its retail portfolio is second only to London in the whole of the UK. That is, its retail sector generates more money than any other place in the UK, apart from central London.
The main shopping centres are the St. Enoch Centre and the Buchanan Galleries. With its eye-catching glass pyramid, St. Enoch Centre is great for the family. It has all the main high street chains and department stores, as well as a branch of Hamley's and The Disney Store. Buchanan Galleries has more upmarket shops, including Swarovski and Fred Perry. The most high-end shops are found in Princes Square and the Italian Centre, however. There, brands like Versace, Vivienne Westwood and Lacoste have located their Glaswegian branches.
Whilst every effort has been taken to ensure the above information is up to date, some inaccuracies may occur. If you notice any inaccuracies please contact editor@primelocation.com
All information was correct at time of publication and is provided in good faith.
Narrow your search by property type
Narrow your search by property feature
All properties for sale in Glasgow with a garden, parking/garage, fireplace, wood floors, balcony/terrace or porter/security.
Houses for sale in Glasgow with a garden, parking/garage, fireplace, wood floors, balcony/terrace or porter/security.
Flats for sale in Glasgow with a garden, parking/garage, fireplace, wood floors, balcony/terrace or porter/security.
---