Properties for sale in St. Andrews, Fife
Two words define St Andrews: golf and students. It's the largest town in East Fife and one of Scotland's most prosperous and popular locations.
Read More
Keywords and filters like garden and parking live here
Property type
Features
More options
Pre-owned / New homes

No preference

Ownership type

No preference

Retirement

No preference

Buyer incentives

No preference
St. Andrews Area Guide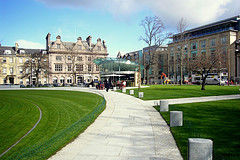 St. Andrews Square Image courtesy of Flickr user John Lord
Two words define St Andrews: golf and students. It's the largest town in East Fife and one of Scotland's most prosperous and popular locations. Although it's quite a remote place, surrounded by idyllic coastal scenery, you'll hear a wide range of accents, and as many English as Scottish.
Named after St Andrew the Apostle (whose relics, according to legend, are somewhere in the area), the town first became significant in medieval times as a centre for learning and religion. Today, that tradition burns brightly in St Andrews University - the oldest in Scotland, and the third oldest in Britain. St Andrews is also famous as the birthplace (or supposed birthplace) of golf. The Old Course is probably the most famous in the world.
FIfty-five miles north of Edinburgh and 13 miles south of Dundee, St Andrews is a compact and often busy town that overlooks the North Sea. It has kept its medieval feel, with tight, stony parallel streets that have small closes leading off. The old town lies to the east, and there's a small harbour near the town's cathedral. Being a university town (as opposed to a campus), many of the centre's buildings are owned by St Andrews. But as well students, the streets are filled with tourists, golfers and of course locals.
Demographics
St Andrews has a population of about 16,500. More than half of the working population are professional and there's a low percentage of part time workers. The largest employer is the University although tourism is also a key industry in the town and surrounding area.
Transport
St Andrews is rural but transport connections are still pretty good. There's no train station in the town, but Leuchars, on the east coast line, is a 15 minute drive or bus away. The bus station is just west of the town centre and there are regular services to the rest of Fife and to Dundee, Glasgow and Edinburgh. Dundee is the closest city - at just under half an hour by road. Edinburgh Airport is one hour and twenty minutes (and an extra ten minutes to the city centre).
Education
St. Andrews has great schooling available: there are three primary schools and two secondary schools (Madras College and St Leonards). About 75% of school leavers go on to further or higher education. St. Andrews University is Scotland's cornerstone of learning and recently was awarded the highest average teaching quality rating in the country.
Amenities and Shopping
There are four main shopping streets in the town: South Street, Market Street, Bell Street and Church Street. These are mostly filled with independent specialist shops. The Byre Theatre offers a year round line-up of classic and modern performance - including drama, music, dance, opera and comedy.
St. Andrews has an outdoorsy feel to it. The two beautiful beaches (East and West Sands), ten stunning golf courses, walking trails and cycleways make it easy to get out of the city limits and enjoy what the surrounding area has to offer. Craigtoun Country Park is perfect for young families, with a miniature railway, boating pond, children's play area and café.
Whilst every effort has been taken to ensure the above information is up to date, some inaccuracies may occur. If you notice any inaccuracies please contact editor@primelocation.com
All information was correct at time of publication and is provided in good faith.
Narrow your search by property type
---