Properties for sale in Exeter
1 - 20 of 838 results
Results per page:
Contact relevant estate agents & new homes developers Send a message to agents and developers matching your search for properties for sale in Exeter
Exeter Area Guide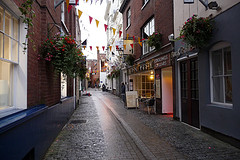 Devon, Exeter. Image courtesy of Flickr user Aaron Bihari
Exeter is the second-largest city and the county town of Devon. It has long been a historically important city, and before the second world war, it was considered second only to Bath in terms of beautiful architecture. One of the many areas to be targeted by the Luftwaffe, Exeter rather uniquely decided to tear down most of the damaged buildings, rather than restore them, and they took the opportunity to alter the street plans to improve traffic. Though this obviously has benefited the city in some ways, many feel the post-war buildings are not as architecturally significant or aesthetically pleasing as the buildings they replaced. As a result, Exeter is not the tourist draw it had been, though it still attracts a significant number of visitors.
Since 2004, Exeter has been the home of the Met Office, which has become one of the three largest employers in the city. The other two largest employers are the University of Exeter and the Devon County Council. The city seems to be riding out the recession well, as the council has recently approved plans to develop the 70-acre Exeter Science Park and the 107-acre Skypark Business Park, both by the M5 on the outskirts of the city.
Demographics
Exeter is a city filled with young adults. According to the 2011 census, Exeter has about 117,800 residents, almost a quarter of whom are aged 18 to 29. In England, only 16% of the population are that age. Still, Exeter does not have as large a proportion of children or older people as England does. In Exeter, 15.8% of the people are aged 15 and younger, and the same percentage are aged 65 and over. Comparatively, almost 19% of the English population are aged 15 and younger, and just over 16% of the population are aged 65 and over.
Economically, Exeter is doing well, as the unemployment rate is about 3.1%, compared to 4.4% in England as a whole.
Exeter is not an ethnically diverse city, however. About 93% of the population describe their ethnicity as white and white British, whilst 85.5% of England's population describe their ethnicity as the same. Only 3.9% of the population of Exeter describe their ethnicity as Asian or Asian British, compared to 7.7% of England's population.
Education
Most of the primary schools are rated "good" by Ofsted, though "outstanding" primary schools include Wynstream School, Clyst Heath Nursery and Community Primary School in the suburb of Clyst Heath and Ellen Tinkham School in the suburb of Pinhoe. The only "outstanding" secondary school is Ellen Tinkham School, which teaches students aged 3 to 19. Otherwise, the secondary schools are usually rated "good", including St Peter's Church of England Aided School and Southbrook School, which serves students aged 6 to 16.
There are several independent schools with excellent reputations that teach primary and secondary aged students, however. These include St Wilfrid's School, The Maynard School and Exeter School.
In terms of further education, Exeter has several colleges, including Exeter College, Isca College of Media Arts, St Luke's Science and Sports College, St James' School, West Exe Technology College and Exeter Tutorial College.
The University of Exeter has two campuses, both of which provide the city with lovely parkland. Exeter is also home to campuses of other universities, including a branch of the University of Plymouth and the Peninsula Medical School, which is run jointly by Exeter and Plymouth Universities.
The city also has the Royal West of England School for the Deaf and the West of England School for the Partially Sighted.
Transport
The M5 motorway begins in Exeter before going to Bristol and Birmingham. The A38 runs to Plymouth and southeast Cornwall, and the A30 goes from north and west Cornwall to London, via Exeter.
The High Street is the main bus hub for bus services throughout the city, and Paris Street is a major station for bus services to the surrounding countryside.
The city is served by two rail stations, Exeter St Davids and Exeter Central, and the suburbs have six stations with local services: Topsham, St James Park, Exeter St Thomas, Polsloe Bridge, Pinhoe and Digby & Sowton. Exeter St David has services to London, Birmingham, Leeds, Newcastle, Edinburgh and Penzance, as well as local services. From Exeter Central, passengers can get to London Waterloo, Salisbury and Exmouth, as well as more local services.
To the east of the city, Exeter International Airport has flights to European and British destinations including Amsterdam, Malta, Belfast and Newquay.
Amenities and Shopping
As one of Devon's major cities, Exeter has a great many amenities.
Museums and galleries
Royal Albert Memorial Museum is the largest museum in the city. It includes archaeology, textile, natural sciences and world culture exhibits, and its fine art gallery includes works by some of the most important British artists and works that celebrate the South West. St Nicholas Priory shows visitors what life was like in Tudor times, and The Bill Douglas Centre for the History of Cinema and Popular Culture explores the history of film and visual media.
The Exeter Phoenix arts centre showcases contemporary arts and hosts the Exeter Contemporary Open, the South West's biggest art competition. Spacex is a contemporary art gallery, featuring film, paintings, sculptures, installations and performances by leading artists.
Theatres and Venues
In addition to exhibitions, the Exeter Phoenix puts on a mix of programmes, including dance, concerts, films and theatre, and the Exeter Northcott puts on opera, drama and dance performances. The Exeter Corn Exchange hosts a comedy club, film nights and various other events. Exeter Barnfield Theatre is a community theatre, doing plays, musicals comedy and family shows.
There are also several nightclubs which host live music and club nights. Arena is Exeter's biggest nightclub, and it plays indie, R'n'B, dance and pop music. The Cavern Club bills itself as "Exeter's longest running indie venue", and though it does host gigs by smaller indie bands, it does also have drum and bass club nights. Mama Stone's is a live music venue dedicated to the discovery and promotion of new musical talent.
Festivals
Exeter has a great many festivals celebrating all sorts of music and interests. The first Pride festival of the year in the UK, Exeter Pride features a parade with music, food, face painting and other activities. Animated Exeter is one of the largest animation festivals in the UK. The Devon County Show celebrates the best produce and agricultural techniques in Devon and also features mountain bike stunt shows, dance troupes, music and more. Similarly, the Exeter Festival of South West Food and Drink highlights the culinary delights of the South West. The Exeter Open Studios sees artists opening their studios to the public, allowing visitors to meet the artists and see what their lives are like.
Exeter also has several niche music festivals. Vibraphonic Festival celebrates reggae, jazz, hip hop, soul, funk and urban music, and Acoustica highlights alt-folk and Americana styles of music. The Analogue to Digital Music Expo allows aspiring and professional musicians to meet music experts, try out the latest equipment and take masterclasses.
Sport
Exeter is home to Exeter Chiefs Rugby Club, playing in rugby union's Premier League, and to Exeter City Football Club, which play in Football League Two. There are two other rugby union teams, Wessex Rugby club and Exeter Saracens Rugby Club, and there is a rugby league team, the Exeter Centurions. The Exeter Cricket Club are in the Devon Cricket League's Premier Division.
Exeter has three archery teams: the Exeter Bramdean Archers, the University of Exeter Archery Club, and the Exeter Company of Archers. The Exeter Rowing Club have a long and successful history, and The City of Exeter Regatta is one of the biggest rowing events in the South West. Exeter also hosts the Great West Run half marathon each year.
Shopping
Shopping is pretty much concentrated in the city centre, to the south of Exeter Central Station and to the east of the river. Princesshay is the large shopping centre in the middle of the city. It has more than 70 shops, including Cath Kidston, Debenhams and Neal's Yard Remedies. Alongside each other on the high street sit Harlequins Shopping Centre and The Guildhall Shopping Centre. Harlequins Shopping Centre has designer boutiques, cookware retailers and even an American candy shop. The Guildhall is home to brands like Mothercare, Argos and Primark, as well as independent shops.
The High Street features stores like House of Fraser, Whittard of Chelsea and Jack Wills, whilst on Sidwell Street are John Lewis and several specialist shops including family-owned bed shop Peter Betteridge, Lickety Split cycle shop and jewellers Ivor Doble.
Castle Quarter, around Exeter Castle, features independent boutiques that sell designer fashion, organic clothes, jewellery or even fabric. By the cathedral, Cathedral Quarter is a magnet for classic, elegant shops, including a gentlemen's outfitters, a leather goods shop and a high-quality ladies shoe store.
Exeter's Quayside antiques shops, craft stores and fair trade boutiques maintain the historic charm of the area. In the West Quarter, shoppers enjoy wandering around McCoy's Arcade, featuring craft shops, vintage clothing retailers, instrument shops and camping stores. Brides head to South Street, which has two bridal shops and a high-end lingerie boutique.
Whilst every effort has been taken to ensure the above information is up to date, some inaccuracies may occur. If you notice any inaccuracies please contact editor@primelocation.com
All information was correct at time of publication and is provided in good faith.