Properties for sale in East Sussex
East Sussex, located on the south coast, has five districts: Hastings, Rother, Wealden, Eastbourne and Lewes. Lewes, Wealden and Rother are all quite rural, whilst Eastbourne and Hastings have more built-up areas.
Read More
Keywords and filters like garden and parking live here
Property type
Features
More options
Pre-owned / New homes

No preference

Ownership type

No preference

Retirement

No preference

Buyer incentives

No preference
* Sizes listed are approximate. Please contact the agent to confirm actual size.
East Sussex Area Guide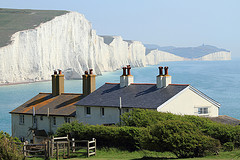 Seven Sisters Cottages, East Sussex Image courtesy of Flickr user davharuk
East Sussex, located on the south coast, has five districts: Hastings, Rother, Wealden, Eastbourne and Lewes. Lewes, Wealden and Rother are all quite rural, whilst Eastbourne and Hastings have more built-up areas.
Eastbourne sits beside Beachy Head, the highest chalk sea cliff in Great Britain. Its location and links to London make it popular as a tourist destination and as a commuter town. Hastings, most famous as the location of the initial Norman Invasion of England, has grown thanks to its traditional reliance on fishing, as well as newer industries including engineering, construction, health, public services and education. Lewes is the county town, and its economy has shifted from a market town to one reliant on the communication and tourist industries.
The Brighton and Hove conurbation sits within the ceremonial borders of the county, but it was made a unitary authority in 1997.
Demographics
East Sussex is sparsely populated, older and fairly homogeneous. There are about 526,600 residents, just over 16% of whom are aged 14 and younger and almost 23% of whom are aged 65 and over. In comparison, over 17% of England's population is aged 14 and younger, and 16% are aged 65 and over.
East Sussex is not particularly ethnically diverse. Almost 96% of the population describe their ethnic background as white and white British, compared to 85.5% in England. Almost 92% of the population is white British, whilst under 80% of England's population is. The next largest ethnic group describe their background as Asian and Asian British, and in East Sussex, that group makes up less than 2% of the population. In England, however, just under 8% of the population are Asian and Asian British.
The unemployment rate in East Sussex, which is 3.6%, is lower than England's unemployment rate, 4.4%.
Education
Education in East Sussex is quite highly rated. The primary schools in East Sussex are mostly rated "good" or "outstanding" by Ofsted. "Outstanding" schools include Cross-in-Hand Church of England Primary School in Heathfield, Blackboys Church of England Primary School in Uckfield and Robsack Wood Community Primary School in St Leonards-on-Sea.
Secondary schools are also highly rated. "Outstanding" schools include Priory School in Lewes and St Richard's Catholic College in Bexhill.
The independent schools with fantastic exam results include Battle Abbey School and Eastbourne College.
East Sussex's further education institutions include Bexhill College, Hastings College of Arts and Technology, Sussex Downs College (with campuses in Eastbourne, Lewes and Newhaven) and Plumpton College.
Transport
East Sussex doesn't have any motorways, but two of its main roads radiate from London, including the A21 and A22. The A26 links the county with Kent, and the A27 runs from Portsmouth, along the coastline, before turning into the 259 at Eastbourne and continuing to Folkestone.
Rail services run in largely the same fashion, with the largest areas being served and the rural areas largely being isolated. The London-Hastings line also stops in St Leonards Warrior Square, West St Leonards, Crowhurst, Battle, Robertsbridge, Etchingham, Stonegate, Wadhurst and Frant. The Oxted line connects Uckfield with Bristol, stopping in Crowborough, Buxted and Uckfield along the way. The East Coastway Line runs through East Sussex and Kent. In East Sussex, the line stops at stations including Lewes, Berwick, Eastbourne, Collington and Hastings.
Amenities and Shopping
East Sussex is home to a great many museums, galleries, theatres and festivals, so there's always something to do.
Museums and galleries
Hastings Museum and Art Gallery has exhibitions covering art, natural history, Sussex smugglers and more. The Musgrave Collection in Eastbourne was first opened in 1983, when George Musgrave decided to exhibit his collection of art and objects. Barbican House Museum explores prehistory to medieval history of Sussex, and Charleston in Lewes was the country retreat of the Bloomsbury Group. Hastings preserves its maritime history with the Shipwreck Museum and the Hastings Fishermen's Museum. Museums that explore local history include the Seaford Museum and Heritage Centre, Ditchling Museum, Rye Castle Museum
Towner Gallery is a contemporary art museum in Eastbourne, and Rye Art Gallery has regularly changing exhibitions, a permanent collection and lectures. Chalk Gallery in Lewes features 21 artists exhibiting their paintings, jewellery, sculptures and other artworks.
Theatres and venues
Eastbourne has several theatres. The Under Ground Theatre has a programme of events that includes drama, art exhibitions, concerts and more. The Congress Theatre can seat 1689 people during its dance, theatre and music performances, and the Royal Hippodrome hosts a variety of musical acts. The Winter Garden Floral Hall hosts dances, comedy performances and more. Devonshire Park Theatre shows classic films and plays in a Grade II listed building.
Elsewhere, the Lewes Little Theatre is an amateur theatre that puts on around seven productions each year. Seaford Little Theatre is Seaford's premier theatre, putting on four shows a year. Uckfield's Pamphilon Theatre has a varied programme of touring productions Chequer Mead Theatre hosts more than 250 performances every year, mostly putting on variety and tribute acts. The Hailsham Pavilion shows films, concerts and plays. In Hastings, the White Rock Theatre has panto, touring productions and concerts.
Festivals
Many of East Sussex's festivals celebrate the arts. The Hailsham Festival of Arts and Culture promotes all arts in the local community, though it originally focused on visual arts. The Rye Arts Festival is a small festival that emphasises quality, intellectually stimulating literary, musical and theatrical arts. The Annual Chiddingly Festival of Arts attracts comedians, musicians and dancers to the small village.
There are also festivals which focus on specific forms of art. Artwave is a visual arts festival in Lewes that sees local artists opening their studios to the public. The Hastings Musical Festival is an amateur music festival that sees musicians competing in instrumental and vocal categories. Mayfield Festival of Music and The Arts primarily focuses on classical music. Small Wonder Festival is the short story festival at the Charleston Farmhouse, and the Charleston Festival is a larger literary and ideas festival, featuring talks and discussions on literature and other creative areas.
Eastbourne has a number of festivals, including the Eastbourne Lammas Festival, the harvest festival. Eastbourne Festival is an arts festival celebrating all artistic disciplines. The Eastbourne Music and Arts Festival is a series of musical competitions and concerts.
Village festivals include the Uckfield Festival, the Fish Festival in Newhaven and the Alfriston Village Festival.
Shopping
East Sussex is not as well known for shopping as its neighbours in Brighton and Hove, but the many villages and towns have good reputations for antiques shops.
There are several shopping centres, a couple of which are in Eastbourne. The Enterprise Shopping Centre has foregone high street brands, preferring instead its 50 independent boutiques selling clothes and accessories, gifts, toys, electricals, crafts, pet supplies and more. Nearby, the Eastbourne Arndale Centre has the brands, and its 70 shops include Marks and Spencer, Topshop and Robert Dyas.
In Hastings, Priory Meadow has a mix of independent shops and brands like Waterstones, Dorothy Perkins and Game. The Riverside in Lewes specialises in artisan products from food and drinks to arts and crafts and sits on the Ouse River.
Whilst every effort has been taken to ensure the above information is up to date, some inaccuracies may occur. If you notice any inaccuracies please contact editor@primelocation.com
All information was correct at time of publication and is provided in good faith.
Narrow your search by property type
Narrow your search by property feature
All properties for sale in East Sussex with a garden, parking/garage, fireplace, wood floors, balcony/terrace or porter/security.
Houses for sale in East Sussex with a garden, parking/garage, fireplace, wood floors, balcony/terrace or porter/security.
Flats for sale in East Sussex with a garden, parking/garage, fireplace, wood floors, balcony/terrace or porter/security.
---