Properties for sale in Coventry
1 - 20 of 1,304 results
Results per page:
Contact relevant estate agents & new homes developers Send a message to agents and developers matching your search for properties for sale in Coventry
Coventry Area Guide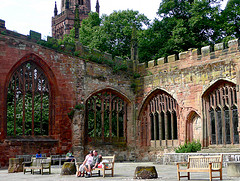 The 'Old' Cathedral, Coventry Image courtesy of Flickr user Herry Lawford
Coventry is the second largest city in the West Midlands, and it has featured in history in some unusual ways. It was where Lady Godiva rode naked through the streets in the 11th century in protest of her husband's high taxes. The phrase "to be sent to Coventry" developed during the English Civil War, as the citizens of Coventry would not speak a word to Royalist prisoners, completely ostracising them. It became part of the world's first pair of twin cities when, during World War II, it formed a twinning relationship with what is now Volgograd.
Coventry has largely been shaped by its destruction during bombing by the Luftwaffe: it was the fourth most-damaged city in the country. It continues to benefit from redevelopment projects, however, and projects like the award-winning Phoenix Initiative are building public gardens, civic squares and apartment complexes in the city centre.
The economy of Coventry is diverse. It includes the traditionally strong manufacturing industry and has diversified into the finance, research and development, creative and leisure industries.
Demographics
Compared to England as a whole, Coventry's population of about 316,900 people are young, and diverse.
Almost 20% of Coventry's population are aged 15 and younger, and over 21% are aged 18 to 29. Comparatively, almost 19% of England's population are aged 15 and younger, and only 16% are aged 18 to 29. About 14% of Coventry's population are aged 65 and over, and about 16% of England's are the same age.
Almost 74% of Coventry's population describe their ethnic background as white and white British, compared to 85.5% of England's population. In fact, almost 80% of England's population describe their ethnicity as white British alone, whilst only 66% of Coventry's population describe their background as such. Coventry's next largest ethnic group describe their background as Asian and Asian British, and they make up over 16% of the population. In England, under 8% describe their ethnic background as Asian and Asian British.
The levels of employment are relatively low in Coventry. The unemployment rate there is 5.4%.
Education
Most of the primary schools in Coventry are rated satisfactory or good by Ofsted, but there are a few rated outstanding. These include Sherbourne Fields School and Frederick Bird Primary School.
The state-run secondary schools are mostly rated good, and the outstanding schools are usually those which have converted to academies, such as The Coventry Blue Coat Church of England School and Music College, as well as the Finham Park School.
Independent schools with good exams scores include King Henry VIII Preparatory School and King Henry VIII School, which together teach students aged three to 18, and Bablake School, which teaches students aged 11 to 18.
Technically, Coventry has two universities. Coventry University is well and truly within the city, and the University of Warwick's campus is mostly in the city limits. The city's three further education colleges are City College, Henley College and Hereward College.
Transport
Coventry is near the M6, M69, M45 and M40, though none of the motorways actually pass through the city. The main routes within Coventry are the A45, which runs from Birmingham to Thrapston in Northamptonshire, and the A46, which goes from near Bath to Cleethorpes in North East Lincolnshire. The A4053 is a ring road around the city centre.
Most of the city's rail travel goes through Coventry railway station. The West Coast Main Line stops there, connecting Coventry with Edinburgh, Glasgow, Manchester, Birmingham and London. The Coventry to Leamington Line is branch off of the Bournemouth-Manchester service of the CrossCountry line. The Coventry to Nuneaton line connects the city to the West Midlands town. Coventry's suburbs are served by Canley and Tile Hill rail stations, which, along with Coventry railway station, are part of the Rugby-Birmingham-Stafford line.
Coventry Airport is in the nearby village of Baginton, and Birmingham International Airport is about 11 miles west of the city.
Amenities and Shopping
Though it is a smaller city, Coventry offers all the amenities and shopping expected from an urban centre.
Museums and galleries
Herbert Art Gallery and Museum has eight permanent collections and features travelling exhibitions from massive, internationally acclaimed museums and galleries. The Coventry Transport Museum explores Coventry's history as the birthplace of the British automotive industry with the world's largest collection of British road transport vehicles. The Lanchester Gallery displays the work of staff and students at the Coventry University School of Art and Design. The Priory Visitor Centre showcases the history of the Coventry Cathedral and what life was like when the original building still stood.
Theatres and venues
The Belgrade Theatre is the only professional theatre in the city, and it puts on plays, concerts and productions that tour throughout the country. The Criterion Theatre is an award-winning regional theatre that has about seven productions each year. The largest arts centre in the Midlands is the Warwick Arts Centre, on the University of Warwick campus. It offers its 280,000 annual visitors exhibitions, theatre, concerts, films and more.
Ricoh Arena is the best known venue in Coventry, and the 32,000 seat arena draws some of the biggest international acts. Taylor John's House features travelling theatre companies, local musicians, poets and more. The Beer Engine is a live music pub, largely supporting local bands but also featuring some bigger acts. Kasbah is one of the biggest clubs in Coventry, playing chart, R'n'B and dance hits.
Festivals
The Godiva Festival is a free annual festival that attracts established artists playing rock, pop, hip hop, acoustic and every genre in between. The Coventry Festival of Motoring celebrates everything motor vehicle, from vintage cars to future concepts. The Coventry Rhythm Festival, formerly the Coventry Jazz Festival, now features blues, funk, world music and soul in addition to its jazz performances.
Sport
Coventry has teams for almost every kind of sport. Coventry City F.C. play football in League One. Rugby union's Coventry R.F.C. play in the National League One, and the Coventry Bears play rugby league in the National Conference League.
The Coventry Godiva Harriers are an athletics club, and the town is home to the City of Coventry Swimming Club. The Coventry Buildbase Bees compete in speedway races.
Basketball fans can cheer for the Coventry Crusaders, and the Coventry Jets play American football. Four Masters G.A.A. Club are the Gaelic football team. The Coventry City Derby Dolls are the local roller derby team.
Shopping
West Orchards Shopping Centre is the largest indoor shopping centre in Coventry, with 45 shops like a three-storey Debenhams, WHSmith and Miss Selfridge. The Lower Precinct Shopping Centre has more than 25 shops, including Clarks Shoes, H&M and H Samuel.
Near West Orchards is Smithfield Way, which has more high street shops. Broadgate and Cathedral Lanes have high street brands like Game and Primark, whilst Coventry Market has over 170 stalls selling everything from fruits and vegetables to a popular fish market. Greyfriars Walk is home to independent specialist boutiques selling toys, gadgets and accessories. Other shopping streets include The Burges and Spon Street, which have a mix of independent and national shops.
Whilst every effort has been taken to ensure the above information is up to date, some inaccuracies may occur. If you notice any inaccuracies please contact editor@primelocation.com
All information was correct at time of publication and is provided in good faith.