Properties for sale in St. Ives, Cornwall
St Ives is a seaside town, almost on the south-western tip of Cornwall. According to legend, the town was founded on the spot where St Ia, the Irish princess-turned-missionary, landed.
Area Guide
Keywords and filters like garden and parking live here
Property type
Features
More options
Pre-owned / New homes

No preference

Ownership type

No preference

Retirement

No preference

Buyer incentives

No preference
St Ives Area Guide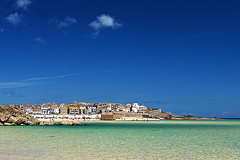 St Ives Image courtesy of Flickr user Nana B Agyei
St Ives is a seaside town, almost on the south-western tip of Cornwall. According to legend, the town was founded on the spot where St Ia, the Irish princess-turned-missionary, landed. She was eventually martyred and buried in the St Ives Parish Church, and she is the patron saint of the area. She also gave it its name.
St Ives has a large tourism industry, and as a result, many of the houses there are actually second homes. Still, a small but determined local population keep the town running when the holiday season dies down.
Demographics
St Ives has a regular population of 11,400, and it is generally an older, less diverse population than England's. Around 15% of St Ives's population are aged 14 and younger, and about 23% are aged 65 and over. Comparatively, about 17% of England's population is aged 14 and younger, and only 16% of England's population is aged 65 and over.
Almost 99% of the population of St Ives described their ethnic background as white, and the next largest ethnic group were those with mixed ethnic backgrounds. They made up 0.5% of the population. In England, just over 85% of the population describe their ethnic background as white, and just over 2% of the population describe their ethnic background as a mix of ethnicities.
Education
Two primary schools are rated "outstanding" by Ofsted - St Ives Junior School and St Uny Church of England School in Carbis Bay. The other primary school in the area is rated "good". St Ia School is an independent school made up of one small class of pupils.
St Ives School, A Technology College, is the only secondary school in the town, and it is rated "good" by Ofsted. The closest cluster of secondary schools is in Penzance to the south.
Transport
St Ives has one major rail station, and it has services to London Paddington and to Penzance. Major coach services also go to London, and local bus services run from St Ives to the towns and villages nearby.
The nearest airports are in Newquay and in Plymouth. Newquay Cornwall Airport and Plymouth City Airport both have flights to British destinations, including London, Manchester and St Mary's on the Isle of Scilly.
Amenities and Shopping
St Ives has amenities that focus on the town's reputation for tourism, the sea and inspiring art.
Museums and galleries
The most famous gallery in the area, the Tate St Ives was opened in 1993 in recognition to Cornwall's residents' outstanding contribution to the arts. It has rotating exhibitions of both Cornish and international artists. Managed by the Tate Gallery, the Barbara Hepworth Museum was the house and studio of the acclaimed sculptress. The Leach Pottery was built by potter Bernard Leach in 1920, and it was converted into a pottery museum in 1999.
Theatres and venues
The Island Centre is a youth centre and theatre, and it is home to the Rough Coast arts company. The St Ives Arts Club is a multi-purpose centre for visual and performing artists. The Boathouse Theatre was opened in the town in 2012 on a temporary basis, putting on plays and musicals with puppets.
Festivals
The St Ives Feast celebrates the founding of St Ives by St Ia, and the Knill Ceremony takes place every five years remembers the former mayor John Knill with a dinner featuring the current mayor of St Ives, a vicar, a customs officer, 10 widows and 10 daughters of "fishermen, tinners, or seamen" and a memorial ceremony. The St Ives May Day is a revival of West Cornwall May Day celebrations, and it hails the coming of summer with brass bands, traditional dancing and more. The St Ives September Festival is a 15-day arts festival that has folk, jazz, rock, classical and world music concerts, as well as poetry readings, film screenings, talks and more.
The St Ives Literature Festival is eight days of talks, book launches, readings, comedy and more. The St Ives Food and Drink Festival highlights the best food and drink the town has and Open Studios Cornwall is a festival where local artists, including the artists in St Ives, open their studios and welcome the public.
Shopping
St Ives is absolutely stuffed with quaint, independent shops, many of which can be found on Tregenna Hill, Tregenna Place, St Andrews Street, Fore Street and Wharf Road. The shops mostly sell the work of local artists and craftspeople, local produce and gifts. For high street brands, locals head to Penzance or Falmouth.
Whilst every effort has been taken to ensure the above information is up to date, some inaccuracies may occur. If you notice any inaccuracies please contact editor@primelocation.com
All information was correct at time of publication and is provided in good faith.
Narrow your search by property type
---