Properties for sale in Ely, Cambridgeshire
1 - 20 of 40 results
Results per page:
Contact relevant estate agents & new homes developers Send a message to agents and developers matching your search for properties for sale in Ely, Cambridgeshire
Cambridgeshire, Ely Area Guide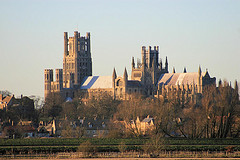 Ely Cathedral Image courtesy of Flickr user Dave Catchpole
The medieval Cathedral city of Ely in Cambridgeshire, is one of the smallest cities in the UK. It lies 14 miles away from Cambridge and some 80 miles from the capital, London.
It is perhaps best known for its simply stunning Cathedral, a building exhibiting the influences of Norman, Gothic and Romanesque architecture. It's not just for tourists in the 21st Century, though. Right in the heart of this historic city, there are cottages and Georgian town houses lining the streets. Residents live incredibly close to the historic centre and property is much lower cost, on the whole, than in neighbouring Cambridge.
Demographics
The 2011 census cited the population of Ely at 20,256, an increase of around 5,000 since the 2011 census.
It's one of the lesser ethnically diverse places to live in England, a place where 94% of the population is white (84% specifically white British). And although the cost of living is lower than neighbouring Cambridge, it still attracts affluent residents with relatively high incomes.
This is an economically active area, despite the troubled economic times. Although the national unemployment rate sits, at the time of writing, at 7.7%, fewer than 2% of people in Ely are unemployed. Over 60% of the working population hold what are classified as professional occupations.
Education
Ely is most notably where you'll find the nationally renowned King's Ely (renamed in 2012 from 'the King's School, Ely'). This is an independent school offering both day and boarding places.
The city offers a number of well regarded primary schools, with St Mary's C of E and St John's Community Primary school both rated 'good' in Ofsted inspections. Other primary schools in the area have been rated 'satisfactory.'
The main secondary schools are the City of Ely Community College and Soham Village College (where 62% of pupils achieved 5 good GCSEs or better in 2012).
When considering higher education, the immediately institution is, of course, the globally renowned Cambridge University just 14 miles away. While this is undeniably an incredible university, places are highly competed for.
Transport
Ely is just a 25 minute drive from Cambridge, where you can easily access the M11 and, from there, the A1.
Ely Railway Station is found on the aptly named Station Road in the city. From there, you can get trains direct to London King's Cross, a journey that takes just an hour and 10 minutes. You can also get directly to Cambridge in around 20 minutes, Norwich in just over an hour, to Ipswich in just under an hour, to Stansted Airport in less than an hour, Manchester in around 4 hours and Birmingham in around 2 and a half hours. So although some journeys, particularly to the likes of Manchester and Birmingham, might be fairly long, many major cities are accessible from Ely itself.
Within Ely, much of the transport is supplied by local bus services. Bus services also connect Ely to Cambridge and other surrounding areas as well.
There is a regional airport 14 miles away in Cambridge, but the nearest international airport is London Stansted, which is around 35 miles away and served by a direct train route from Ely.
Shopping and Amenities
Many of Ely's shops are centred around the High Street and Market Street, though aside from the banks, you're unlikely to find a host of High Street names here on the street itself.
There is a small shopping centre known as the Cloisters close to the High Street where you can find a few High Street shops, including Wilkinson and Dorothy Perkins. For larger scale retail therapy, though, many residents head to Cambridge.
There is a cinema in the city, Ely Cinema. It's found on the riverside and is a somewhat more traditional cinema.
There are also a number of bars and restaurants in the city and within the historic centre itself.
Whilst every effort has been taken to ensure the above information is up to date, some inaccuracies may occur. If you notice any inaccuracies please contact editor@primelocation.com
All information was correct at time of publication and is provided in good faith.