Properties for sale in Borough, The
Area Guide
1 - 20 of 645 results
Results per page:
Contact relevant estate agents & new homes developers Send a message to agents and developers matching your search for properties for sale in Borough, The
Living in Borough: The Local Area Guide
A Guide to Living in Borough
While it's hard to imagine central London districts such as Covent Garden or Soho being on the shopping list for most house buyers, Borough is central enough to have some of the glamour of the West End while being a plausibly liveable residential area.
It's called the Borough because it's one of London's original boroughs, and has a fairly grisly past; however, today the area has a relaxed, villagey feel that centres on the ever popular Borough Market, criss-crossed with cobbled streets that house the restaurants and riverside pubs that lead up to Shakespeare's Globe and the Tate Modern. The only reminder of Borough's past is the Clink museum, which now nestles next to a Starbucks and a Nando's.
Demographics
Borough is part of the wider Borough of Southwark, which is a very ethnically diverse area. Peckham and Camberwell to the south are home to a number of immigrant communities, particularly from Africa and the Caribbean. Moving up towards Borough, the many pricey riverside developments and streets full of charming, turn-of-the century housing stock has attracted affluent young professionals who mix with arty types to the East and the older, more traditionally working class Southwark communities to the South.
Education
Borough itself isn't home to many educational establishments. Parents would have a choice of the community schools and academies in nearby Peckham or Camberwell, or the high-performing state schools of East and West Dulwich to the South. Dulwich is also home to a number of highly regarded public schools, including James Allen's Girls' School.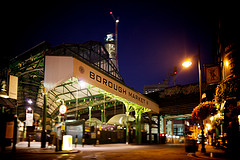 Borough Market. Image courtesy of Flickr user Aurelien Guichard
Transport
Borough is exceptionally well connected. London Bridge station is right in the centre of the area with easy underground and overground links to the rest of the city. London Bridge is also the gateway to the south, with trains to Croydon, Brighton, Hayes and Gravesend. Many bus routes converge here, which means it's easy to hop on a bus to pretty much anywhere.
Amenities and Shopping
Mention Borough to a Londoner and the first thing they will think of is Borough Market. The Market is almost always overrun with tourists, but still a great attraction for locals, particularly on a lazy Saturday afternoon when you can browse the stalls and have brunch in one of the numerous nearby cafes. The area around the Market is picturesque, and has capitalised on the passing trade with restaurants such as Roast, Fish and Black and Blue and many little artisan food shops and cafes.
Borough High Street by contrast is still a little raggedy and run down, but London Bridge station itself has recently had a refurbishment and the area at the bottom of the newly constructed Shard promises interesting things in the coming years.
Moving towards the east, Bermondsey is still best known for being the home of Millwall football club but is undergoing something of a renaissance. Bermondsey Street is only a short walk from Borough and is home to the White Cube art gallery, a number of notable restaurants such as Zucca and Pizarro and the Bermondsey Square Antiques Market. Nearby Maltby Street has turned into a gastro heaven with a street market selling deli delights underneath the railway arches.
Whilst every effort has been taken to ensure the above information is up to date, some inaccuracies may occur. If you notice any inaccuracies please contact editor@primelocation.com
All information was correct at time of publication and is provided in good faith.