Properties for sale in Bath
Bath, located just southeast of Bristol, is a lovely historic city famous for the Roman Baths. The Baths led to the city being named a UNESCO World Heritage Site in 1987.
Area Guide
Keywords and filters like garden and parking live here
Property type
Features
More options
Pre-owned / New homes

No preference

Ownership type

No preference

Retirement

No preference

Buyer incentives

No preference
Bath Area Guide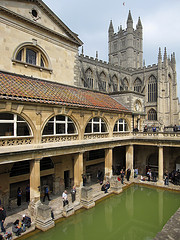 Great Bath and Bath Abbey Image courtesy of Flickr user mari
Bath, located just southeast of Bristol, is a lovely historic city famous for the Roman Baths. The Baths led to the city being named a UNESCO World Heritage Site in 1987. Today, the city has maintained its charm whilst updating its industries and amenities. Many companies are software, publishing and service-orientated businesses, and the education and health sectors are also big employers. The city is also a well-known tourist destination.
Demographics
Bath and its surrounding areas have 176,000 residents, about 16% of whom are aged 15 and younger and almost 18% of whom are aged 65 and over. Comparatively, almost 19% of England's population is aged 15 and younger and over 16% are aged 65 and over. Bath has a low unemployment rate, at 2.7%, and it is much lower than England's, which is 4.4%.
Bath is not particularly ethnically diverse: almost 95% of the population describe their ethnic background as white and white British. In England, just over 85% of the population describe their ethnicity that way. In Bath, the next largest ethnic group describe their background as Asian and Asian British, and they make up 2.6% of the population. In England, those who describe themselves as Asian and Asian British make up 7.7% of the population.
Education
The primary schools in Bath are all rated satisfactory or higher by Ofsted, and the many "outstanding" rated primary schools include St Stephen's CofE Primary School, Bathampton Primary School, and St Mary's Catholic Primary School.
Most of the best secondary schools are either academies or independent. The exception to this is Saint Gregory's Catholic College, which is rated outstanding. Academies rated outstanding before converting include Beechen Cliff School and Oldfield School. Independent schools with particularly good exams scores include Prior Park College, which teaches children aged 13 to 18, and Kingswood School, which teaches children from ages 11 to 18.
Bath is home to two universities: the University of Bath and Bath Spa University. City of Bath College is Bath's only further education college offering a wide range of vocational courses, and Norland College provides childcare training and education, teaching students to become nannies, nursery workers and other positions caring for children.
Transport
The A36 cuts right through Bath before terminating in Salisbury, and the A4 links the city with Bristol. Bath has reduced car use in the city with many park and ride services, and buses go throughout the city and to surrounding towns and cities.
Bath Spa railway station has services to destinations including London, Bristol, Cardiff and Plymouth on the Great Western Main Line and Brighton, Portsmouth and Salisbury on the Wessex Main Line. Oldfield Park railway station is a suburban station that has local services.
Amenities and Shopping
Bath has had amenities that have attracted visitors to the city for thousands of years, and the modern day is no different.
Museums and galleries
Bath has a great many living museums. No. 1 Royal Crescent shows visitors what life was like in Georgian Bath, and the Roman Baths show the ancient history of the city. Sally Lunn's Historic Eating House and Museum is held in the location where the Sally Lunn Bun was invented. Radstock Museum explores the life of a typical Somerset coalminer.
Other museums in the city celebrate its great residents. Beckford's Tower and Museum is a museum dedicated to William Beckford on the ground floor and has great views over the city at the top of the tower. The Herschel Museum of Astronomy showcases both the life of Georgian astronomer William Herschel and modern thoughts on the science. The Building of Bath Collection highlights the best of Bath's architectural history. The Jane Austen Centre explores the life of the famous writer.
There are also a fair number of unusual museums, like the American Museum in Britain, which explores the history of the former colonies. The Bath Postal Museum has rotating exhibitions, interactive games and audio-visual presentations, all about the post. The Fashion Museum has 150 mannequins displaying clothes from the 16th century to today.
The Holbourne Museum has extensive collections of great artworks, and the Victoria Art Gallery has artwork from the 15th century to the modern day. The Peter Hayes Studio and Gallery showcases Peter Hayes' sculptures. The Museum of East Asian Art has art, jade objects, metal ware and more from China, Japan, Korea and South East Asia.
Theatres and venues
Theatre Royal is the main theatre in Bath, with a variety of shows including drama, comedy, dance, opera and concerts. The Ustinov Theatre specialises in UK premieres of plays, hosting 18 in the past three years, and Egg Theatre caters to families with their shows. The Michael Tippett Centre is Bath's only purpose-built concert hall. Bath Spa University Theatre hosts musical theatre, dance performances, comedy and plays. The Institute of contemporary Interdisciplinary Arts, also called the ICIA, has performances, exhibitions, films, discussions, theatre, and much more.
Bath's venues cater for every taste. Komedia has a little bit of everything, with the Krater Comedy Club on Saturday nights and club nights featuring house, Northern soul and ska music. Green Park Brasserie and Bar has live jazz from Wednesday to Saturday. Gascoyne Place has live music on Sundays.
Festivals
Bath has a year-round schedule of festivals. Bath Digital Festival celebrates all things tech, from music to products and educational demonstrations. The Bath Comedy Festival attracts some of Britain's biggest comedians. The Bath Fringe Festival has a programme of theatre, dance, visual arts, music, a children's festival, and much more. The Royal Bath and West Show is one of the oldest agricultural fairs in the country, and the Great Bath Feast features the culinary highlights of the city. Celebrating one of Bath's most famous residents is the Jane Austen Festival, whilst the Bath Festival of Children's Literature showcases the best books for kids. The Bath Film Festival runs the best cinema in venues across the city.
Bath also has a great many music festivals. The Bath International Music Festival hosts classical, world, jazz, and contemporary concerts. Party in the City is the biggest free festival in Bath, complete with folk, pop, rock, and brass bands. The Iford Arts Festival has a range of opera and classical music concerts, some of which are picnic performances on the grounds of Iford Manor. The Bath Guitar Festival celebrates the many styles of music played on this versatile instrument, and the Bath Folk Festival draws folk bands and fans from around the country. Bath Mozartfest is a week-long series of concerts of Mozart's music.
Sport
Rugby union's Bath Rugby plays in the Aviva Premiership, and several members of the England national team play for Bath Rugby as well. Bath City Football Club play in the Conference National league. Bath has several cricket teams, including Bath Cricket Club and Somerset County Cricket Club.
City-wide sporting events include the Bath Half Marathon and the City of Bath Triathlon.
Shopping
Bath has five distinct shopping areas. The Central Area has a real mix of brands and smaller boutiques: Stall and Union Streets have the high street brands, and the surrounding streets have specialist shops. Upper Town, made of Bartlett Street, Margaret's Buildings and Saville Row, is home to independent luxury boutiques, whilst the Milsom Quarter is home to high-end brands like Nicole Farhi, Armani and Jigsaw, as well as Rossiters of Bath, the independent, design focused department store.
The Western Area has the Green Park Station Market, which is home to locally owned shops that sell food and drinks, leather goods and antiques. It also hosts the farmers' markets. The Artisan Quarter around Walcott and London streets is where the creative types of Bath buy and sell their crafts, antiques and health foods.
Bath also has a couple of shopping centres. SouthGate Bath is a modern shopping centre with 55 shops including Tommy Hilfiger, Hotel Chocolat and Urban Outfitters. Milsom Place is a shopping centre in the Milsom Quarter. Its shops include Cath Kidston, Phase Eight, and a series of pop-up shops.
Whilst every effort has been taken to ensure the above information is up to date, some inaccuracies may occur. If you notice any inaccuracies please contact editor@primelocation.com
All information was correct at time of publication and is provided in good faith.
Narrow your search by property type
Narrow your search by property feature
All properties for sale in Bath with a garden, parking/garage, fireplace, wood floors, balcony/terrace or porter/security.
Houses for sale in Bath with a garden, parking/garage, fireplace, wood floors, balcony/terrace or porter/security.
Flats for sale in Bath with a garden, parking/garage, fireplace, wood floors, balcony/terrace or porter/security.
---