Properties for sale in Kingston upon Thames
Sign up for email alerts
Be the first to know about new properties matching your search criteria
Create alert
List
Grid
Map
Detached house for sale

Warren Park, Kingston Upon Thames, Surrey KT2

A spacious detached 6 bedroom suite family residence in probably the most prestigious road within the heart of the exclusive Coombe Estate backing directly onto the Coombe Hill golf course ... read more

Detached house for sale

Coombe End, Golf Club Drive KT2

An exquisite family home located close to Coombe Hill Golf Club and set within a lightly wooded close that provides peace and tranquillity. Expanding to 7710 sq ft the house was constructed ... read more

Detached house for sale

Warren Park, Kingston Upon Thames, Surrey KT2

Coombeside is a spectacular family home built to the owners' high specifications throughout. A great deal of thought to detail has been applied with extremely spacious rooms to all three ... read more

Detached house for sale

Coombe Hill Road, Coombe Hill KT2

Melrose is a superb double fronted Georgian style new built home with classical proportions overlooking one of the most picturesque golf courses in south west London. With 6 double bedrooms, ... read more

Detached house for sale

Ladderstile Ride, Kingston Hill KT2

The Gate House is a stunning brand new Regency style luxury house in a brilliant location overlooking Richmond Park. With extra high ceilings, 5 generously sized bedrooms and a magnificent ... read more

Detached house for sale

One of the finest large family houses in the whole of the Coombe Estate. Perfectly positioned on a gated private road, Vincent House is a magnificent, recently built 6 bedroom house with ... read more

Detached house for sale

Ullswater Close, Kingston Hill SW15

This exquisite, and beautifully contemporary Huf Haus is set within sheltered and magnificent landscaped grounds in an elevated position on the slopes of Kingston Hill. The house makes the ... read more

Detached house for sale

Coombe Hill Road, Coombe Hill KT2

Fenhurst is an impressive, double-fronted, classically proportioned 6 bedroom, new-build Georgian style family residence of 5,783 sf. Just nearing completion. Set on one of the most desired ... read more

Detached house for sale

A fully restored and substantially extended detached residence of over 7,000 sq ft on the exclusive Coombe Hill Estate. Reception hall, 31ft x 29ft reception room, dining room, family room, ... read more

Property for sale

Cedarwood, Church Road, Ham TW10

Cedarwood is a truly niche and unique detached six bedroom Edwardian family home boasting a statuesque façade and sitting on a vast, rarely available plot which is completely secluded to the ... read more

Detached house for sale

Moor Park Gardens, Coombe Lane West KT2

Set behind its own handsome gates, this impressive 7 bedroom double fronted Georgian style residence is well positioned in a quiet gated development in the exclusive Coombe Hill Estate. read more

Detached house for sale

1B Ullswater Close, Richmond, London SW15

This large detached house enjoys a privileged position at the end of a shady cul de sac and has a clean, minimalist feel with light, spacious rooms set off a 9 metre high atrium hallway. The ... read more
Kingston-upon-Thames Area Guide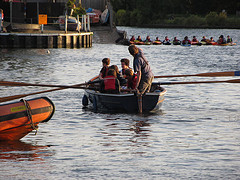 Kingston-upon-Thames. Image courtesy of Flickr user Nick Whitworth
Kingston-upon-Thames, often shortened to Kingston, is part of the Royal Borough of Kingston upon Thames, just at the southwest edge of the Greater London area. The earliest royal borough in the country, Kingston has long been a favourite estate of England's Kings, as the name suggests.
In the twentieth century, Kingston became a major aircraft manufacturing town, and there, fighter aircraft like the Hurricane and the Sopwith Camel were designed and built. These days, the economy of Kingston is driven largely by the retail sector and the many restaurants and pubs in the area.
Demographics
As of 2011, Kingston had around 160,000 people. The proportion of its population of people aged 15 and under is similar to the proportions in London and England, 19.8 and 18.9% respectively. The percentage of its population aged 65 and older (12.7%) is closer to London's percentage (11.1%) than England's (16.4%). Its unemployment rate is much lower than both London's and England's, however. Only 3.2% of Kingston's population is unemployed, compared to 5.2% in London and 4.4% in England.
As a part of London, Kingston is more diverse than England as a whole. Under 75% of the population of Kingston describe their ethnic background as white or white British, compared to 85.5% in England. It is less diverse than London as a whole, in which just under 60% of the population describes their ethnic background as white or white British. Kingston is similar to London when it comes to the size of the next largest ethnic group, Asian and Asian British people. In Kingston, 16.4% of the population is Asian and Asian British, compared to 18.4% in London. These are both much larger than in England, where only 7.7% of the population is Asian and Asian British.
Education
Kingston has a great many primary schools rated "good" and "outstanding" by Ofsted. Amongst the outstanding primary schools are St Luke's Church of England Primary School and Fern Hill Primary School.
Secondary schools in Kingston are generally either academies or independent. The Tiffin School was rated outstanding in its last Ofsted inspection in 2007, and it is famous for its Performing Arts College and its modern foreign language education. Its sister school, The Tiffin Girls' School is renowned for its drama and music education. Both of these schools have recently converted to academy status, and they teach children between the ages of 11 and 18.
The Kingston Grammar School is a well-known independent day school with an excellent reputation matched by excellent exams results. With similarly fantastic exam results and a great reputation, Surbiton High School is an independent Church of England school just inside the Kingston-upon-Thames area.
Further education is well catered for in Kingston as well. Kingston College provides training and courses to about 7000 full and part-time students, and Hillcroft College is an adult education college for women. Kingston University offers a range of courses, from art and design to business and law, as well as the sciences and engineering.
Transport
The major roads in Kingston are the A240 into Surbiton, the A307 to northwest Surrey, the 310 to Brentford and the section of the A308 from Richmond Park to Maidenhead, which goes through Kingston.
A large number of buses run through the centre of Kingston. Nineteen regular and six 24-hour bus services connect Kingston to areas including Ealing, Heathrow, Tooting and Morden. During the summer, riverboats connect Kingston with Richmond and Hampton Court.
Kingston is served by three train stations: Kingston, Norbiton and Hampton Wick. These stations are all along the Kingston Loop Line, a line to London Waterloo and other areas of southwest London. Despite these three stations, it is not possible to get out of southwest London from Kingston without changing trains or transport systems.
Amenities and Shopping
Many of the restaurants and bars in Kingston take advantage of the area's location along the River Thames, though other amenities can be found further inland.
Museums and Galleries
The Kingston Museum explores the history of Kingston, and it also has an associated Local History Room and an Archives Service. The Stanley Picker Gallery is in Kingston University, and it hosts a variety of exhibitions, projects and more. The world-famous Toilet Gallery is a flexible art exhibition space housed in a converted Victorian public toilet. The Dorich House displays the art collection of sculptor Dora Gordine and her husband, Richard Hare.
"Out of Order" is a famous outdoor sculpture created by David Mach. Along a pedestrian and cycle path between Old London Road and Wheatfield Way, a set of red phone booths lay on top of each other like fallen dominoes. The sculpture was commissioned in 1988.
Theatres and Venues
The Rose Theatre is the most renowned theatre in the area. It puts on new performances in its large, yet intimate theatre space. All Saints Church hosts choral and classical concerts, and the Barton Green Theatre is home to the Green Theatre Company. The ACT Theatre hosts a variety of productions at Kingston College.
Festivals
Kingston holds many regional festivals, including the Kingston Readers' Festival, a five-week festival of books and their authors put on by Kingston University. Think-in Kingston is an annual exchange of ideas, featuring lectures, discussions and other activities. The bi-annual Festival of the Voice brings international composers, singers and bands to Kingston to showcase what the human voice can do. The Kingston River Festival, which includes the Kingston Regatta, celebrates the maritime legacy of the town and the river.
Sport
The town of Kingston has two association football clubs, League Two's AFC Wimbledon and Kingstonian F.C., which play in the Isthmian League Premier Division. Other sports clubs in and just outside the town include the Kingston Athletic Club and Polytechnic Harriers, the Kingston Rugby Club and the Kingston Rowing Club.
Shopping
Central Kingston is where most of the shopping is concentrated. The Bentall Centre, with its 80 high street shops and the Bentalls department store, sits between the river and the Kingston rail station. The Eden Walk Shopping Centre has specialty shops like Eden Jewellers, as well as mid-level high street brands like Punkyfish, Jigsaw and Heal's. The Crown Arcade links the Eden Walk Shopping Centre with the Ancient Market Place, and it is known for its many independent, owner-managed boutiques.
Clarence Street and Wood Street run from the river almost to the Kingston rail station and are lined with shops including a large John Lewis, Gap, River Island and Topshop. Old London Road features the Kingston Antiques Centre, a massive collection of over 100 dealers, but the road also has a number of independent shops and restaurants.
The Ancient Market Place hosts a market that has been ongoing since the earliest days of the area, and today shoppers find local and international produce, jewellery, gifts and flowers. The market is surrounded by high end beauty and home shops like The White Company, Space.NK and Jo Malone, and the Market House in the middle of it all is used as an exhibition space for local artists and a location for pop-up shops.
Whilst every effort has been taken to ensure the above information is up to date, some inaccuracies may occur. If you notice any inaccuracies please contact editor@primelocation.com
All information was correct at time of publication and is provided in good faith.
Narrow your search by property type
---