Properties for sale in Frinton-on-Sea
Sign up for email alerts
Be the first to know about new properties matching your search criteria
Create alert
List
Grid
Map
Detached house for sale

Second Avenue, Frinton-On-Sea CO13

A wonderful period property set within grounds approaching 3/4 of an acre, with accommodation extending to just under 5,000 sq.ft.The property Idyllically located within one of the most ... read more

Detached house for sale

First Avenue, Frinton-On-Sea CO13

Beautifully positioned on one of the most sought after avenues in the pretty seaside town of Frinton-on-Sea is Broughton, an extremely attractive family home that boasts around an acre of ... read more

Detached house for sale

Connaught Avenue, Frinton-On-Sea CO13

Situated inside Frinton's prestigious 'Gates', Sheen's Estate Agents have the pleasure in offering for sale this immaculately presented five bedroom detached family home. The property is ... read more

Detached house for sale

Arden, Old Road, Frinton-on-Sea, Essex CO13 9DA May we highly recommend viewing our bespoke 360 Tour we utilize to showcase our properties. Open your mobile devices, laptop or desktop and ... read more

Detached house for sale

Old Parsonage Way, Frinton-On-Sea CO13

'St.Kilda' is a character filled property, boasting original features and offering distant sea views. Sheen's Estate Agents are delighted to bring to market this charming five bedroom ... read more

Detached house for sale

Cambridge Road, Frinton-On-Sea CO13

Situated in one of the sought after 'College' roads, inside Frinton's prestigious 'Gates', Sheen's Estate Agents have the pleasure in offering for sale this character filled five bedroom ... read more

Flat for sale

Second Avenue, Frinton-On-Sea CO13

Ivanhoe is an exceptionally appointed residence originally constructed in 1914, exhibiting all the stylish and creative architecture typical of this era. Having been converted to apartments ... read more

Detached bungalow for sale

Eton Road, Frinton-On-Sea CO13

** open house - Saturday 25th may 2019 - between 12:00 - 13:00 ** Located inside Frinton's prestigious 'Gates', in one of the much desired College roads, Sheen's Estate Agents are pleased to ... read more

Property for sale

Oxford Road, Frinton-On-Sea CO13

Located inside the gates and within 50 metres of the Seafront in the ever popular 'College Roads', Sheen's Estate Agents have the pleasure in offering for sale this three/four bedroom ... read more

Detached house for sale - Just added

Connaught Avenue, Frinton-On-Sea CO13

'holly house' is a character filled extended four bedroom detached house centrally located inside the 'Gates' in Frinton-on-Sea. This impressive family home is perfectly positioned within a ... read more

Detached house for sale

Queens Road, Frinton-On-Sea CO13

Offering light and spacious living situated inside the gates in Frinton-on-Sea, Sheen's Estate Agents have the pleasure in offering for sale this well presented three bedroom detached house. ... read more

Semi-detached house for sale

Queens Road, Frinton-On-Sea CO13

Situated inside Frinton's prestigious gates and in need of some modernisation, Sheen's Estate Agents are pleased to offer for sale this character filled five bedroom semi-detached house. The ... read more

Detached house for sale

Waltham Way, Frinton-On-Sea CO13

Summary A three bedroom detached house benefiting from garage & off road parking. The property is situated in a sought after location within Frinton-on-Sea within close proximity of town ... read more

Detached bungalow for sale

Ferndown Road, Frinton-On-Sea, Essex CO13

Introduction This detached bungalow was recently renovated and now makes for a super home for anybody looking to move into Frinton, perhaps to enjoy their retirement. The property is located ... read more

Flat for sale

Harold Road, Frinton-On-Sea CO13

Glenmore, Apartment 7, Harold Road, Frinton-on-Sea, Essex CO13 9BE - Glenmore, Apartment 7 is an eminently impressive newly built ground floor apartment residing within a resplendent ... read more

Flat for sale - Just added

Glenmore, Harold Road, Frinton-On-Sea CO13

A most visually engaging building, Glenmore evokes nostalgia of the Edwardian era with its familiar architecture and double glazed sash windows. Perfectly positioned for both the award ... read more

Flat for sale

Harold Road, Frinton-On-Sea CO13

A very well appointed luxury two double bedroom ground floor apartment, benefitting from en-suite, open plan contemporary living, and personal patio, conveniently positioned within easy ... read more

Detached house for sale

Ken Gatward Close, Frinton-On-Sea CO13

Located inside the desirable Frinton Gates, in a beautiful cul-de-sac position, lies this 2017 built, four bedroom, detached, three storey family home. Being offered for sale with no onward ... read more

Detached house for sale

Ken Gatward Close, Frinton-On-Sea CO13

Situated inside Frinton's prestigious 'Gates' in a cul-de-sac position, Sheen's Estate Agents have the pleasure in offering for sale this 2017 built, four bedroom detached family home. The ... read more

Detached house for sale

Elm Tree Avenue, Frinton-On-Sea CO13

Sheen's Estate Agents have the pleasure in offering for sale this three bedroom detached house, situated in an established non-estate position in Frinton-on-Sea. The property is located ... read more
* Sizes listed are approximate. Please contact the agent to confirm actual size.
Frinton-on-Sea Area Guide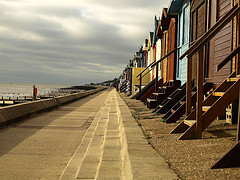 Frinton-on-Sea. Image courtesy of Flickr user John Dobson
A small seaside town in the Tendring district of Essex, Frinton on Sea offers a distinctly different waterside scene compared to most English sea fronts. A number of bylaws introduced to the area by Sir Richard Powell Cooper more than 100 years ago prevent much of the commercial development that has taken over other resorts. As a result the town does not have a pier, there are no amusement arcades to be found on the esplanade and ice creams are not permitted on the beach.
The popularity of the town as a fashionable holiday and commuter destination for upper class Londoners boomed in the 1920's and 1930's and the area was regularly visited by Prince Edward. Much of the local architecture features Edwardian villas, art deco houses and quaint cottages dotted amongst green spaces. Frinton on Sea became synonymous with a battle to save 'Frinton Gates', a level crossing which marked the entrance to the town and a stretch of prestigious avenues and sporting clubs, until it was removed by Network Rail in 2009. The town has a reputation for being a centre for conservative values and more traditional English attitudes, with the first fish and chip shop only permitted in 1992 and the first pub in the town only opening in 2000.
The beach at Frinton on Sea is more than a mile long and is lined with hundreds of pretty beach huts, and sprawling landward from the promenade is a long greensward. The nostalgic street scene and culture are drawing interest from a new generation of residents who are attracted by its unspoilt gentility.
Demographics
The town, combining Frinton and Walton has a population of just over 19,000 with the wider district of Tendring being home to 138,000. Approximately 4.5% of people living within the district are unemployed. The average property price in Frinton on Sea is around £257,000.
Education
There is limited education provision in Frinton on Sea. The two primary schools in the area Frinton-on-Sea Primary School and Kirby Primary School. Hamford Primary School is also within catchment and is situated in nearby Walton on the Naze. Tendring Technology College has a campus in Frinton on Sea and offers secondary and sixth form facilities for children aged 11 years to 18 years old. The independent St Philomena's Preparatory School offers coeducational private education for children aged from three years to 11 years old. The University of Essex is the nearest facility offering higher education courses.
Transport
Frinton Railway Station services are provided by Greater Anglia and run to Walton on the Naze, Colchester and Thorpe Le Soken. A regular bus service connects the town with Walton on the Naze, Clacton on Sea and Colchester via local villages, and there is also a Frinton and Walton Community Minibus Service. Route 51 of the National Cycle Network runs through the town and connects the area with Harwich and Colchester and pedestrian access is widely available. Nearest air travel is available at London Southend Airport and London Stansted Airport.
Amenities and Shopping
Connaught Avenue and The Triangle Centre are the focal points for the main shopping area of Frinton on Sea, with small family owned independent outlets being the most prevalent amongst a selection of retail outlets, together with Banks, Building Societies and offices building. Food and drink is largely catered for by the town's hotels and cafés as well as the Lock, Stock & Barrel pub. A fish and chip shop and a betting office can also be found in the town.
Clubs and activities in the area include Frinton & Walton Indoor Bowls Club, Frinton on Sea Cricket Club, Frinton Golf Club and Frinton Lawn Tennis Club. There is also a water craft club and a youth football club in the town.
During the summer months entertainment is provided by The Frinton Summer Theatre, and the public gardens and museum are also included in the local amenities. The Frinton and Walton Indoor Swimming Pool is situated near the Columbine Centre on the seafront in Walton where there is also a pier.
Whilst every effort has been taken to ensure the above information is up to date, some inaccuracies may occur. If you notice any inaccuracies please contact editor@primelocation.com
All information was correct at time of publication and is provided in good faith.
Narrow your search by property type
---