In House Estate Agents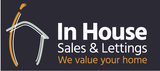 Hello, we are In House........
...and we're here to make it easy for you to move home (and maybe even enjoy the journey too).
Hi I'm Steve, the founder and owner of In House. I'm a true local and I love this area! In 2007, after working as a regional director for the two largest estate agency chains in the UK, I decided that house sellers deserved something better. Namely, straight-talking, honest advice coupled with clear, jargon-free marketing that actually works.
In House was born........ Since then, we've helped thousands of people move on with their lives in every way, and nowadays we are often surveyed as Wallingford's top selling agent. After opening our second branch in the busy Orchard centre in Didcot, we've become the most recognisable and dynamic agent in the area. How have we done it? We know exactly what turns a viewer into a buyer and how to maximise each properties selling points. Also, everyone on the In House team is passionate about property, people and the details of both.
List of 'In House Estate Agents' estate and letting agent branches

9a Orchard Street, Didcot, OX11 7LG
Hello, we are In House...........and we're here to make it easy for you to move home (and maybe ... more
Avg. asking price: £312,331
Avg. sale listing age:
18 weeks
Avg. asking rent: £1,153 pcm
Avg. rental listing age:
9 weeks

4 Castle Street, Wallingford, OX10 8DL
Hello, and a warm welcome from In house Estate Agents. Are you are looking to sell your home in ... more
Avg. asking price: £354,254
Avg. sale listing age:
22 weeks
Avg. asking rent: £997 pcm
Avg. rental listing age:
11 weeks
---