Properties for sale in Wirral
1 - 20 of 948 results
Results per page:
Contact relevant estate agents & new homes developers Send a message to agents and developers matching your search for properties for sale in Wirral
Wirral Area Guide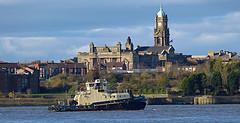 Birkenhead Town Hall, Wirral Image courtesy of Flickr user Andrew
Wirral (or The Wirral, depending on your preference) is a peninsula bounded on one side by the River Dee and by the River Mersey to the other. It is on the coast of the Irish Sea and close to the border of Wales and to Liverpool. It is part of the prosperous county of Cheshire and is relatively rural in nature, with towns including Birkenhead, Ellesmere Port, Wallasey, New Brighton and Port Sunlight.
While some areas such as Birkenhead are fairly urban the Wirral is home to a large number of picturesque villages and coastland parks owned by the National Trust. The areas by the sea have large stretches of white sand and traditional, well preserved seaside towns with their distinctive red sandstone houses.
As a peninsula bound on either side by rivers and the sea, the area has plenty of charm for nature lovers. As well as the many protected parks there is a wetland at PSPB Burton Mere Wetlands, surfing on the beaches, grey seals at Hilbre islands and colonies of migratory birds.
Demographics
Wirral has a population of just over 300,000 people with 190,000 of those of working age. Most are white British with a significant number of white Irish. The average wage is higher than the national average but unemployment is also high, indicating large disparities of wealth across the area.
The economy is very varied across the peninsula. Birkenhead for example still has a large shipbuilding and ship repairing industry, while food and drink and pharmaceuticals are particularly strong in the area. There is also a lot of public sector employment, with the child protection agency and many civil service offices based here.
Education
Wirral has 91 primary schools and 22 secondary schools. Overall educational attainment is high, with schools performing well above the national average. Many schools in the area are classed as 'outstanding' by Ofsted.
Transport
Travel to nearby Liverpool is by three tunnels under the River Mersey, two of which are road tunnels and one of which is a rail tunnel. Residents can also travel from West Kirby, New Brighton, Chester, Ellesmere Port and Birkenhead to Liverpool via the Merseyrail Network. Birkenhead also has a tram system for travel around the town.
Naturally the famous ferry across the Mersey is another route to Liverpool. Wirral has a number of bus routes travelling across the peninsula operating from Birkenhead, Heswall and Woodside.
Amenities and Shopping
Birkenhead is the major shopping centre and features a large indoor market with artisan stalls selling fresh food, clothes, fabrics and gifts. For major shopping expeditions it's easy to get into Liverpool town centre, which has a number of large shopping centres and major stores, pubs, restaurants and night life.
The many small towns and villages in the Wirral provide a range of other activities. There are a large variety of excellent pubs, cafes and restaurants as well as independent shops. The seaside towns in particular offer a number of leisure activities, including golf, walking, surfing and water sports.
Whilst every effort has been taken to ensure the above information is up to date, some inaccuracies may occur. If you notice any inaccuracies please contact editor@primelocation.com
All information was correct at time of publication and is provided in good faith.