Garton Jones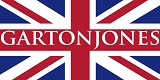 Garton Jones is an independent, family run, estate agents specialising in the sale, rental and management of residential property in Central London.

We are known for specialising in the marketing of modern and new build, luxury apartments and we have a versatile portfolio of properties to offer from studio flats to some of London's finest Penthouses Through a network of associates, we have access to much of London's residential property portfolio and therefore, what you will see on our website today is just a small proportion of what we have to offer.

Come and visit us in one of our stylish offices in the heart of Westminster, Nine Elms, Grosvenor Waterside or Chelsea Bridge Wharf to discuss your requirements with a member of our highly-experienced team, who are all knowledgeable in both the local sales and rental markets otherwise we look forward to receiving your request from this site.
List of 'Garton Jones' estate and letting agent branches
Featured agents

8 Gatliff Road, London, SW1W 8DP - We also cover SW3
Garton Jones is an independent, family run, estate agents specialising in the sale, rental and ... more
Avg. asking price: £1,419,467
Avg. sale listing age:
60 weeks
Avg. asking rent: £3,657 pcm
Avg. rental listing age:
6 weeks

Chelsea Creek, 11 Park Street, London, SW6 2FS
Garton Jones is an independent, family-run, estate agents specialising in the sale, rental, and ... more
Avg. asking price: £1,213,750
Avg. sale listing age:
17 weeks
Avg. asking rent: £3,675 pcm
Avg. rental listing age:
4 weeks

9 Albert Embankment, London, SE1 7SP - We also cover SW11
Garton Jones is an independent, family-run, estate agent specialising in the sale, rental, and ... more
Avg. asking price: £1,116,253
Avg. sale listing age:
53 weeks
Avg. asking rent: £4,091 pcm
Avg. rental listing age:
5 weeks

49 Marsham Street, Westminster, London, SW1P 3DP
Garton Jones is an independent, family-run, estate agent specialising in the sale, rental, and ... more
Avg. asking price: £1,194,684
Avg. sale listing age:
35 weeks
Avg. asking rent: £3,506 pcm
Avg. rental listing age:
4 weeks

Chelsea Bridge Wharf, 374 Queenstown Road, London, SW8 4NU
Garton Jones is an independent, family run, estate agents specialising in the sale, rental and ... more
Avg. asking price: £1,438,636
Avg. sale listing age:
48 weeks
Avg. asking rent: £3,384 pcm
Avg. rental listing age:
5 weeks
Garton Jones
, Westminster, London, SW1P 1SB
Garton Jones
Riverlight Quay, Nine Elms Lane, Nine Elms, London, SW11 8AU
Garton Jones - Fulham
Chelsea Creek, 11 Park Street, London, SW6 2FS
Garton Jones - Fulham
Chelsea Creek, 11 Park Street, London, SW6 2FS
---