Fyfe Mcdade Ltd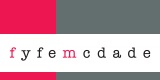 We Provide an honest, professional and informed opinion. If your friend was an estate agent and you asked them for property advice, you know they'd give you an honest and informed opinion. We're no different - we live in your area, we support your local businesses and we're part of your community, so we won't give you anything but accurate advice and our honest view on the property market. We understand how best to maximise the value of your property because we live and breathe it.

We cast a much wider net than many other agents can The centre of the capital is shifting east, and we specialise in the exciting residential, business and retail areas in east central London, the City Fringe and wider area of Camden, Islington, Hackney and tower Hamlets. From our ideally located offices in Shoreditch and Bloomsbury we offer a full range of property services, from residential and commercial sales and lettings to property management. We specialise in new homes, offering professional advice at every stage from land acquisition to design, planning and marketing.

Extensive marketing channels We have an extensive marketing presence via our website and social media channels and retain a leading independent PR agency to ensure that our properties are regularly featured in the local, national and international press. This helps to maximise the number of potential purchasers or tenants we can bring to your property, and to optimise the price for you, our client.
We are different from most estate agents As an independent boutique agency we're still small enough to take the time to get to know you and your property, and we have the local knowledge and experience required to get the best result for you. We like to think that we're different from other agents, because we're friendly as well as professional. So please get in touch for a chat about your property and the service we can offer you. We'd love to talk.
List of 'Fyfe Mcdade Ltd' commercial agent branches

56 Marchmont Street, Bloomsbury, WC1N 1AB
Fyfe Mcdade are Real Estate Agents who specialise in the sale and letting of apartments, houses ... more
Avg. asking price: £737,000
Avg. sale listing age:
48 weeks
Avg. asking rent: £2,609 pcm
Avg. rental listing age:
7 weeks

1 Charlotte Road, London, EC2A 3DH
We Provide an honest, professional and informed opinion. If your friend was an estate agent and ... more
---