Eddisons Barker Storey Matthews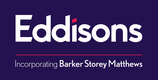 Barker Storey Matthews is one of the largest independent firms of Chartered Surveyors specialising in commercial property and business space in the Eastern Region. The company formed in 1991 after a buyout from the Prudential Property Services and has long established roots in the Anglia region with several of its founding directors originally partners of Elkins Dilley Handley, a firm established in the 1800's.
Now in our 25th year, we are still recognised as one of the market leaders for all commercial property matters and advise a wide range of clients throughout the East Midlands, East of England and Mid-Anglia regions.
We have four strategically located offices in Bury St Edmunds, Cambridge, Huntingdon and Peterborough. Our service provision extends from our award winning commercial agency services to property management, valuations, investment, funding & development, rating, building surveying & project management, planning consultancy and professional services.
All of our departments work closely with one another to ensure we provide a comprehensive and bespoke service across a wide range of property types. We pride ourselves on our tailored service which we offer to a wide client base including the major high street banks, pension funds, public and private companies, private individuals and investors, local authorities and Government departments.
List of 'Eddisons Barker Storey Matthews' commercial agent branches
---