PrimeLocation
Committed buyers, less competition and an opportunity for homes to be viewed at their cosiest, now's the time to take advantage of the colder months to sell your property.
November 14, 2018 11:30
Research suggests that the best time to put your house on the market is spring or early autumn. Winter is when we tend to hunker down and hibernate.
But this is not to say that trying to shift your property over the cold period will be fruitless. In fact, putting your house on the market at a quieter time gives you the added advantage of less competition. Property sells all year round and people always need somewhere to live after all.
Mark Hayward, chief executive of NAEA Propertymark, said: "The period before Christmas is a great time to sell your home. In January, sellers flood the market and supply shoots up meaning there's less competition and you may find it more difficult to secure an offer."
So Property Solvers estate agency and NAEA Propertymark have rounded up 6 easy to implement tips to help sell your house this winter.
1. Give your property a winter face lift
Spruce up your property – because first impressions do count. Make sure any problems that are more prominent in the winter, such as damp or a faulty boiler, are fixed prior to putting the house on the market.
Check gutters and drain covers are properly cleared of dead leaves and other debris, as leaky gutters and down pipes cause damage and are unsightly.
It's also a good idea to spend a few hours on your garden:
Cover garden furniture or tuck it away in a shed
Mow the lawn and cut back anything that's overgrown
Remove weeds, moss, lichen, ivy or other debris
Make sure all pathways are non-slippery
Get hold of some all-season plants and shrubbery
2. Maximise natural light
Make the most of the precious daylight. Simply washing your windows maximises natural light and gives buyers the impression your home is well-maintained. In low winter light, streaks, dirt and grime will be made all the more apparent.
Get rid of cobwebs and dust all your furniture, ceiling fan blades, and light fixtures. Bleach any grout and polish chrome faucets and mirrors.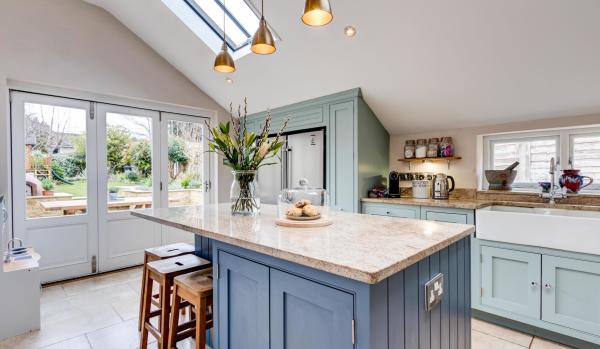 3. Invest in lighting
With daylight fading in the afternoon, install outdoor lighting to give buyers a helping hand to see your home and create a warm glow. Putting up a security light that illuminates the front of the property will be better than nothing.
Change all bulbs inside the property to high wattage ones too – you don't want to give a dark and dreary impression inside, to match the weather outside.
And if it's dark, draw the curtains so buyers don't feel like they'd be too exposed living in your property.
4. Create cosy appeal
Keep your property warm for when buyers step through the door. Turn up the radiators, including those in any unused rooms.
If the property is empty, put the boiler on a timer to keep the heating ticking over and prevent pipes from freezing.
And light a fire, if you have one, to welcome buyers and create a cosy ambience.
5. Add a festive touch
Make your house as inviting as possible. There's no excuse not to have Christmas decorations up – many buyers will love the festive feel. But don't go overboard. A tastefully-decorated Christmas tree and a cinnamon-scented candle or diffuser could be all you need. And remember to remove any surplus furniture so the rooms don't look overly cramped.
6. Do your due diligence
Check with your estate agent that they're open over the festive period. You want your property to be as accessible for viewings as possible, especially as people take time off around Christmas. How frustrating would it be for your agent to turn prospective buyers away, or put them off until the new year?
Do you have any tips of your own? Tell us by posting a comment below...