PrimeLocation
People find it more difficult to purchase their second home than they did to get on the property ladder in the first place.
Second steppers are putting their lives on hold as they struggle to move up the property ladder.
Six out of 10 people hoping to buy their second home claim they are finding it more difficult to trade up than it was to purchase their first property, according to Lloyds Bank.
The typical second stepper has already lived in their first home for three-and-a-half years, but they expect it to be another 18 months before they are able to move.
Just over a third think it will now be harder to sell their home than it was a year ago, while 27% are giving up on the idea altogether and considering staying put and improving their current property instead.
Around 28% of second steppers feel that trading up the ladder is now so difficult, they will have fewer children than they originally wanted – more than double the proportion of people who said this in 2016.
Why is this happening?
Strong house price growth in recent years has made it increasingly hard for people to trade up the housing ladder, as the price difference between a typical first-time buyer property and a family home has widened.
Many second steppers are not only trying to buy a bigger property, but they are often trying to move to a nicer area or one that has good schools, which also pushes the price of their target home higher.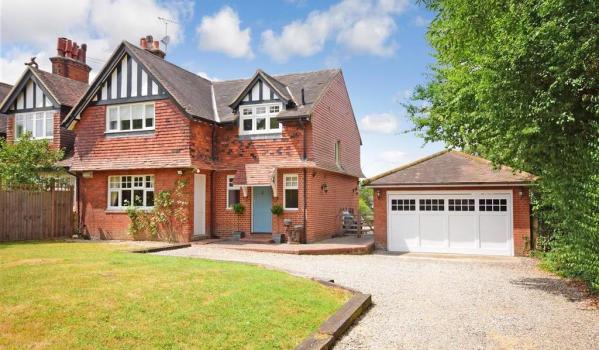 Above: This four-bedroom, semi-detached house in Waltham Abbey, Essex, is up for sale at £1.1m.
Who does it affect?
Property commentators have often pointed out that while there is considerable help available for first-time buyers, there is little government assistance for those trying to move to a larger home.
Even the Help to Buy equity loan scheme, which is currently available to all buyers, will be restricted to those purchasing their first home from 2021.
But the problems second steppers face have a knock-on effect on first-time buyers, as they typically own entry-level properties that will not be put on the market unless they can trade up the ladder.
What's the background?
The typical person plans to stay in their second property for an average of around five years, but 27% are planning to never move again and hope to purchase their dream home straightaway.
The area in which a property is located is an important criteria for second steppers, with half looking for somewhere that is close to their work, while 30% want to be near transport links and 20% hope to be in the catchment area for good schools.
Eight out of 10 second steppers say their dream home will have three or more bedrooms, while around half want a driveway and a garden, and 32% each are looking for a property with a kitchen/diner or a garage.
Top 3 takeaways
Second steppers are putting their lives on hold as they struggle to move up the property ladder

Six out of 10 people find buying their second home more difficult than purchasing their first property

The average second stepper thinks it will be 18 months before they are able to move
You might also be interested in...