PrimeLocation
Activity from both buyers and sellers dropped off in September, according to RICS.
October 11, 2018 16:00
The property market continued to lose momentum in September as Brexit uncertainty caused potential buyers and sellers to sit on their hands.
The number of people looking to purchase a home fell deeper into negative territory, building on the previous month's fall, according to the Royal Institution of Chartered Surveyors (RICS).
New instructions to sell property also dropped for the second month running, leaving the number of homes on estate agents' books close to record lows.
Unsurprisingly, the lack of supply and demand meant sales volumes fell, while the average time taken to find a buyer increased to 19 weeks – the longest period recorded since the measure was introduced in early 2017.
Simon Rubinsohn, RICS chief economist, said: "There are a number of themes running through the comments of respondents this month but uncertainty relating to Brexit negotiations is at the very top of the list."
He added this was followed by Bank of England Mark Carney remarks that leaving the EU without a deal could trigger a house price crash that would wipe up to 35% off UK property values.
Rubinsohn said: "All of this is not surprisingly taking its toll on the sales market with the key activity indicator in the survey flat or slightly negative in all parts of the country apart from Northern Ireland and Wales."
Why is this happening?
RICS said a combination of affordability constraints, a lack of stock, economic uncertainty and interest rate rises were behind the fall in activity.
But these factors, which have been long-running themes in the housing market, are being exacerbated by the lack of clarity on the terms on which the UK will exit the EU.
As a result, both buyers and sellers are adopting a 'wait and see' approach, leading to a further decline in activity.
Who does it affect?
While on a national level house prices remained broadly unchanged for the fifth consecutive month, there continued to be considerable regional variation.
Estate agents in London continued to report the steepest falls in property values, with prices also falling in the south east and East Anglia.
In other regions, house prices are still rising, with the West Midlands, Northern Ireland and Scotland posting the strongest gains.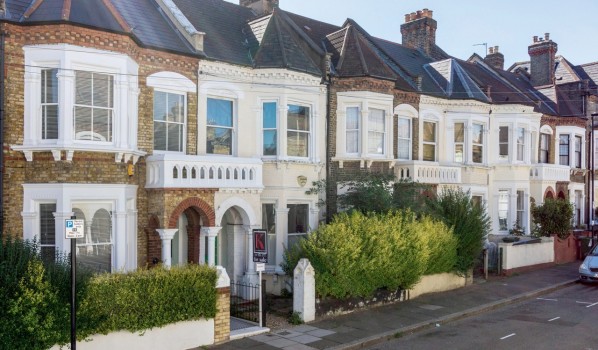 House prices are falling in London, but this four-bedroom terraced house in Brixton will still set you back £950,000.
What's the background?
In the rental market, demand continued to outstrip supply, putting further upward pressure on rents.
New instructions from landlords declined further, having been in negative territory since October 2016, with a raft of tax changes putting landlords off expanding their portfolios.
Meanwhile, tenant demand rose for the fourth month running.
Letting agents expect rents to rise by just over 2% in the coming year, with this rate accelerating to 3.5% per annum for the following five years due to the mismatch between supply and demand.
Top 3 takeaways
You might also be interested in...