PrimeLocation
People are still struggling to save a deposit and get on to the housing ladder.
February 5, 2019 15:00
An extra 560,000 households are expected to be living in private rented accommodation by 2023 as people struggle to get on to the housing ladder.
The increase will see the proportion of people who rent a home in the private sector rise to 22%, up from 20.6% now, according to research by Knight Frank.
It comes as individual buy-to-let landlords continue to exit the sector following a raft of government tax hikes, with the number of outstanding buy-to-let mortgages expected to fall this year for the first time in a decade.
Those who remain are likely to face increased competition from professional landlords in the growing build-to-rent sector.
Why is this happening?
The main driver behind the increase in renters continues to be difficulties getting on to the property ladder, particularly the time taken to save for a deposit.
The study found that 69% of tenants still expected to be renting in three years' time, rising to 93% among those aged over 65.
In terms of landlords, government policy is increasingly favouring professional investors who provide large scale, professionally-managed and purpose-built properties, known as build-to-rent, over individual private landlords.
Knight Frank predicts that investors will plough £75bn of capital in to the professionally-managed private rented sector by 2025.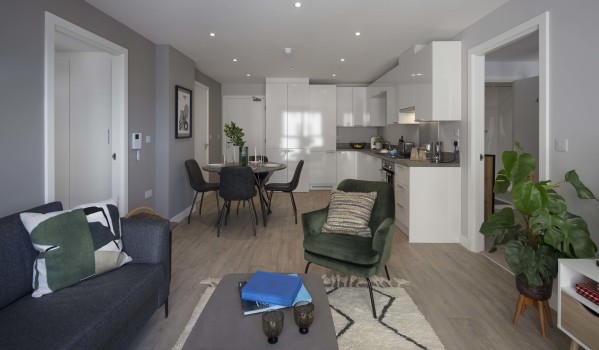 Above: One-bedroom flat to rent in Waterman Walk, Salford
Who does it affect?
Knight Frank said tenant demand was growing among all age groups and income profiles, with those aged under 25 looking for co-living spaces, while demand was rising among the over 65s for purpose-built rental accommodation for seniors.
People aged between 35 and 49 will make up the largest proportion of those in the private rented sector, overtaking the younger age group of 25 to 34-year olds.
What's the background?
The study looked at the factors that tenants took into account when choosing a property to rent.
Unsurprisingly, affordability was the main consideration, with 61% of people saying finding a property within their budget was their key consideration.
Knight Frank found that 40% of tenants had a net monthly household income of between £1,000 and £2,000.
People in their late 20s to early 40s had the highest average household incomes, with more than a third having take-home pay of between £2,000 to £3,000 a month, while the youngest and oldest age groups were the least well off, with many on just £1,000 a month.
There was also a trend for people to trade up the rental ladder, with the main reasons tenants gave for moving:
21% wanted a larger or better property
19% relocated for family
18% moved for work
There are currently 29,416 professionally-managed, build-to-rent homes that have been completed, with a further 110,092 in the pipeline.
Future investment will be more focused on the regions, with 56% of development by volume expected to be outside of London.
There is also a trend for these investors to offer 'cradle to grave' housing, which offers accommodation for students through to assisted living for the elderly.
Nick Pleydell-Bouverie, head of Knight Frank's residential investment agency, said: "We are seeing a significant number of individual private buy-to-let landlords exiting the market as the Government's buy-to-let tax changes start to bite.
"Large-scale professional private rented sector landlords are well placed to absorb this, as well as satisfying some of the structural shortfall in our housing supply."
Top 3 takeaways
An additional 560,000 households are expected to be living in rented homes by 2023
Demand is growing among all age groups and income profiles
Individual buy-to-let landlords face increased competition from professional landlords in the growing build-to-rent sector
You may also be interested in...