PrimeLocation
As property prices continue to struggle in many parts of Britain, the number of people staying put and converting their lofts into an extra room is on the rise.
This has been taking place in London, and particularly in its terraced homes, for over a decade now as property prices have driven homeowners to find alternative solutions to acquire extra space. But the trend is going national now.
Research by Lloyds TSB suggests a rise in vendors pulling their property off the market to spend money on improvements. "People are making the most of the space they have because of the costs of moving and a loft conversion can be an asset to a home," says Peter Bolton King, global residential director at the Royal Institute of Chartered Surveyors.
And it's estimated that a loft conversion can add 10 per cent to a property's value, even when prices are wobbling.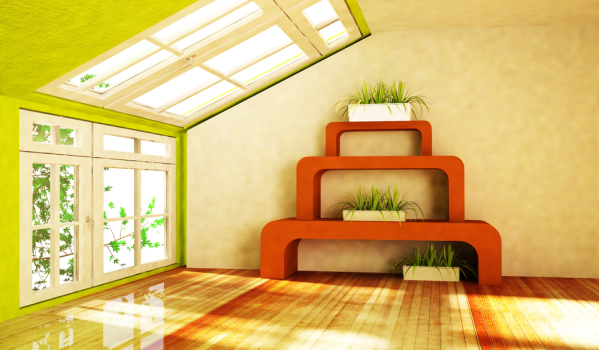 Getting easier
New regulations came into force on 1st October 2011 now enable the majority of people to carry out loft conversions and extensions without having to obtain permission from their local council. This, the government estimates, will remove the need for around 80,000 households to seek planning permission, saving them up to £1,000 in costs.
This measure will help homeowners who in the current financial climate will rather add extra space and value to their properties than move.
While estate agents support additions to a property's value with a loft conversion, one worry is whether the money invested will really be recouped, according to research from banking group Santander. When house prices increase, you usually get a return on your investment within a couple of years. But as house prices fall, so spending thousands may add no value.
Financing a loft conversion
Typically, homeowners have tapped into their property equity to finance such alterations to their property. And lenders until recently have been happy to support this at a low cost option. This may no longer be the case with higher interest rates and slumping property prices.
Last year Halifax offered a two year fixed rate at 6.34 per cent with a £999 fee plus a £349 further advance fee if the loan to value hit 95 per cent. By comparison, the cheapest personal loan - if you have a sound credit record - stands at 7.2 per cent from the AA.
A fifth of homeowners in Britain are planning to carry out major structural work on their properties, research has also found. The study by Sainsbury's Bank discovered that last year some 5.3m homeowners made structural changes to their properties.
Know your regulations
You might not need planning permission but you do need to be aware of building regulations. A lot of people have come unstuck when attempting to do a conversion without taking the appropriate advice or doing their homework.
According to many estate agents, when homeowners DIY without making the necessary checks, they can end up with just an expensive storage space rather than an extra bedroom. There are five main points you need to be aware of.
Structural stability - are the ceiling joists and load bearing walls and even foundations up to the job?
Fire resistance - stairs need to be enclosed with a fire resistant door
Access and means of escape - via stairs and VELUX® escape/access skylights
Weather resistance and energy conservation - the loft walls and roof must keep out the elements and retain heat, via insulation
Ventilation - providing clean air to the living environment and venting moist or stale air, which would cause condensation and can lead to all kinds of structural problems over time
If a conversion doesn't meet these building regulation criteria, then you can't market it as an extra bedroom (only storage) and you won't get the price you wanted for the property. At worst, you may inadvertently cut through supporting joists, which basically hold the roof up, and that would be very costly to put right and may mean your home is unsalable.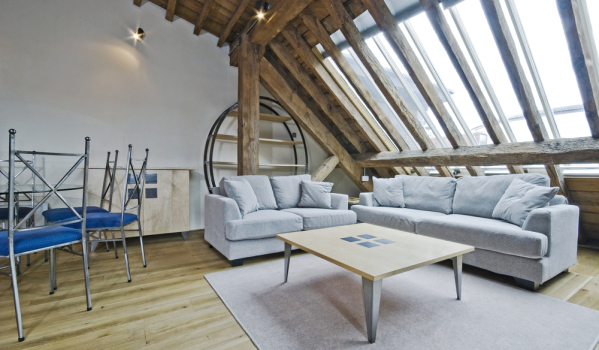 What are the most common loft designs?
Here are just a few design ideas for maximising on the space in the roof.
A full loft conversion in the traditional sense would mean installing a master or guest bedroom with ensuite bath or shower room. That would arguably give the best return on the investment, and would be at the higher end of the budget.
As many more people are now working from home, an increasingly popular loft design is the home office, fully kitted out with cabinets, storage and wiring for all telecoms. If you're creating this kind of space in your loft, you may wish to include design features such as desk-high electrical sockets.
Turning your loft into a playroom or teenage den might be a way of accommodating the children, and with more grown up children staying at home for longer, this could be an invaluable use of the space.
Even a simply boarding out the attic space and installing a good access point, a robust loft ladder and lighting to create a basic storage space can make your property more appealing when you come to sell. Every house should at least finish their loft in this way, before thinking about moving. It makes the property more saleable, as almost everyone who moves does so because they need more space.
What will it cost?
According to Loft-Conversion-UK.com, loft conversions in London usually cost up to £40,000, although throughout Britain the average seems to be a little lower at around the £20,000-£30,000 mark. This is what it would cost to employ a specialist loft conversion company. Costs can be drastically reduced by doing some of the work yourself.
Much of course depends on the type of conversion. For example, a basic storage solution can often be done in just a day or two and there are some specialist loft conversion companies who will, for around £1000, install joists, a new hatch, lighting and a loft ladder in just 24 hours. Even this kind of conversion can be worthwhile if you are planning to sell your property. Having more accessible storage space available means having more useable space - and space sells houses.
But for a full scale and well built loft conversion, the cost usually falls somewhere between £14,000 and £40,000.
The following is a guide to the costs you could expect to pay depending on the size of the project (note - figures are estimates which don't take into account regional variations but still provide a useful guide).
Small loft conversion to include joists, two roof lights and stairs. Insulated and plaster boarded, second electrical fix. £15,000-£17,000
Medium loft conversion to include joists, two roof lights and stairs. Insulated and plaster boarded, second electrical fix. £18,000-£24,000
Large loft conversion to include joists, two roof lights and stairs. Insulated and plaster boarded, second electrical fix. £25,000-£40,000
Storage loft conversion to include flooring, lighting and loft ladder £700-£1000
Other estimated loft conversion prices:
Loft stairs (manufactured and fitted) £500-£800 for a traditional straight flight or spiral £1000-£2000
Roof lights (supplied and fitted) £500-£750
Dormer (built and glazed) £4000-£6000
Loft plans drawn up by an architect or other professional to be submitted as part of a building regulations application £400-£1500 (dependent on the complexity of the project)
Other points to consider
Headroom - the headroom in the existing loft should be between seven and eight foot, though obviously the more room the better.
Complexity - depending on your final design choice you may have to consult an architect or designer. For less complex loft conversions your builder will probably provide a plans drawing service.
Staircase - a staircase is an absolute must if planning to make your new room habitable. Often it may be necessary to sacrifice a portion of a second floor room in order to accommodate a staircase to the loft.
Safety - when assessing the suitability of your roof space, bear in mind the need for escape windows in the loft and fire safety.
Planning - most loft conversions don't need planning permission, but if your roof space is restricted then you will probably need to install a dormer, in which case planning permission will be needed. Also remember to take into account the building regulations and the Party Wall Act.
Plumbing - will your current central heating system be able to cope with the addition of heating into your roof space? Are you planning to put in an ensuite or W.C.?
Apart from these basic considerations most loft conversions will be possible though it is obviously best to have your plans professionally drawn up to your own specifications.