PrimeLocation
If you're looking to revamp your property this season, here's the lowdown on where to find the best bargains, says Barry Cashin.
September 18, 2014 00:00
Auctions
With the recession biting, auction houses as well as online auction sites are doing a roaring trade, each brim full of useful household items, from large pieces of furniture to appliances and bankrupt stock recovered from insolvent companies. UK Auction Guides' website is packed full of useful information on thousands of auction houses, venues, trade, wholesale and discount suppliers throughout Britain.
Factory outlets
In times of commercial need, consumers benefit as businesses look at new way of generating custom. One way of attracting buyers directly to the source of production and cutting out the middle man is to open up factory outlets selling products at prices cheaper than high street. Shopping Villages' website is a useful resource with an easy to navigate geographical search engine to locate factory stores and outlets throughout Britain.
Exhibitions and events
Although held earlier in the spring, exhibitions such as the Good Homes Show and the Ideal Home Show are the perfect venue to bag a bargain for the home. Many fledgling companies use these forums which attract millions of visitors over a three week period to ply their wares. Smaller companies struggling for market share are able to offer unbeatable one-off show deals on certain goods. These are generally heavily discounted compared to normal prices.
Car boot sales
No longer a dustbin for people's tatty old junk, car boot sales have become slightly more refined over the years and although there will always be a degree of junk on show, such places can offer the astute home furnisher superb bargains. From period antiques to artwork, furniture to silver cutlery, first-time buyers and students setting up home for the first time are attracted to the low prices - and very often valuable gems are unearthed.
Who can forget the simple vase bought at a Dumfries car boot sale for £1 which was valued on BBC's Antiques Roadshow for £32,450. Carboot Junction is the nerve centre for all British car boot sale fanatics, where you can find out in an instant where sales are being held in the country on any given date.
Online shopbots
If you are setting up home and in the market for a new washing machine and have found just what you're looking for on the high street, don't be tempted to buy it just yet. Instead, type in the product model and price details into a 'shopbot' to compare prices nationally against online retailers. You are almost certain to find goods cheaper online and can often, if you prefer to buy from a conventional store, get the high street retailer to match the price.
The media
Britain has a wide choice of quality home interest magazines and most central libraries stock a selection of these. Inside the pages, a lot of the home interest products companies promote their goods and services by offering reader specials, such as one-off offers or heavily discounted items. Magazines are a great resource for finding goods for the home and can be found at most central libraries.
Antique reclamation
For those seeking a period look, aside from browsing the local antique shops why not visit a reclamation yard? Still retaining their Steptoe image but a lot more organised and efficient nowadays, you can find real gems from yesteryear: anything from stained glass doors, oak panels, dado rails and Victorian lanterns for the garden to whole sash windows and old chimney pots. Andy Thornton is Britain's leading antique and architectural company with the largest stock of architectural antiques and architectural salvage and reclamation.
Looking for fabrics?
Maybe your home is fully furnished but what you need is a pair of smart matching curtains. For those whose budget is all spent and ''making do' is the only option, try a fabric mill where you are sure to find an excellent choice of cloth at the right price. From ends of lines to slight seconds, fabric bought off the roll is at least a third cheaper than the high street and you can ensure total quality and match awkward sized windows by making them yourself. A quick search on Google will reveal hundreds of mills throughout the country, many of whom offer online purchase facilities for ease of shopping.
Luxe for less
If you have Krug style taste but a Bollinger budget, don't sacrifice on quality, go to Homes and Bargains' website. This site gives inside information on finding quality goods at massively discounted prices. Whether you're on the lookout for bargain furniture, a comprehensive directory of home and garden outlets or just some sound advice on home furnishings, the site has everything the budget-conscious homeowner could ever want.
Ebay
Ebay has revolutionised the way we shop with literally millions of transactions having been successfully conducted for obscure items such as individual lightbulbs to one-off pieces of designer furniture. If you are seeking the unusual or eclectic, take a visit to the world of eBay first. Buyers can shop with the assurance that they are protected against rogue practices and payment issues, so shopping is a breeze.
DIY sheds
The recession has put every single retailer on their toes - and only those who offer the best bargains will continue to prosper in this difficult retail market. If you are looking to lay a new floor, revamp your garden or just makeover a solitary room, comparing prices between the various big named DIY companies such as B&Q, Homebase and Focus will ensure you're up to speed on price. Look out for the in-store reduced bays too. These are often a great source of home bargains; either poor selling products, loss leader offers or end of line goods which must be cleared at greatly reduced prices.
Flatpack heaven
Many first time buyers furnish their homes with flatpack furniture bought at places like IKEA. There is nothing wrong with this. Easy to assemble, cheap, functional and contemporary, modern self assembly furniture is generally of a much high quality than, say twenty years ago and can look really stylish in any home. With prices up to two thirds cheaper than conventional furniture outlets, a first-time buyer can easily furnish the average flat for less than £2,000 - and that's absolutely everything.
Freecycle and Gumtree
Freecycle is a welcome addition to the online group of consumer websites that specialise in thrift and benevolence. Freecycle communities exist all over Britain encouraging the use of recycled goods by giving them away for free, rather than throwing them away. Joining your local group gives access to literally hundreds of advertisements from like-minded people looking to dispose or acquire various household items. These can include furniture, gardening equipment, greenhouses and electrical appliances. Gumtree works on the basis of an advertising forum where unwanted goods are placed online via classified adverts. This said, prices on Gumtree tend to be really low and some are actually advertised free in the Freebies section.
Related information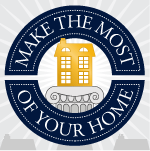 Some information contained herein may have changed since it was first published. PrimeLocation strongly advises you to seek current legal and/or financial advice from a qualified professional.