PrimeLocation
If you have ever had the urge to splash out on buying pieces of original art but always thought it was in the realms of the lucky few, then think again.
September 18, 2014 00:00
With thanks to Lynne Taetzsch at Artbylt.com for her tips and contributions.
The key to successfully investing in art lies in figuring out what kind of art you actually like and deciding how it will fit in with the rest of your home.
If you change your decor frequently, buy more cost effective pieces to enrich a theme based around your chosen colour palette. If you want to invest in a piece which will stand the test of time, then choose colours which will work in most colour schemes.
The location of the artwork can also be a deciding factor. In a bedroom it's appropriate for art to be calming, or even seductive, but in a dining room you can afford to be bolder and more dramatic. If you intend to relax in your living room, don't choose art that's too loud, or anything that feels as though it takes over the room. The purpose of the room where you intend to display your art should influence the tone of the artwork itself.
Art can also be rented for commercial use in buildings such as managed offices, from as little as £2 per week. This gives the landlord the option of changing the artwork each month or season, and gives a positive impression to clients of firms located there. This in turn can make a managed office more desirable to larger companies who are inclined to pay more for those services. Art rental websites may be helpful.
Deciding on what kind of art you like
If you regularly visit galleries, home ware stores or museums, you probably already have a good sense of what kind of art appeals to you. If not, there are many opportunities to browse art within your area by visiting local galleries and art fairs.
Even small towns usually have a non profit gallery space, and your local café or restaurant may exhibit the works of local artists. In larger cities, galleries often get together for monthly or periodic viewings where all the galleries hold receptions on the same evening. It's a great way to see a lot of art in a short time.
The Internet provides the largest variety and depth of fine art available worldwide. One advantage of using the Internet is that you can search for the specific kind of art, not just wall art, whether it's photography, impressionism, bronze sculpture, or abstract painting. And when you find one art site, you'll usually find many, many more.
Should the art suit the room or the room suit the art?
Any artist would prefer that everyone buy the art they love and then find a place to put it. If you feel strongly about a particular work of art, this is certainly the way to go. But you may find that when you get the art home and place it on a wall, it doesn't work with its surroundings. 'Not working' means that the art looks out of place in the room. Placing art in the wrong surroundings can diminish its beauty and impact.
What should you do if you bring home a painting you love and it clashes with its environment? First, hang the painting in various places in your home, trying it out on different walls. It may look great in a place you hadn't planned on hanging it.
If you can't find a place where the art looks its best, you may need to make some changes in the room, such as moving furniture or taking down patterned wallpaper and repainting in a neutral colour. The changes will be worth making in order to enjoy the art you love.
The right lighting is the key to showing art at its best. You may find that placing a picture light above a painting or directing task lighting on it is all the art needs to exhibit its brilliance. If you place a work of art in direct sunlight, however, it may well fade. Pigments such as watercolour, pencil and pastel are especially prone to fading, whereas acrylics are not.
How to choose art to suit the room
You may prefer to create the look of the room first and then find the art to suit your décor. Size and colour are the two major criteria for selecting art to fit its surroundings. For any particular space, art that is too large will overwhelm and art that is too small will be lost and look out of proportion.
The bolder the art, the more room it needs to breathe. Larger canvas artwork can look stunning in a large, spacious conversion, whereas collections of smaller pictures work well in smaller cottage locations.
When selecting a painting to match colour, select one or two of the boldest colours in your room and look for art that includes those elements. You're not looking for an exact match. Picking up one or two of the same colours will send a message that the painting belongs in this environment.
How to frame and hang your artwork
Some canvas artwork can be hung with no frame and can be a good solution for interior walls that can't carry a great deal of weight. Landlords and developers often use this option in show homes and in rental properties for this reason. If you do select a frame, tie it in to the location where the artwork is to be hung, as well as in to the artwork itself. The frame should be a continuation of the picture rather than a contrast.
Style is another consideration when selecting a frame for your art. If your house is filled with antiques, for example, you'll want to use antique style frames on the paintings you hang there. If you have contemporary furniture in large rooms with high ceilings, you'll want to hang large, contemporary paintings.
As a rule, paintings should be hung so that the centre of the painting is at eye level and hung the right way up. On abstract pieces this can be confusing. Check for a signature (usually bottom right) or with the gallery you bought it from.
How to create an art-friendly room
When you walk into a gallery or museum, what do they all have in common? White walls and plenty of light. If a room has wallpaper, patterns or is quite dark, there will be too much interference for you to appreciate the piece. Simple, plain and neutral colour schemes work best to show off your art.
If you want to make art the centre attraction, play down the other elements of the room such as window coverings, carpeting, wall coverings, and even furniture. A room crowded with other colours, textures and objects will take the spotlight away from the art.
You may like to select one room in your house to focus on art. Paint the walls white or off-white. Lay hardwood floors or a neutral carpet. Install window coverings with clean simple lines and neutral colours (or no window coverings at all). Put up directional spot lights that can be adjusted to focus on the art, or use individual picture lighting for each piece.
For the furniture, follow the principle that less is more. This is not the room to display your collectibles. Let the art be the star. Then relax and enjoy it.
Quick tips
Whether it's £50, £500 or £5,000 - choose a budget and stick to it
Keep the colours of your décor in mind, but there's no need for an exact colour match
Frames should suit both the art and the environment
Hang your paintings so the centre is at eye level
Think about how you plan to light the art
Keep paintings away from direct sunlight
Related information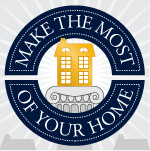 Some information contained herein may have changed since it was first published. PrimeLocation strongly advises you to seek current legal and/or financial advice from a qualified professional.