PrimeLocation
From disused stables to walk-in wardrobes, cluttered attics to tiny basements, how home workers have revamped their wfh spaces - and survived to tell the tale...
Working from home is the 'new normal' - which has lots of lovely perks as well as some rather humongous challenges. A year of lockdowns has seen most of us reshuffling, arranging and rearranging our homes in a bid to find suitable work spaces - with varying degrees of success.

From disused stables to walk-in wardrobes, cluttered attics to tiny basements, here are just a few experiences from people who have reorganised or revamped their wfh spaces and survived to tell the tale...
The garden shed office
'Sometimes I can be found working in a hat, scarf and gloves!'
View this post on Instagram
Nearly a million of us tried converting a garden shed into an office last year - and another half a million of us are planning to install one in the next year, according to research from Direct Line. So what's it like to work in one?

Sarah Stiller, creator of mycottagegarden.com loves it: "My shed (pictured, above) is really basic - not like the posh 'shoffices' some people have in their gardens these days. It's very 'back to the roots': no electricity, no heating and definitely no broadband. I can sometimes be found at my desk dressed in my hat, coat, scarf and fingerless gloves!

"It's so far away from the distractions and usual mayhem of my house (three boys, one husband), that I can let my imagination run wild. Somehow, I feel more inspired when I'm sitting in the middle of the garden, surrounded by beautiful scents and sounds.

"While I love going into an office and being part of a team, there's nothing better than closing the laptop and getting my hands muddy in the garden within the space of five minutes."
The loft office
'I get a whole new perspective on the neighbourhood wildlife!'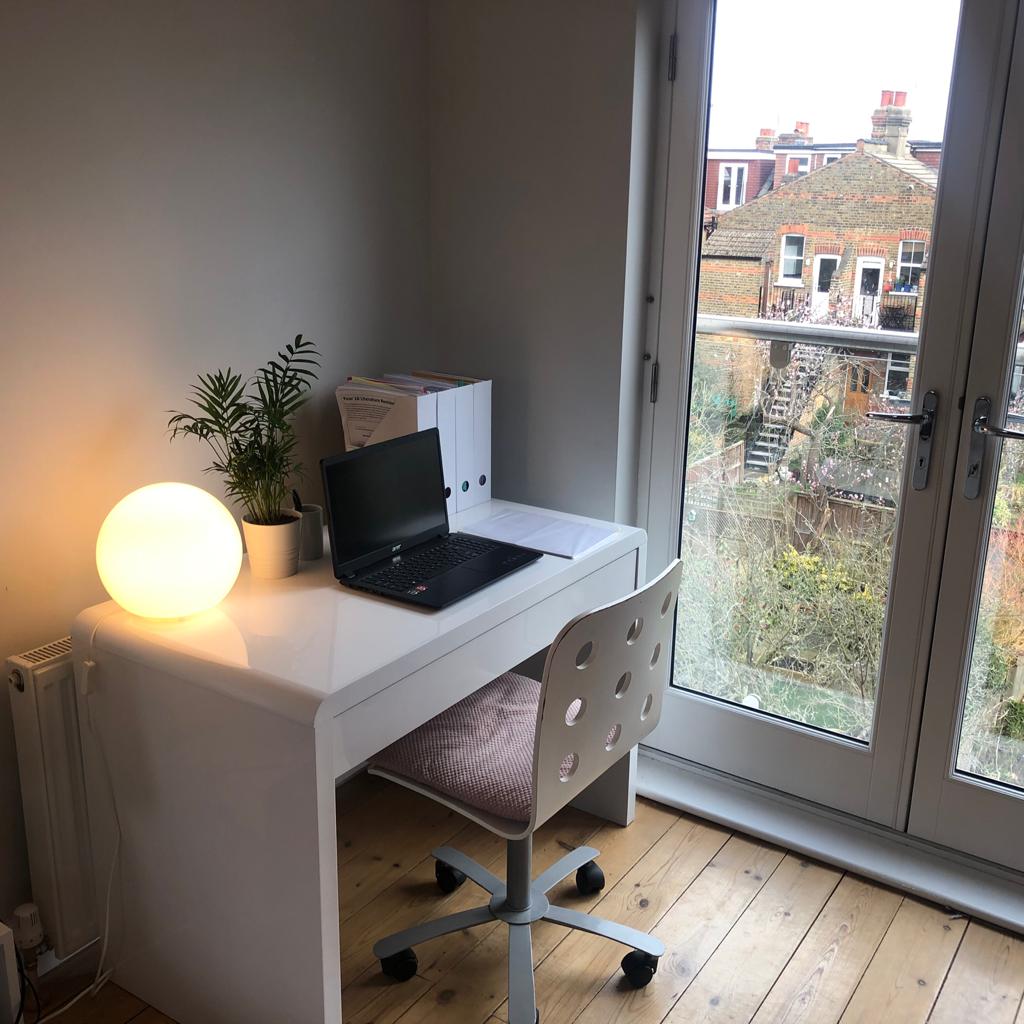 Lofts are increasingly being used as places to hide away from the hubbub of the house. According to research from Pasquill, searches for loft conversions rose by over 200% during the first UK national lockdown - and they are continuing to rise.

Kate Connor, who works in education, set up her loft office a few months into lockdown, and hasn't looked back. "At the beginning, I worked from our living room, but it wasn't exactly peaceful, as both my daughters were doing online lessons! So, after having a good old clear out, I moved into the loft (pictured, above).

"It has been a godsend. It's so much quieter, and I get more done because I don't have to be involved in the day-to-day house stuff, like answering the door every time a package is delivered.

"Being right at the top of the house gives me a totally different perspective - our loft has a lovely window, so I can look over the treetops, and watch birds and foxes in the gardens below. It also has so much more daylight - I was on a Zoom call the other day and my colleagues couldn't believe it was still light in my office when they were working in the dark!

"I miss my work colleagues, but it's fantastic not having to commute. I get an extra half hour in bed and time to prepare for work. I also really like the fact that I clock off at 5.30 and I'm with my family at 5.31."
The cupboard office
'My husband suggested this as a joke and I ran with it!'
View this post on Instagram
Sometimes, the smallest spaces give the biggest rewards, as Amy Tooley, creator of thecreamfrontdoor, discovered: "To begin with, I was working from a chest of drawers in our bedroom, which was horrid: work was the first thing I saw in the morning and the last thing at I saw at night. It felt so unprofessional.

"My husband suggested turning one of our built-in wardrobes into an office as a joke - and I ran with it! I am over the moon with how it looks (pictured, above). It makes me feel more creative and in control. It's really comfy and has improved my ability to focus. And I love how I can close away my Narnia wardrobe office at the end of the working day!"
The basement office
'Our cat is the only one who loves our current set up!'
View this post on Instagram
Elise Schaecher, who runs alittlmorelikehome, set up an office in her basement, which she shares with her husband, but it's a work in progress. "At the moment, I think our cat, Nimoy, is the only one who loves our current office set up!

"I'm guessing the space was originally used for storage, as there were shelves lining the wall and blocking the small basement window. There were also drop ceilings that were so low that the door opened just below them.
"To add to the dark, closed-off feeling, the walls were covered with dark wood panelling. The icing on the cake? Orange carpet! Oh and yes, those are water pipes poking through the wall…"
The bedroom office
'I have to make sure the bed is made for the early morning Teams meetings!'
View this post on Instagram
In a busy house, bedroom offices are sometimes the only option, but they can work very well, says Emma Allman-Shuttleworth, who runs thewardrobeshrewsbury.co.uk.
"Lockdown meant my shop had to shut, so now I'm running my business from home, and so is my husband. We decided to put a desk in the bedroom for him, because it quickly became obvious that the downstairs option was not going to work with four noisy children running around!

"The best thing is that the bedroom office is away from the noise of the house and the constant opening of the fridge door and the endless questions around when the next shopping trip is going to be!

"The arrangement works for us, but there are downsides too. The worst thing is having to make sure the bed is made before all those early morning Teams calls!"
The stable office
'We upgraded to the stable from the greenhouse'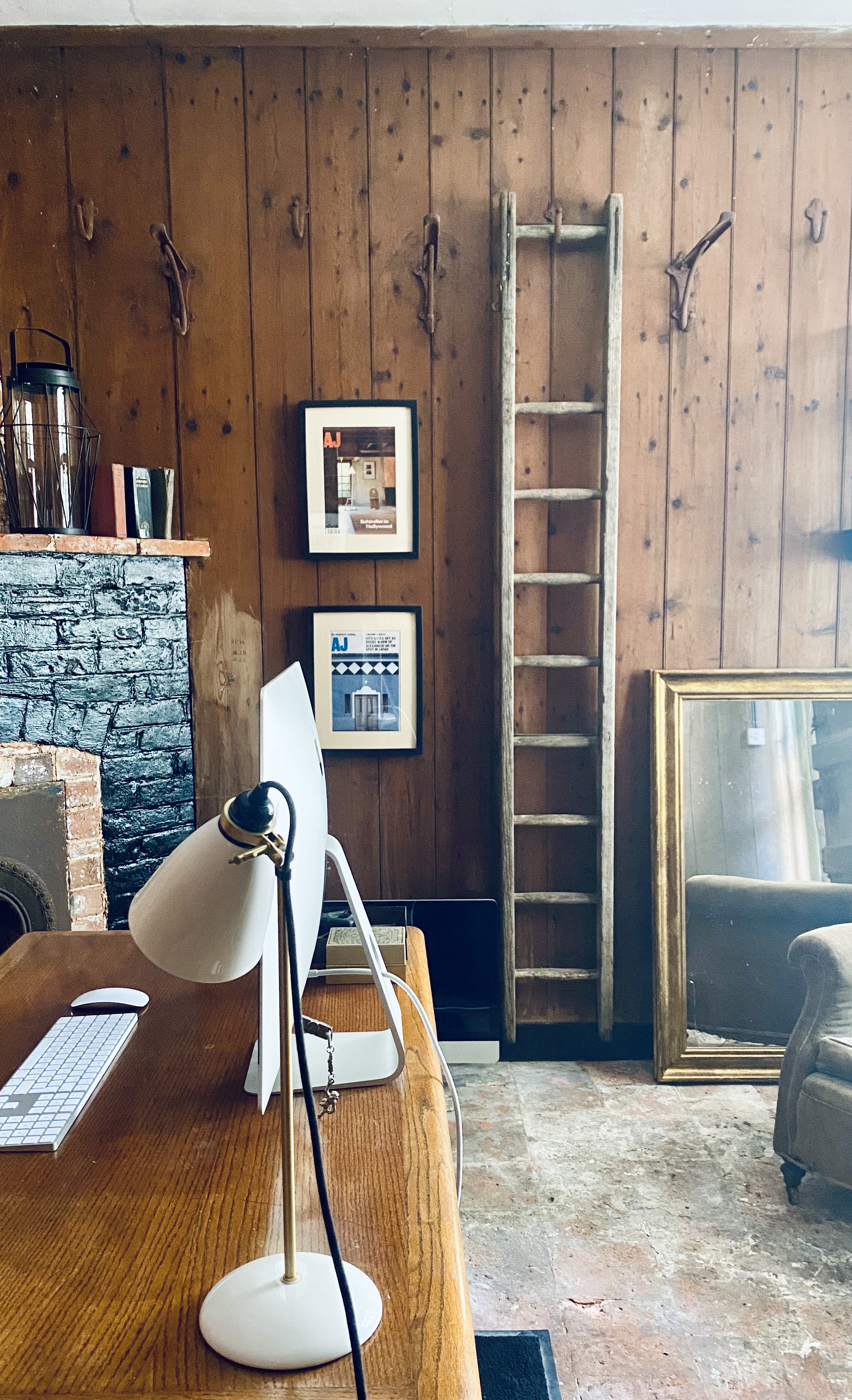 Outbuildings of all descriptions can make good offices, says Dean Poulton, who runs mytinyestate from a converted stable. "At first, my partner used our greenhouse as his office. Now we've both 'upgraded' to a stable! It's great. The WiFi is pretty good and it's lovely and quiet.

"I only have to walk across the garden and I am at work, so it definitely saves on time. For me, it's important to have a separation from work and home life, so it's very handy being in a separate building.

"I suppose our office is quite unusual. Whenever I'm in a Zoom meeting, people think I am in a sauna! But it's absolutely freezing - I am constantly working with the heater right next to my legs... bring on spring!
The lounge office
'My dog provides the perfect footrest'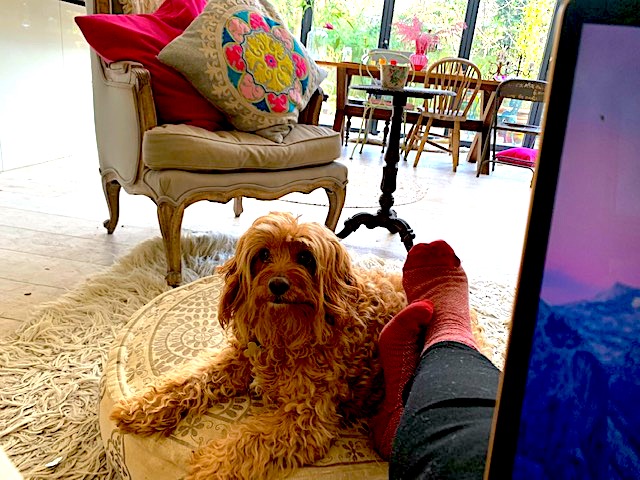 Many of us are still simply having to make do with a kitchen table or the corner of a sofa to set up a makeshift office at home - and although it doesn't sound ideal, Jade Griffiths, a university administrator, finds working from her living room works very well for her.

"Although lockdown has been stressful, the one thing I have loved is rolling from my bed onto the sofa in the mornings and starting my day ten minutes after waking up! I get settled with my coffee, put daytime telly on in the background, and I'm ready to go. It beats travelling for an hour on the bus any day!
The best bit of working from my sofa is that I get to be with my dog, Rocky. He really likes the 'new normal' because it means he's surrounded by people all day. And he's happy to provide the perfect footrest…"
Working from home has become everyday life for lots of us [she types from her bedroom]. But do you prefer it to '9-5' office days? Vote below & comment with why 👇

— Zoopla (@Zoopla) February 8, 2021
How to search for homes on Zoopla
Whether you're looking for a property with a bespoke office space, a garden shed or a basement just crying out to be converted, Zoopla's advanced search tool is really handy - just type in your keywords to see what's out there. And remember to register with Zoopla so that you can save your property searches and get regular alerts.
You may also be interested in...

The information and data in this article was correct at the time of publishing and every attempt is made to ensure its accuracy. However, it may now be out of date or superseded. Zoopla Ltd and its group companies make no representation or warranty of any kind regarding the content of this article and accept no responsibility or liability for any decisions made by the reader based on the information and/or data shown here.