PrimeLocation
From their lowly stable origins, mews homes have long been the hideaway of choice for the city's wealthier inhabitants. But what makes them so attractive?
March 12, 2018 00:00
What is a mews house?
A mews is a small street or yard, often cobbled, built behind a city's grandest squares and terraces.
The buildings within a mews were not originally intended as houses. Instead, they were built as stabling for the gentry's horses and for storing their carriages, with the tack rooms and quarters for the stable boys positioned above.
The word 'mews' originally signified a cage where a hawk would be kept during its moulting season. But when Henry VIII moved his hawks' mews from Charing Cross and built stabling in its place, anybody who was somebody followed suit, giving their stabling area the upmarket moniker as well.
It wasn't until 1908, when land in the preferred London locations had become scarce, that the potential for conversion to residential use was spotted.
The first stable to receive the makeover was in Street Mews in Mayfair, and the resulting home was described as 'the best bijou house in London'.
From then on, the humble homes of horses and stable hands gradually underwent drastic transformations.
Keeping up with the fashion of the day, the first mews were converted into rows of terraced cottages facing each other along a cul-de-sac, and were often given an arts and crafts look.
Today, mews homes are more likely to be high spec conversions with underfloor heating where there was once straw, and a gym or a media room in the hayloft.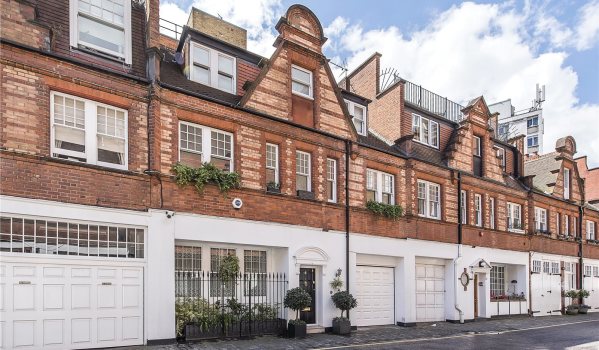 Where do I find one?
Tucked away from the bustle of city life, mews often do the seemingly impossible by offering the tranquillity of a bygone era within the very best of today's central city locations.
In London, they are to be found in, among other areas, Westminster, Kensington, Chelsea, Mayfair, Marylebone, Pimlico, Bayswater, Notting Hill, Holland Park, Knightsbridge, Kensington, Bloomsbury and Belgravia.
In other cities they are usually fairly easy to find too. Take a walk around the back of what would have been the city's top locations about 150 years ago, and you are likely to stumble across a mews.
Why are they so popular?
A spokesperson from London mews specialists Lurot Brand says that there are several key attractions:
1. Location
Mews houses are not only concentrated in the very nicest parts of the city, but the nature of the cul-de-sac means that they are quiet, safe, and often have parking.
2. Layout
They are flexible spaces. Even within the same row, the design of the homes is often completely different.
Some retain the garages that originally housed coaches, while others have incorporated the space into the home.
A new trend is to have the best of both worlds. People keep the external garage doors, but lay flooring and decorate the garage space, and use it as an extra room (As long as you have fireproof doors leading to the main house you should be able to avoid planning permission).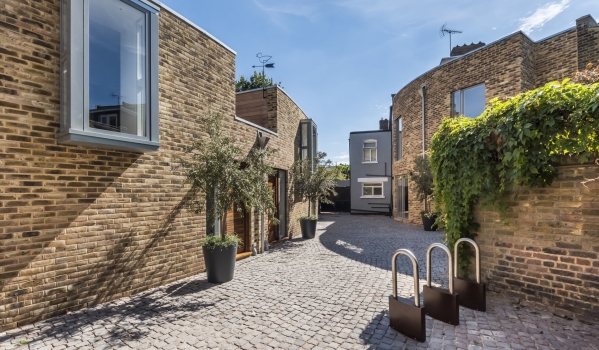 3. Freehold
Unlike city centre flats, the residents of a mews avoid the problems and expense of leases. This means no service charge and no restrictive clauses.
4. Community spirit
A village-like sense of community is often seen as one of the best reasons for living in a mews.
Bathurst Mews, situated close to Hyde Park, is known as one of the friendliest mews in London, with residents getting together for coffee and drinks in the evenings on tables outside their homes.
Downsides
1. No gardens
The lack of private outdoor space puts off many buyers. However, there are a few examples of mews that do have gardens, such as Leinster Mews in W2. And some mews homes do have their own roof terrace.
2. Lighting
Some people worry that mews will be dark because of the low ceilings, although modern light design should help.
3. Price
They're hardly a cheap option, although when you add up the location and benefits such as parking, community and security, those who can afford it believe mews homes to be well worth the cost.
4. Maintenance
Period properties can be expensive to maintain, so simply keeping the building in good order could be costly.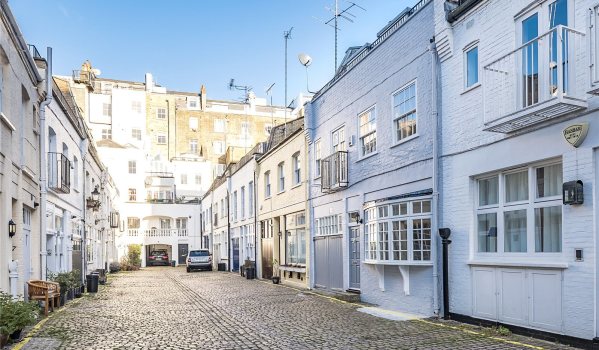 Who buys?
Lurot's spokesperson says: "We tend to say that families don't buy, but it's not always true. Some families with a lot of children love them.
"They like living in central London and they like the fact that they can walk their children to school.
"The problem for families is that not many have gardens. However, the fact that your children can play outside is appealing, and there's no problem with children disturbing the upstairs or downstairs neighbours.
"But we often sell to older couples who want a pied-a-terre. And to city boys."
Mews also seem to have more than their fair share of celebrity fans. Michael Caine, Agatha Christie, Noel Gallagher, Guy Ritchie, and, much to the dismay of her Camden neighbours, Amy Winehouse, have all lived in mews homes.
And it's not just the British glitterati who fall for the former stables. Nicole Kidman nearly bought a two bedroom mews in Belgravia, but changed her plans when she became pregnant.
How much?
A typical mews is around 1,000-1,500 sq ft in size, and prices for a modern London mews home can typically range from £500,000 to around £1m. Traditional mews properties in prime locations tend to start from £1.5m and can soar into the multi-millions.
According to Lurot Brand, the entire St John's Mews in Notting Hill was converted into one home covering more than 9,000 sq ft in 2007 and later sold for a breathtaking £12.5m.
Related information