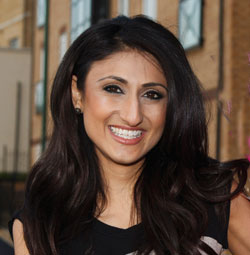 No matter what their age or background, anyone who is thinking about buying their first home knows that that the biggest stumbling blocks are amassing a deposit and finding a mortgage.
One person acutely aware of this is 27-year-old designer Heena Rai, who was the first person in the UK to get her application through successfullly for a NewBuy mortgage, the loans system running alongside FirstBuy that enabled her to pay just a 5% deposit, but that's available both to first time buyers such as Heena and existing home owners.
The scheme was created to give a leg up on to the property ladder for first time buyers on joint or sole incomes of less than £60,000 a year and who are able to put down a 5% deposit.
Low interest loans
In return the government is providing a low-interest loan to make up the deposit to 20%, and three mortgage lenders have signed up to offer 75% mortgages. It is not clear yet whether the scheme will have an upper limit for property values.
FirstBuy, which will apply only to those buying new homes, is to be funded jointly by the government and some 100-plus house builders.
Huge sum
FirstBuy comes in the nick of time. Recent figures from lender the Halifax reveal that the average deposit is now £34,000, a huge sum for anyone starting out in life and particularly for postgraduates weighed down heavily by student loans.
This figure underlines how, as the government has realised, first time buyers are being asked to put down deposits of up to 20% in order to access the best mortgage deals.
Those who only have five per cent deposits saved up are being priced out of the market and, for example, are being asked to pay interest rates of up to six per cent – way more than the three per cent or those with large deposits, a difference of £280 a month based on a repayment loan over 21 years.