Properties for sale in Weston-super-Mare
1 - 20 of 739 results
Results per page:
Contact relevant estate agents & new homes developers Send a message to agents and developers matching your search for properties for sale in Weston-super-Mare
Weston-Super-Mare Area Guide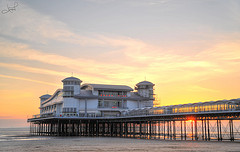 Grand Pier, Weston-Super-Mare Image courtesy of Flickr user tsaiproject
Weston-Super-Mare is a popular seaside town located in the ceremonial county of Somerset. The town was connected to nearby towns in the 19th century by rail, which slowly transformed it into a popular English holiday spot. It's long sea front is home to its world famous 'Grand Pier,' which now houses fairground rides, bars, eateries and entertainment.
The town sits in the local authority of North Somerset. Some of the Weston-Super-Mare's famous residents past and present include comedian Bob Hope, former politician Jeffrey Archer and cricketer Peter Trego.
Demographics
According to the 2011 census, Weston-Super-Mare's population is 76,143, of which 92% are white British.
In terms of ethnicity, it isn't a particularly diverse area. We're already mentioned that over 90% of residents are white British, but when you take into account white Irish and 'other,' some 97% of people living here are white.
The population of this town is economically active. The unemployment rate is less than half of the national rate, sitting at just 3.6%. With that said, however, almost a quarter of the town's over 16s have no formal qualifications whatsoever.
Education
Weston-Super-Mare sits in the authority of North Somerset, which is home to almost 80 schools providing education to around 28,000 pupils.
In 2012, 57.5% of North Somerset's GCSE pupils achieved 5 A*-C grades, just slightly lower than the national average. However, there are two schools in North Somerset rated 'outstanding' by Ofsted. These are located in nearby Clevedon and Bristol.
Weston-Super-Mare is also home to Ashbrook House Primary School, an excellent independent school.
In terms of Further Education, Weston-Super-Mare has its own college, which now also provides some Higher Education degrees as well.
Transport
The M49 motorway runs through Weston-Super-Mare, providing quick access to the M5 and M4.
In terms of rail travel, the town's Weston-Super-Mare railway station offers direct services to Cardiff, Bristol, Taunton and London Paddington. You can get to Bristol by train in little over half an hour, to London in just over 2 and a half hours and to Cardiff in just over an hour and a half.
For travel around Weston-Super-Mare itself, residents who don't drive tend to use local bus services. There are a number of services operated by First Group that operate in and around the town itself as well as connecting it to Bristol and other nearby places in North Somerset.
Shopping and Amenities
As a popular tourist resort, Weston-Super-Mare has a number of amenities including a relatively large shopping centre - the Sovereign Centre. Here, you'll find many major retailers and fast food outlets.
Beach Road, the town's seafront strip, and its surrounding area is home to a number of clubs and bars. It's something of a hub of nightlife. Popular bars and clubs include the plush, upmarket Tabu Club and Bar Revolution.
We've already mentioned the Grand Pier. This is open late and also has bars, clubs and a number of fairground style rides. For cinema-goers, Weston-Super-Mare has its own Odeon cinema, so there is no shortage of attractions.
Whilst every effort has been taken to ensure the above information is up to date, some inaccuracies may occur. If you notice any inaccuracies please contact editor@primelocation.com
All information was correct at time of publication and is provided in good faith.