Properties for sale in Nottinghamshire
The East Midlands county of Nottinghamshire has its administrative headquarters in West Bridgford. It borders 4 other counties: South Yorkshire, Lincolnshire, Derbyshire and Leicestershire.
Area Guide
Keywords and filters like garden and parking live here
Property type
Features
More options
Pre-owned / New homes

No preference

Ownership type

No preference

Retirement

No preference

Buyer incentives

No preference
* Sizes listed are approximate. Please contact the agent to confirm actual size.
Nottinghamshire Area Guide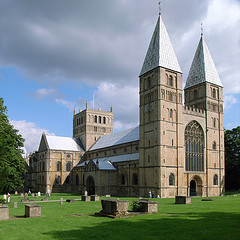 Southwell, Nottinghamshire Image courtesy of Flickr user Steve Cadman
The East Midlands county of Nottinghamshire has its administrative headquarters in West Bridgford. It borders 4 other counties: South Yorkshire, Lincolnshire, Derbyshire and Leicestershire. Nottinghamshire is twinned the Polish province of Wielkopolska.
There are 6 individual local authorities within the county:
· Ashfield
· Bassetlaw
· Broxtowe
· Gedling
· Mansfield
· Newark
· Sherwood
· Rushcliffe
The city of Nottingham itself remains a part of the ceremonial county, but is technically a standalone unitary authority.
Perhaps this county's most famous residents have included writer DH Lawrence (whom many acclaim as the first notable, successful writer of working class roots), Olympic Gold Medallists turned reality TV ice skaters Torvill and Dean and Politician Ed Balls.
Demographics
The county of Nottinghamshire is home to over a million people, half of which live in the Greater Nottingham area.
The affluence, ethnic diversity and level of education of the county's residents varies from authority to authority. For example, some areas within the county, namely North Nottingham and East Nottingham, have high unemployment rates of 8.1% and 7.9% respectively. This doesn't compare favourably with the current national average of 7.7%. On the other hand, the likes of Mansfield (4.4%) and Sherwood (3.5%) do stack up well against national figures. The authority of Rushcliffe is one of the best performers of the area in terms of unemployment figures with only 1.9% of its population out of work.
In terms of ethnic diversity, if we take Nottingham itself out of the equation, then this county is not ethnically diverse at all. Over 90% of residents in all six authorities are white British. In Ashfield, this figure is 96%. Nottingham itself is slightly more ethnically diverse, with only 65% of residents of white British origin. This figure is influenced by a large student population.
Education
Within Nottinghamshire (excluding Nottingham itself), there are just under 50 state secondary schools, as well as a number of independent schools. The Nottingham LEA adds a further 18 state secondary schools and several more independent schools.
In terms of GCSEs, both Nottingham and wider Nottinghamshire council underperformed against the national average in 2012. Nationally, 58.2% of students achieved 5 or more A*-C grades. In Nottinghamshire, this figure was just slightly under at 57.7%, while in Nottingham the number was just 46.7%. This made Nottingham's GCSE results the 7th worst overall in the country.
With that said, some schools performed extraordinarily well. West Bridgford School (state funded specialist technology academy) saw 90% of students attaining the benchmark 5 good GCSEs. Other high achieving state schools included Rushcliffe School (83%), Toot Hill School (80%), Trinity Catholic School, Nottingham (79%) and Minster School (77%). Independent Schools, Nottingham Girls' High School and Nottingham High School both hit 100% of pupils achieving 5 good grades.
For Higher Education, look no further than Nottingham University and Nottingham Trent University, both of which offer a wide variety of courses and attract students for further afield in the UK and from overseas.
Transport
The M1 runs through Nottinghamshire, making the county easily accessible by road from most other major cities.
There are two rail lines running through the county as well. There's the Robin Hood Line, which is dedicated to local services running between Nottingham and Worksop and the Midland Main Line, which runs between Sheffield and London via Nottingham. This means that, from Nottingham, you can get directly to other major cities easily. Nottingham Train Station (managed by East Midlands trains) offers services to London St. Pancras (journey time of just under 2 hours), Birmingham New Street (just over an hour) and Sheffield (just over an hour) amongst others.
Nottingham City has a tram network for transport in and around the city centre and surrounding areas. Other areas of Nottinghamshire are well connected with local bus services.
The nearest major airport is East Midlands, which operates domestic flights, European flights and flights to North America as well.
Amenities and Shopping
It will come as no surprise to find that the biggest shopping areas are those in the biggest towns. Nottingham city centre is home to the Victoria Shopping Centre and Broadmarsh Centre. Both of these have scores of High Street names.
Mansfield also has its own shopping centre, the Four Seasons. Again, this is home to major retailers as well as fast food outlets and coffee shops.
There are also markets running regularly in Nottingham, Worksop, Retford, Mansfield (which has a regular market and a farmers' market), Bingham and West Bridgford.
There are several cinemas and theatres throughout the county, again largely located in the major hubs of Nottingham and Mansfield.
And for football fans, take your pick. Nottingham Forest, Notts County and Mansfield Town all play in the county.
Whilst every effort has been taken to ensure the above information is up to date, some inaccuracies may occur. If you notice any inaccuracies please contact editor@primelocation.com
All information was correct at time of publication and is provided in good faith.
Narrow your search by property type
---