Properties for sale in Nottinghamshire
1 - 20 of 8,474 results
Results per page:
Offers over

£3,500,000 Green Lane, Nottingham NG11 Land for sale

Potential Residential Development Opportunity The site is currently designated for its existing use of offices but could suit residential development as outline in informal discussions with ... see full details and 2 photos

Marketed by FHP Living, NG1.

Guide price

£2,950,000 Lindrick Common, Worksop S81 Detached house for sale

A spectacular contemporary house with exceptional leisure facilities adjacent to the renowned Lindrick golf course. see full details and 9 photos

Marketed by Fisher German LLP, DN22.

POA Student Accommodation, Nottingham, Nottinghamshire NG7 New flat for sale

**investment opportunity - 49 student lets close to trent university** This is an amazing investment opportunity An exciting new development of 49 student lets situated within easy access of Trent ... see full details

Marketed by Bairstow Eves Countrywide, NG1.

£2,500,000 Brooksby Lane, Nottingham NG11 Land for sale

Homefinders are pleased to offer this 4 acre site in the Clifton locality of Nottingham. There is planning for a 65 bedroom (90 beds) respite home with separate warden's house set in the grounds ... see full details

Marketed by Homefinders, E8.

£2,400,000 High Street, Orston, Nottingham NG13 Detached house for sale

A fine, Grade II Listed country house with four principal reception rooms, five main bedrooms, kitchen and domestic quarters, a substantial stable yard, walled kitchen garden, delightful lawned ... see full details and 23 photos

Marketed by Richard Watkinson & Partners, NG24.

£2,000,000 Gordon House And Elm House, Nottingham NG3 Detached house for sale

+ The Location The subject site is located on Cranmer Street, some 15 minutes walk to the Main Campus of Nottingham Trent University. + The Development The development has been held on a lease by ... see full details and 6 photos

Marketed by FHP Living, NG1.

£1,900,000 Boat Lane, Hoveringham, Nottingham, Nottinghamshire NG14 Commercial property for sale

Attractive 4 bedroom farmhouse with one bedroom annex - Visitor centre - Play barn and outside play areas - Agricultural buildings designed to display farm animals - Farm walk and paddocks - ... see full details and 19 photos

Marketed by JHWalter, LN1.

Guide price

£1,750,000 Grays Drive, Ravenshead, Nottingham, Nottinghamshire NG15 Detached house for sale

• 6/7 Bedrooms • 5 Bathrooms (4 en-suite, 1 family) • 5/7 Car Garage • Total floor area 9879 sq ft • 3 Acres secluded landscaped gardens and woodland • 2 Further brick buildings forming a ... see full details and 17 photos

Marketed by Bairstow Eves Countrywide, NG15.

POA Middleton Crescent, Beeston, Nottingham NG9 Land for sale

William H Brown see full details

Marketed by William H Brown, NG1.

£1,650,000 Melton Road, Edwalton, Nottingham NG12 Detached house for sale

A truly outstanding individual Architect designed period residence, set within established gardens of some 1.12 acres or thereabouts with the benefit of an attached converted Coach House to the ... see full details and 15 photos

Marketed by FHP Living, NG1.

Guide price

£1,650,000 Melton Road, Edwalton, Nottingham, Nottinghamshire NG12 Detached house for sale

Impressive period home with adjoining coach house see full details and 14 photos

Marketed by Savills - Nottingham, NG1.

Guide price

£1,600,000 Mansfield Road, Papplewick, Nottinghamshire NG5 Detached house for sale

More than simply an exquisite country property, a unique lifestyle opportunity… see full details and 28 photos

Marketed by Smith & Partners Land and Estate Agents, NG25.

£1,600,000 Southwell Road, Upton, Newark NG23 Property for sale

Fine & Country are delighted to bring to the market this stunning 5 bedroom farmhouse set in the highly sought after, semi rural area of Upton. This property is marketed with detached double ... see full details and 22 photos

Marketed by Fine & Country - Southwell, NG25.

£1,575,000 Melton Road, Edwalton, Nottingham NG12 Detached new house for sale

Rutlands, is a brand new detached family home built to the Arts & Crafts period. 10 Year NHBC. In brief the property comprises; Feature reception hall, lounge, dining room, study, family room, ... see full details and 18 photos

Marketed by Frank Innes, NG2.

POA Ramsdale Farm, Oxton Road, Arnold NG5 Property for sale

A beautifully presented former farmstead dating back to the Georgian period, having later additions and subject to comprehensive refurbishment circa 12 years ago has come onto the market with ... see full details and 27 photos

Marketed by Alexanders, NG2.

Offers in region of

£1,500,000 High Oakham Drive, Mansfield, Notts NG18 Property for sale

A substantial period house providing three reception rooms, cloakroom, utility, kitchen with larder, four bedrooms at first floor level, two bathrooms and dressing room. There are three attic ... see full details and 14 photos

Marketed by WA Barnes, NG17.

Guide price

£1,400,000 Sefton Drive, Nottingham NG3 Detached house for sale

Caribbean queen The owners of The Caimens admit they were blown away when they first saw the house, which boasts a stunning indoor pool and leisure area see full details and 16 photos

Marketed by Chewton Rose - West Bridgford, NG2.

£1,400,000 Randall Way, Retford DN22 Office for sale

Ebor Court is a new development of 10 business / light industrial / storage units on the Trinity Park estate on the edge of the attractive market town of Retford.Units are 1, 500 sq ft each ... see full details

Marketed by Brown & Co, DN22.

Guide price

£1,400,000 Wollaton Road, Wollaton Village, Nottingham NG8 Detached house for sale

A beautiful period family home in a delightful setting within Wollaton village, adjacent to The Old Rectory. In addition to the Main house, the property also benefits from a separate 1 bed Cottage ... see full details and 18 photos

Marketed by Frank Innes, NG1.

Offers over

£1,385,000 Croft Road, Edwalton, Nottingham NG12 Detached house for sale

In a private mature setting in the heart of this highly regarded Conservation Area and in grounds approaching half an acre, a fine detached 1935 family house of impressive individual design and ... see full details and 19 photos

Marketed by Chesterton Humberts - Nottingham, NG1.
Refine your search and save time. To save time, you can contact relevant agent/developers with properties matching your search requirements via a single form. Refine your search at the top of the page to make it more specific and look out for the form here, below the property results.
Nottinghamshire Area Guide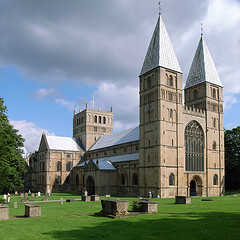 Southwell, Nottinghamshire Image courtesy of Flickr user Steve Cadman
The East Midlands county of Nottinghamshire has its administrative headquarters in West Bridgford. It borders 4 other counties: South Yorkshire, Lincolnshire, Derbyshire and Leicestershire. Nottinghamshire is twinned the Polish province of Wielkopolska.
There are 6 individual local authorities within the county:
· Ashfield
· Bassetlaw
· Broxtowe
· Gedling
· Mansfield
· Newark
· Sherwood
· Rushcliffe
The city of Nottingham itself remains a part of the ceremonial county, but is technically a standalone unitary authority.
Perhaps this county's most famous residents have included writer DH Lawrence (whom many acclaim as the first notable, successful writer of working class roots), Olympic Gold Medallists turned reality TV ice skaters Torvill and Dean and Politician Ed Balls.
Demographics
The county of Nottinghamshire is home to over a million people, half of which live in the Greater Nottingham area.
The affluence, ethnic diversity and level of education of the county's residents varies from authority to authority. For example, some areas within the county, namely North Nottingham and East Nottingham, have high unemployment rates of 8.1% and 7.9% respectively. This doesn't compare favourably with the current national average of 7.7%. On the other hand, the likes of Mansfield (4.4%) and Sherwood (3.5%) do stack up well against national figures. The authority of Rushcliffe is one of the best performers of the area in terms of unemployment figures with only 1.9% of its population out of work.
In terms of ethnic diversity, if we take Nottingham itself out of the equation, then this county is not ethnically diverse at all. Over 90% of residents in all six authorities are white British. In Ashfield, this figure is 96%. Nottingham itself is slightly more ethnically diverse, with only 65% of residents of white British origin. This figure is influenced by a large student population.
Education
Within Nottinghamshire (excluding Nottingham itself), there are just under 50 state secondary schools, as well as a number of independent schools. The Nottingham LEA adds a further 18 state secondary schools and several more independent schools.
In terms of GCSEs, both Nottingham and wider Nottinghamshire council underperformed against the national average in 2012. Nationally, 58.2% of students achieved 5 or more A*-C grades. In Nottinghamshire, this figure was just slightly under at 57.7%, while in Nottingham the number was just 46.7%. This made Nottingham's GCSE results the 7th worst overall in the country.
With that said, some schools performed extraordinarily well. West Bridgford School (state funded specialist technology academy) saw 90% of students attaining the benchmark 5 good GCSEs. Other high achieving state schools included Rushcliffe School (83%), Toot Hill School (80%), Trinity Catholic School, Nottingham (79%) and Minster School (77%). Independent Schools, Nottingham Girls' High School and Nottingham High School both hit 100% of pupils achieving 5 good grades.
For Higher Education, look no further than Nottingham University and Nottingham Trent University, both of which offer a wide variety of courses and attract students for further afield in the UK and from overseas.
Transport
The M1 runs through Nottinghamshire, making the county easily accessible by road from most other major cities.
There are two rail lines running through the county as well. There's the Robin Hood Line, which is dedicated to local services running between Nottingham and Worksop and the Midland Main Line, which runs between Sheffield and London via Nottingham. This means that, from Nottingham, you can get directly to other major cities easily. Nottingham Train Station (managed by East Midlands trains) offers services to London St. Pancras (journey time of just under 2 hours), Birmingham New Street (just over an hour) and Sheffield (just over an hour) amongst others.
Nottingham City has a tram network for transport in and around the city centre and surrounding areas. Other areas of Nottinghamshire are well connected with local bus services.
The nearest major airport is East Midlands, which operates domestic flights, European flights and flights to North America as well.
Amenities and Shopping
It will come as no surprise to find that the biggest shopping areas are those in the biggest towns. Nottingham city centre is home to the Victoria Shopping Centre and Broadmarsh Centre. Both of these have scores of High Street names.
Mansfield also has its own shopping centre, the Four Seasons. Again, this is home to major retailers as well as fast food outlets and coffee shops.
There are also markets running regularly in Nottingham, Worksop, Retford, Mansfield (which has a regular market and a farmers' market), Bingham and West Bridgford.
There are several cinemas and theatres throughout the county, again largely located in the major hubs of Nottingham and Mansfield.
And for football fans, take your pick. Nottingham Forest, Notts County and Mansfield Town all play in the county.
Whilst every effort has been taken to ensure the above information is up to date, some inaccuracies may occur. If you notice any inaccuracies please contact editor@primelocation.com
All information was correct at time of publication and is provided in good faith.