Properties for sale in Leamington Spa
1 - 20 of 141 results
Results per page:
Contact relevant estate agents & new homes developers Send a message to agents and developers matching your search for properties for sale in Leamington Spa
Leamington Spa Area Guide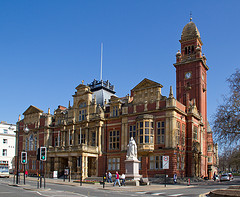 Leamington Spa, Town Hall Image courtesy of Flickr user Tony Hisgett
Royal Leamington Spa still retains some of the grandeur of its Victorian spa heritage with tall, imposing town houses and the elegant architecture of the Royal Pump House and Baths. The town has a reputation for being a tranquil place, certainly in comparison with nearby Coventry, but it has its fair share of pubs and nightlife as well as a notable student population from nearby Warwick University.
A significant boon to the town has been the re-opening of the Royal Pump House and Baths, which is now an art gallery and museum, cafe, tourist information centre and library. Locals can also enjoy the newly refurbished Jephson Gardens in the centre of the town which feature a glasshouse, cafe, fountains and boating on the river.
Demographics
Leamington has a population of around 60,000 and growing. Like many Midlands towns, it has a number of Asian communities, who tend to congregate around the North end of the town. Although Leamington was the setting for the sitcom 'Keeping up Appearances' it is quite a young town with a large number of students renting some of the more down at heel properties and a smattering of start-up businesses in the gaming and digital media industry.
Education
The three state secondary schools in Leamington Spa, North Leamington School, Campion School and Trinity Catholic School are rated 'satisfactory' to 'good' by Ofsted. There are also a number of independent schools within Leamington itself and the Stratford-Upon-Avon Grammar School for Girls is just outside the town.
Leamington is a short bus ride of Warwick University, which is rated in the top five of universities in the country and has facilities that can be used by the wider community such as the Arts Centre.
Transport
Trains to London Marylebone take around an hour and a quarter and run at a rate of around two or three an hour. There are direct links to Coventry and Birmingham and onwards to Reading, Oxford, Bournemouth, Manchester and Edinburgh. The M40 motorway passes within three miles of Leamington, travelling down to Birmingham and London. Coaches run regularly to Warwick, Banbury, Stratford-Upon-Avon and Rugby.
The town itself is small enough to be navigable by foot, but regular bus services connect Leamington with Kenilworth, Coventry and nearby Warwick University. The nearest airport is Birmingham Airport, which is a base for Monarch, Ryanair and Thomas Cook airlines flying to Europe, the Middle East and the US.
Amenities and Shopping
The Parade in the centre of town has a grand, covered shopping centre called the Royal Priors that has a mix of the usual high-street chain stores as well as boutiques, cafes and restaurants. The Regent Court Shopping Centre on the other hand aims for a more up market clientele with what it terms 'elegant, independent' boutiques and shops. Leamington is also lucky enough to have a set of vibrant independent shops covering music, homewares, fashion and travel. Foodies can choose from a variety of delicatessens, patisseries and butchers.
There are a large range of bars and restaurants to choose from, ranging from familiar high street staples such as Pizza Express and Strada to the more unusual Rhubarb and Oscar's Bistro.
Whilst every effort has been taken to ensure the above information is up to date, some inaccuracies may occur. If you notice any inaccuracies please contact editor@primelocation.com
All information was correct at time of publication and is provided in good faith.