Properties for sale in Poole, Dorset
1 - 20 of 1,376 results
Results per page:
Contact relevant estate agents & new homes developers Send a message to agents and developers matching your search for properties for sale in Poole, Dorset
Poole Area Guide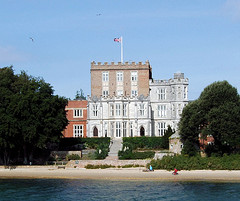 Brownsea Castle, Poole Image courtesy of Flickr user Jim Linwood
Poole is the second largest town in Dorset after Bournemouth and certainly one of the most liveable in the county. It's natural advantages means it's a big draw for the yachting set and consequently pretty expensive, but residents have the advantage of a thriving, varied economy, successful port, beautiful surrounding countryside and white sandy beaches.
The town itself has a healthy mix of the usual chain shops alongside older and more picturesque streets towards the sea housing pubs, hotels, restaurants and new luxury harbour-side developments. It has one of the largest arts complexes outside of London - the Lighthouse - and naturally plenty of things to do outdoors, particularly sailing, fishing, kite flying and walking.
Poole has new marinas in development and a yacht club attracting smart, self-made entrepreneurs. The centre of this scene is the Sandbanks area, which has expensive new builds looking out over the sandy white beaches and substantial properties that can set you back millions.
Demographics
Like much of Dorset, Poole has a slightly older population than average due to the influx of retirees into the area. The town is significantly more affluent than the surrounding areas and is whiter than much of the UK, with around 95% of the population identifying themselves as white British.
Education
Poole has several secondary schools including two very high performing grammar schools which select via the twelve plus exam. These two schools - Parkstone Grammar School and Poole Grammar School - both saw 100% of their pupils achieving 5 GCSEs at grades A-C in 2007. While other schools can't boast such a stellar performance the area performs well as a whole, ranking 18th out of 148 local authorities in England.
Transport
There are plenty of main roads which travel out of Poole to the North, East and West. The A35 and A354 travel West towards Exeter, the A350 North towards Salisbury and the A31 East towards Southampton and London. Poole is also on a coach route to London Victoria, the Midlands and Heathrow and Gatwick airports. Trains run three times per hour to London from Poole station and take around two hours.
Pools is also the perfect place to launch a holiday to France, with ferries to Cherbourg run by Brittany Ferries and a high speed passenger service running from May to September.
Amenities and Shopping
Poole town centre has the full complement of chain stories that keep British life ticking along, many of which are situated in the enormous Dolphin Shopping Centre.
If shopping's not your thing there are a number of parks not far from the town centre, notably Compton Acres, which features a Japanese water garden and a tea room, and Upton Park which features 100 acres of parkland and a grade II listed mansion.
While Poole may not have the same reputation for food as some of the towns further along the West coast, the affluence of its residents means it has its fair share of gourmet dining, particularly near the Quay.
Of course, Poole's crowning glory is its beaches. It has several fine, sandy beaches to choose from, including the well-known Sandbanks, Branksome Chine and Canford Cliffs, all of which are spotlessly clean and free from the usual seaside kitsch.
Whilst every effort has been taken to ensure the above information is up to date, some inaccuracies may occur. If you notice any inaccuracies please contact editor@primelocation.com
All information was correct at time of publication and is provided in good faith.